Are you struggling to find the perfect gift for a graduate or fitness enthusiast in your life? We all know that graduating high school or college is a major event that also comes with big life changes. One of the things that is so hard is making sure to keep the weight off while studying. Starting college and ending college can be a pretty big change for anyone, making it important that family and friends work together to help everyone have a healthy lifestyle. One of my favorite is giving the gift of music – it makes walking, exercising, and taking care of yourself in general so much easier. Why not make a new grads experience even better with a new headset, like the Jabra Elite Sport Wireless Earbuds!
Jabra Elite Sport Wireless Earbuds: What Are They?
Are you looking for a high end pair of waterproof, wireless headphones perfect for sports or on the go? If so, we think you will love the Jabra Elite Sport Wireless Earbuds. This innovative headset featured advance wireless connectivity, superior sound, and combined 13.5 hours of play time in the earbuds and charging case. As well as having waterproof design, it also includes a built in heart rate monitor and fitness analyzer to help you better train. To learn more, make sure to check out the video below or the official page for the Jabra Elite Sport.
Jabra Elite Sport Wireless Earbuds: Our Thoughts
As someone who has loved Jabra products for a very long time, I was extremely excited to try this headset. What probably impressed me more than anything was the on-the-go charger and carrying case combination. As someone who never remembers to put her earbuds on to charge, this was a major game charger for me. Rather than having to remember to charge it every day or two after listening to music and answer calls, I can get up to 13.5 hours of time per charge. As most Jabra products I have owned, the sound was superior and what I would expect – crystal clear sound listening to music and talking on calls. With the comfort and clarity, the Jabra Elite Sport is great for more than just sports, one of the reasons I am considering using them for conference calls in the future on my phone.
That being said, the area where this headset truly shines is for fitness. Unlike most other headsets I have owned, it is likely the most advanced for people who truly want to focus on their health. With the provided iPhone or Android app, you can use the headphones to plan workouts, monitor, test, and analyze your records. The most impressive ot me was the in-ear precision heart rate monitor and analyzer to make sure you are getting the most of your workout. As well, it comes with personalized, real time guidance during your workout, something that has been an amazing feature for awhile with Jabra products. Overall, I think this may very well best Jabra product I have tried to date, with added features making it a great headset for work, play, or in the gym.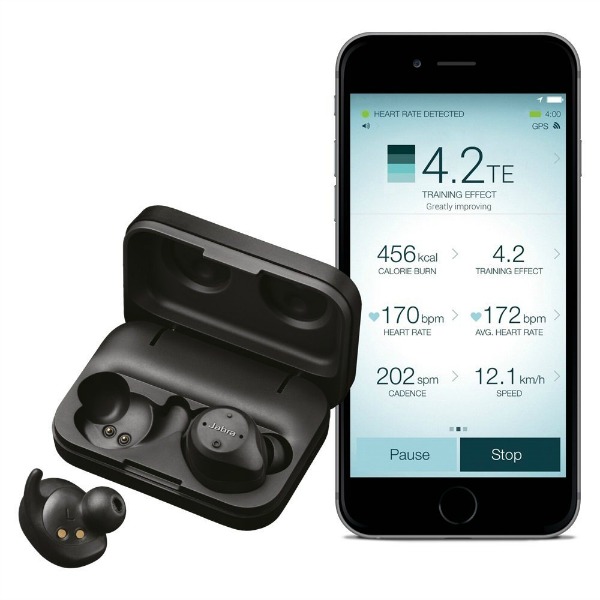 Jabra Elite Sport Wireless Earbuds: Where to Purchase?
Would you like to purchase this awesome headset for yourself or someone special in your life? You can find the Jabra Elite Sport Wireless Earbuds on the Jabra website for $179.99. It can also be found at a box store near you or you can find the Jabra Elite Sport on Amazon.com with free Prime shipping. Who knew that being healthy could be so easy!