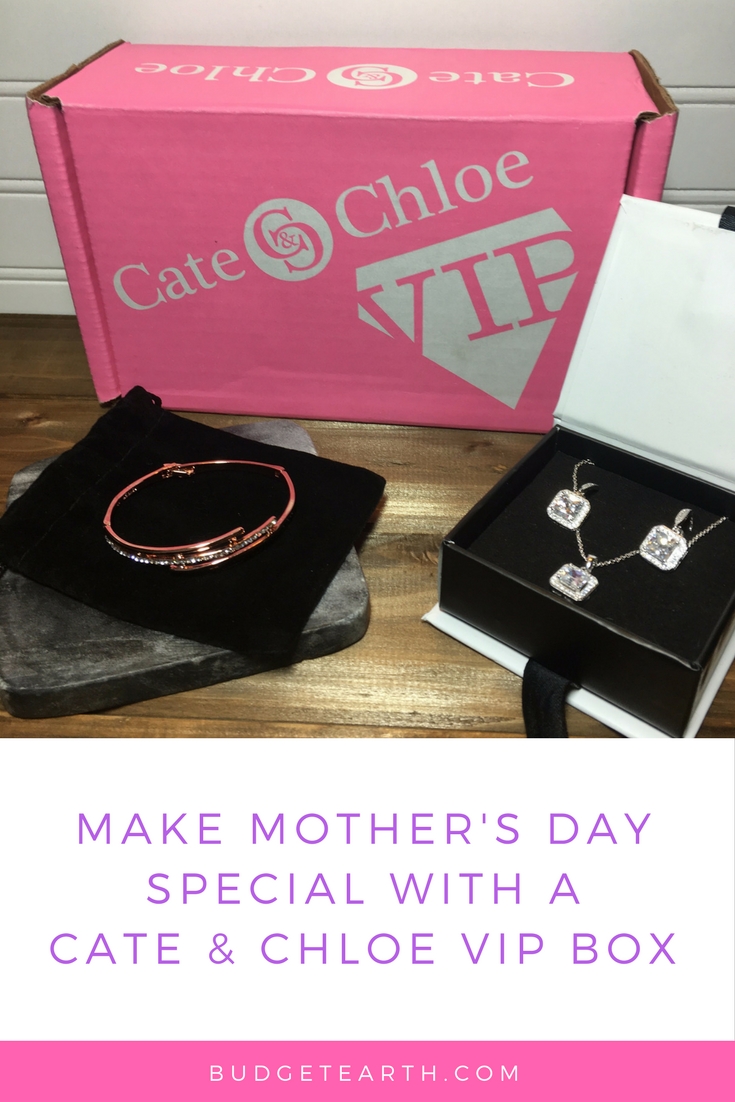 Have you ever struggled to find that perfect gift for Mother's Day? We will be the first to agree, it can be extremely difficult! Some moms just seem to have everything, but that doesn't mean we don't want to spoil them. I have to admit, I love finding unique pieces of jewelry and sharing them with my mom, especially since she lives in a small town with very limited shopping options. Luckily, there are awesome subscription boxes out there to make shopping even easier – like the Cate & Chloe VIP Box. As some of you know, I have been a big fan of them for years and absolutely LOVE their jewelry. When they asked if I was willing to try their new box, which included their new Cate & Chloe Style Quiz, I couldn't wait for my complimentary box to arrive!
Cate & Chloe VIP Box: What is It?
Do you love jewelry but can't seem to find the time to shop for trendy, fashionable jewelry?  If so, we think you will Cate & Chloe's VIP Box. For those who don't know the company, they are a high end, chic jewelry company that has absolutely stunning, high quality jewelry at great prices. Best of all, all the jewelry in this monthly box is handpicked by a stylist and selected based on choices made by you through their Cate & Chloe style quiz, to help them understand your own personal jewelry likes and dislikes. Since it fits your own personal style, you get jewelry that fits your personal style and needs.
Their current plans include:
Starter Package – 1 piece of jewelry plus FREE gift starting at $19.99/month.
Double the Fun – 2 pieces of jewelry plus FREE gift starting at $22.99/month.
Full VIP Status – 3 pieces of jewelry plus FREE gift starting at  $39.99/month.
To learn more about the Cate & Chloe VIP Jewelry Box, make sure to check out the graphic below!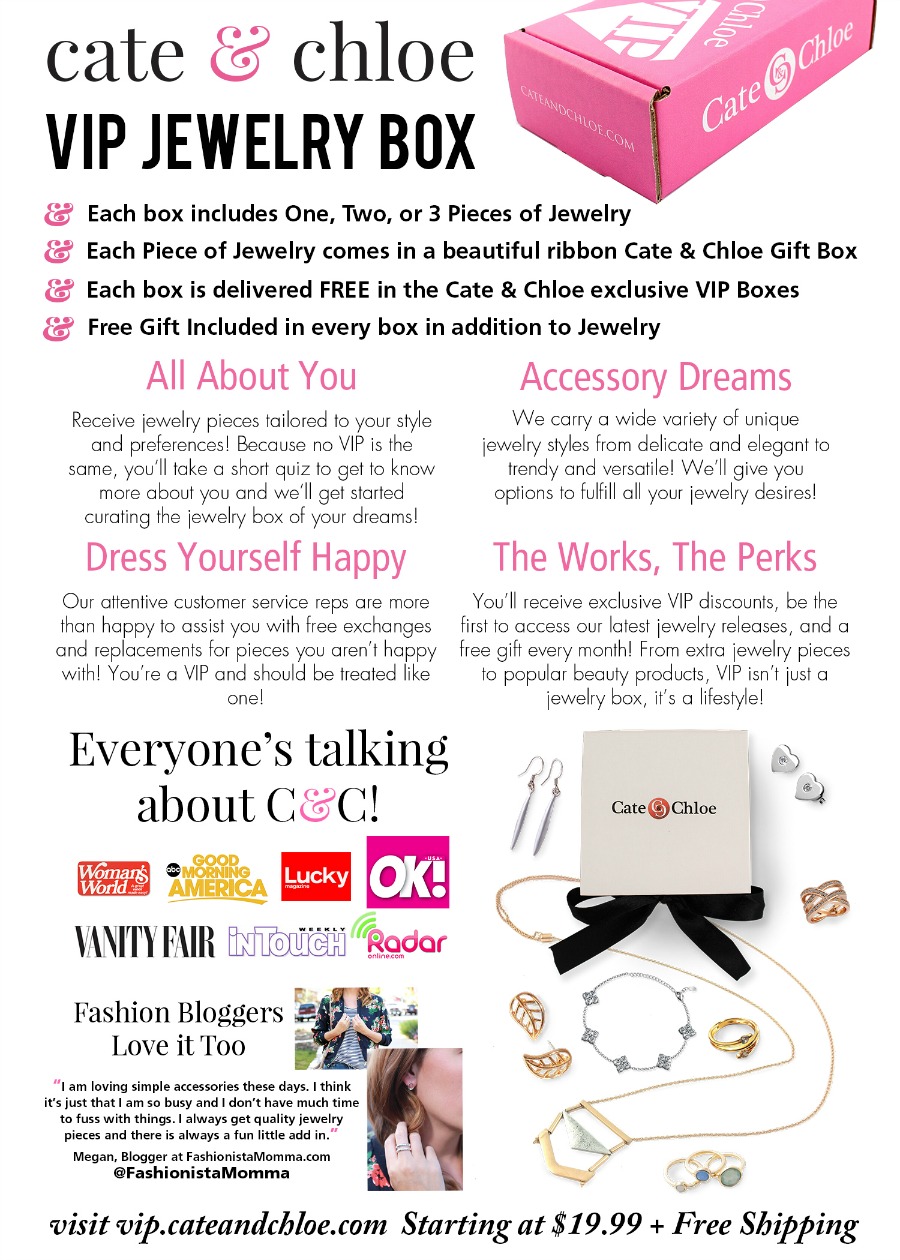 Cate & Chloe VIP Box: Our Thoughts
Since the Cate & Chloe Style Quiz was something new to me, I was particularly excited to get my new box. Don't get me wrong, I have always loved their jewelry but sometimes I did end up with a piece that just wasn't me. Having a stylist pick out something perfect for me just seemed exciting, especially since I rarely have the time to pick out jewelry for myself. When my box arrived, I was very impressed. Based on my choices, they sent some beautiful white gold pieces and the most gorgeous rose gold bracelet that is not only unique, it will go perfectly with a dress I am planning on wearing later this month.
Want to see what came in my box? Here are the three pieces I received below:
Ivy 18k White Gold Plated Pendant Necklace (buy here)
Classically square, this elegant necklace adds sophistication and charm to any special evening. Perfect for evening wear and the perfect touch for any Spring formal occasion! (Sold on Cate & Chloe store for $150.)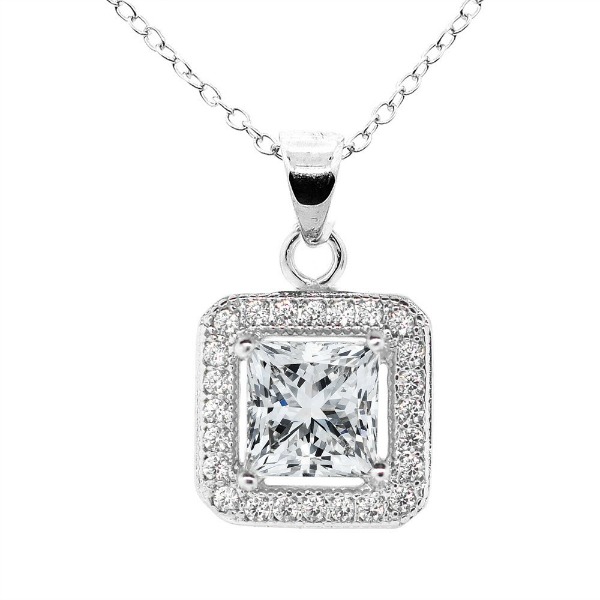 Ivy "Faithful" 18k White Gold Drop Earrings (buy here)
The Ivy earring falls into every category – classic, timeless, and trendy! Need a bold statement accessory that won't disappoint? Let these Ivy's say (or shine) it all for you! (Sold on Cate & Chloe store for $150.)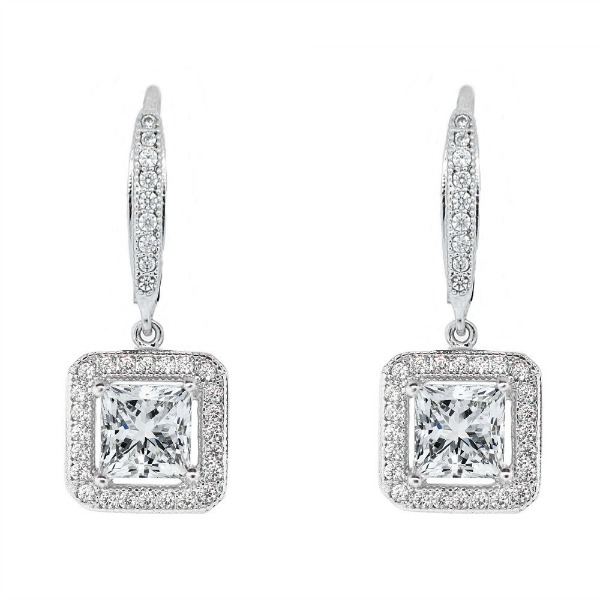 Elise "Dignified" Rose Gold Bracelet (buy here)
Dainty, edgy, and dignified all in one! This rose gold bracelet features stacks of rose gold bedecked with 2 rows of CZ, one clear and one black. The black stones give this piece a super chic, modern look while the rose gold and clear stones keep it classy and timeless. (Sold on Cate & Chloe store for $125.)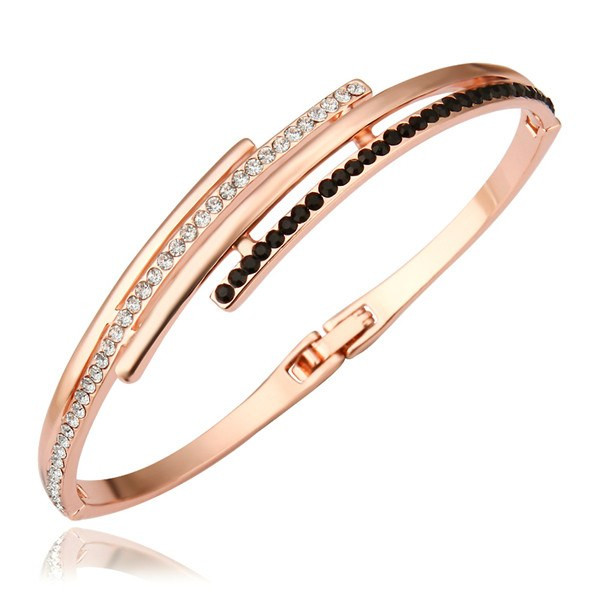 Along with my three custom picked pieces of jewelry, I also got a cool free gift – a bottle of L'ANGE Hair Replenish Detangling Conditioning Spray! For someone who is going to be traveling during the middle of May, I feel like this box just made my life so much easier as well as adding to my fashion choices. In all honesty, I am so impressed with this box that I'm seriously considering this being my own mom's Mother's Day gift this year!
Cate & Chloe VIP Box: Where to Purchase?
Want to try the Cate & Chloe VIP Box for yourself? For a limited time as part of Mother's Day, Cate & Chloe are offering everyone at Budget Earth's a special discount of 35% off all one month subscription boxes (The Starter Package, Double the Fun, and Full VIP Status. Make sure to head over their today and use the following discount code – SBUNCONDITIONALVIP35.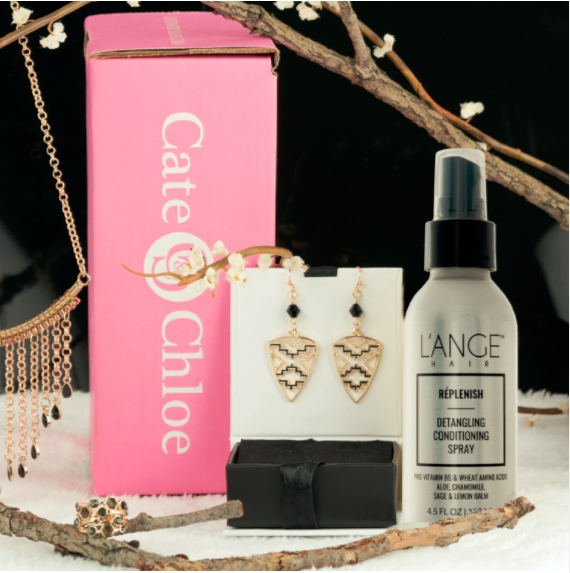 Want to learn more? Check out Cate & Chloe on social media!
Facebook | Twitter | Pinterest | Instagram

Would you like to have your products featured in a giveaway event? Want to increase your social media exposure? Contact susan.l.bewley@gmail.com to see how I can help YOUR company today!