Disclosure: I received this product for free to review. The opinions in my review are honest and my own.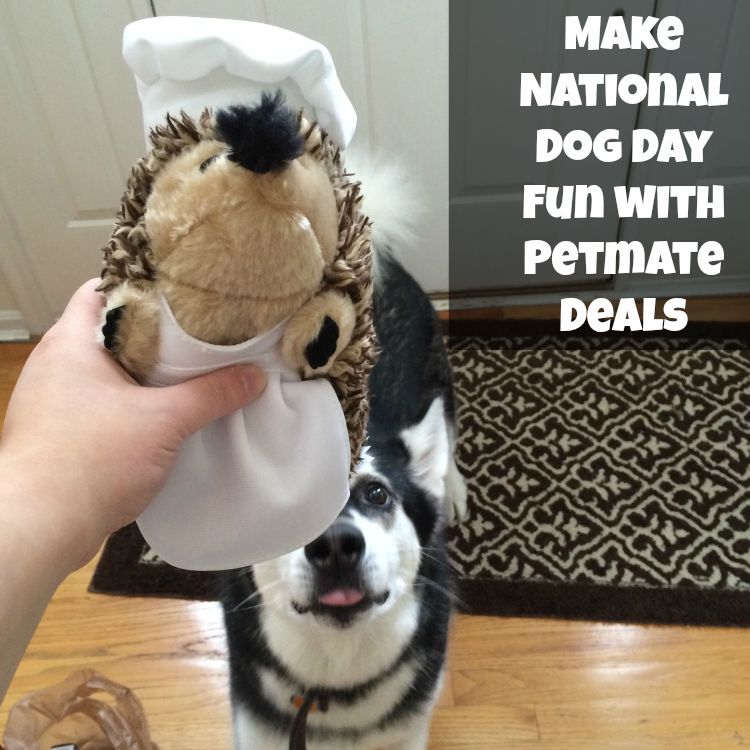 If you guys have been on social media today, you likely know that today is a special holiday for all of the special doggies in our life -National Dog Day!  This is a special day for us to show our appreciation to our favorite canines. Let's face it, they have to put up with some crazy human stuff, such as late nights, overtime, delicious smells during dinner time, and of course, visits to the vet! Living with humans is pretty tough, but we do our best to make up for it with yummy natural food, treats, and of course, lots of awesome toys!
Have you purchased anything special for your favorite dog? We spoiled Reya with one of her most favorite toys in the world – a Petmate Heggie! As you can see, she is pretty excited about her brand new chef hog! To this date, it is the longest lasting hedgehog toy I have found on the market and she loves the unique grunting sound. Of course, I also love that they come in a variety of cute themes (I'm planning on looking for the cute winter heggie).
For Ivi, it is time for her to get her very own bed. While it hasn't arrived yet for National Dog Day, we think she will love having her first big girl bed. As you can see from the picture below, the Dogzilla Beds are absolutely adorable! We went with the 29×40 Gusset pillow since it looks not only sturdy, but able to withstand a teething puppy.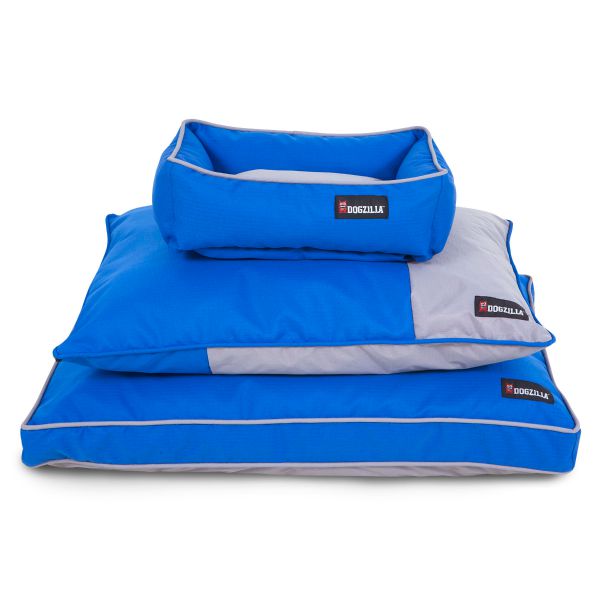 Looking for some cute stuff for your dog or are you considering adopting a new family member today? We included a list of awesome Petmate products below that are perfect for any pet parent, no matter if you are coming home with a new puppy or an adult dog you are planning on showering with amazing gifts. To make purchasing fun gifts or adoption essentials even easier for National Dog Day, Petmate has select toys 50% off for 24 hours only! Just using the following promotion code to get this awesome discount –
DOGDAY50
As promised, here is a list of some of the amazing recommendations from Petmate to make National Dog Day even better for your favorite pup!
Adoption Essentials for Dogs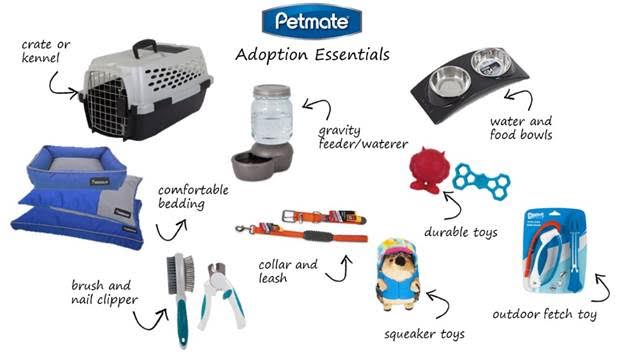 Food and water bowls:
Wetnoz Arc Diner – $35.99 – 45.99
Each diner has two removable stainless steel bowls inside a high gloss melamine stand
Non-skid bottom, dishwasher safe
Available in an assortment of color options: Night, Snow, Hibiscus, Pear
Petmate® Mason Gravity – $19.99 – 34.99
Gravity style refills as pets eat and drink
Waterers come equipped with a replaceable charcoal filter
Fun, on trend Mason Jar styling
Feeders: 2LB, 5LB, 10LB, and 18LB
Waterers: 0.5 Gal, 1 Gal, 2.5 Gal, 4 Gal
  Collar and Leash:
Dogzilla® Collars and Leashes – $10.99 – 16.99
2-ply Nylon webbing for extra durability and ruggedness
Solid rubber hand hold and cushioned handle provide comfort while walking with a puller
Available in: Black, Royal Blue, Hot Pink, Orange and Red
MSRP and Sizing:
Collar Bkl 5/8″ X 10-16 – $10.99
Collar Bkl 1″ X 16-26 – $12.99
City Leash 1″ x 24″ – $14.99
  Carrier or crate:
Petmate® Translucent Vari Kennels® – $39.99 – 59.99
Perfect for in-home containment, housebreaking and kennel training
Durable construction and assembles in minutes; no tools required.
Side and rear ventilation with squeeze latch door
MSRP and Sizing:

 19"- $39.99 o
24" – $59.99  
Bedding:
Dogzilla® Bedding – $34.99
High-loft recycled polyester fiber fill with durable rip-stop fabric
Sizing:

 22×18 Lounger Black/Red; Blue/Gray
27×36 Pillow Bed Black/Red; Blue/Gray
29×40 Gusset Black/Red; Blue/Gray  
Variety of Toys: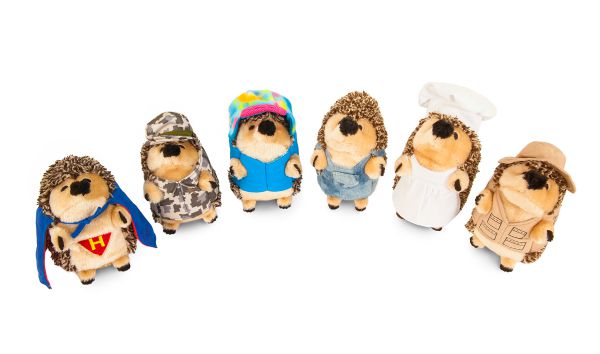 Petmate Heggies – $9.99
Your dog's favorite plush toy with grunting sound that drives dogs wild!
Available in a variety of quirky soft and cuddly characters
Chuckit! Ultra Sling – MSRP: $18.99
The ultimate fetch toy for any size dog!
Elastic band allows for adjustable range
Compact size is easy to store and carry
Molded grip and hand guard
Includes Ultra Dart – Spin
JW® Cuz® Toys – $5.99 – 12.99
Hip Cuz, Tough Cuz & Spiky Cuz available in assorted colors: red, blue, green and orange
Hard rubber bouncy ball with a tough squeaker
MSRP: small $5.99, medium $7.99; large $12.99
JW® Hol-ee™ Bone – $9.99 – 11.99
Stash small treats inside for hours of entertainment
Great for fetch, toss & tug, chewing and teething
Available in assorted colors: Red, Blue and Green
Bone-shaped treat toy
Nail clippers:
Aspen Pet Furbuster Dog Nail Clipper – $13.99
Heavy-duty stainless steel and ultra-sharp blade
Cushioned, non-slip handle fits comfortably in your hand
Makes trimming claws easier for safe & accurate cuts
Includes a finger release lock that helps to ensure product safety
Brush or comb:
Aspen Pet Furbuster Dog Pin/Bristle Brush – $10.99
Soft, non-slip rubber grips
Handle & pin pad joined together
Removes excess hair & leaves dog's coat silky smooth & luxurious
Features a pin brush to tease and a bristle brush to finish
What are your dog for National Dog Day?
Disclosure: Budget Earth did not receive monetary compensation for this review, but did receive products for review purposes.  All opinions on this product are my own honest assessment, and may differ from our readers' opinions. 
Would you like to have your products featured in a giveaway event? Want to increase your social media exposure? Contact susan.l.bewley@gmail.com to see how I can help YOUR company today!