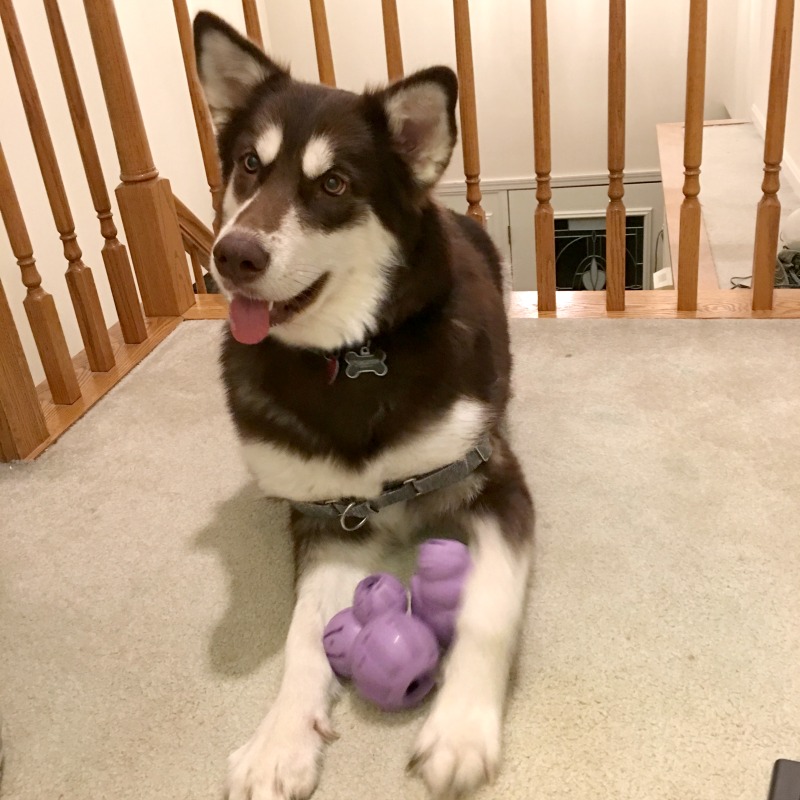 Do you have a dog that suffers from anxiety? Unfortunately, it is a problem that is common with malamutes since they are such people friendly dogs. With my husband and I rarely leaving at the same time, it usually means the girls have a human with them 24/7. While this isn't a huge deal, it can be a problem when we do decide to go out for some reason. For this reason, we love having toys that can handle a bit of abuse when we go out, especially if they can house treats too. Recently, we learned of a new PetSafe toy pack perfect for dogs who suffer from anxiety  – the PetSafe Busy Buddy Chamomile-Scented Calming Toys.
PetSafe Busy Buddy Chamomile-Scented Calming Toys: What are They
Looking for cute, durable toys to help your dogs relax and stay calm? If so, we think you will love the PetSafe Busy Buddy Chamomile-Scented Calming Toys. These cute toys are designed to dispense food or treats, keeping your dog relaxed and avoiding bad behavior and anxiety. With the chamomile-scented rubber, dogs are more likely to be relaxed and worry free while you are away, making playtime even more fun. Using two of the most durable toys created by PetSafe – the Squirrel Dude and Barnacle – dogs can enjoy chasing after these bouncy toys, or enjoying treats being dispenses from these toys.  To make it even better, you can put peanut butter inside the toy and freeze it to have your pup playing for hours! Best of all, these toys is top rack dishwasher safe and comes with training and behavior advice from professional dog trainers. With these two toys, keeping your dogs calm throughout the day is much easier and fun!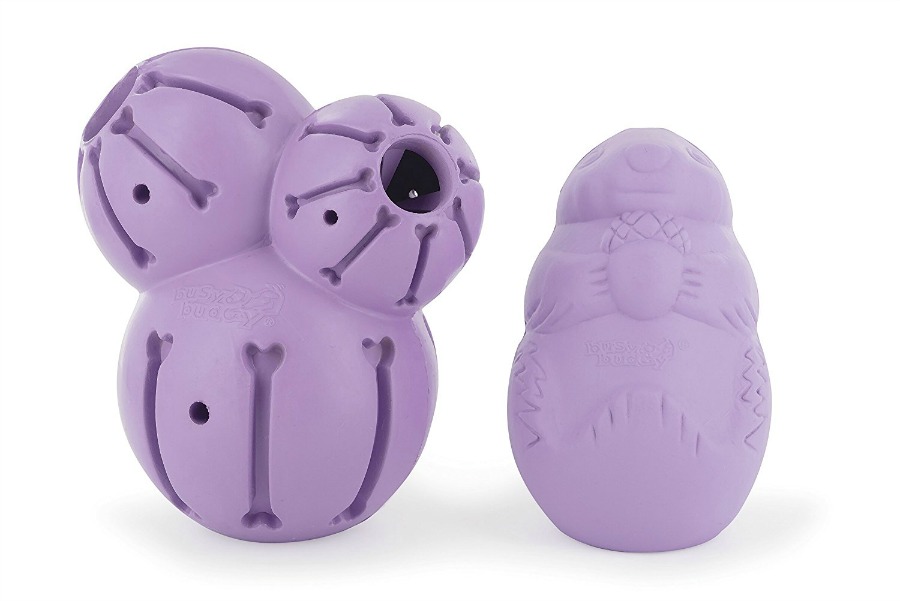 PetSafe Busy Buddy Chamomile-Scented Calming Toys: Our Thoughts
As some of you may know from previous reviews, my girls have always been fans of the PetSafe Busy Buddy Squirrel toy. Each of them has their own squirrel that they love that they enjoy finding treats inside every so often. When the girls saw two of their favorite toys enter the house again, they were happy to start playing with them and more importantly, looking to see if there were treats inside.  While the toys have been favorites for awhile with their fun, bouncy, treat dispensing design, they were quick to notice the new scent. This just made the toys even more interesting,  leaving them playing with both of their new toys for quite some time. Overall, this led two very happy dog parents who are eager to try them out the next time they out for a long period of time.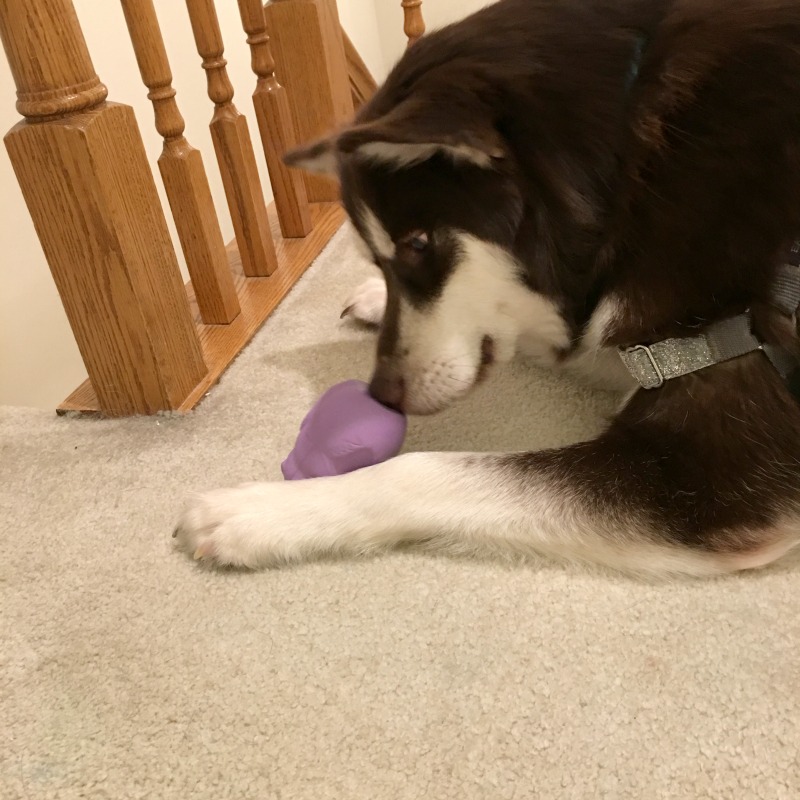 PetSafe Busy Buddy Chamomile-Scented Calming Toys: Where to Purchase
Want to purchase this cute set for your own pup? You can find the PetSafe Busy Buddy Chamomile-Scented Calming Toys on the PetSafe website in two sizes – small ($19.99) or medium ($24.99).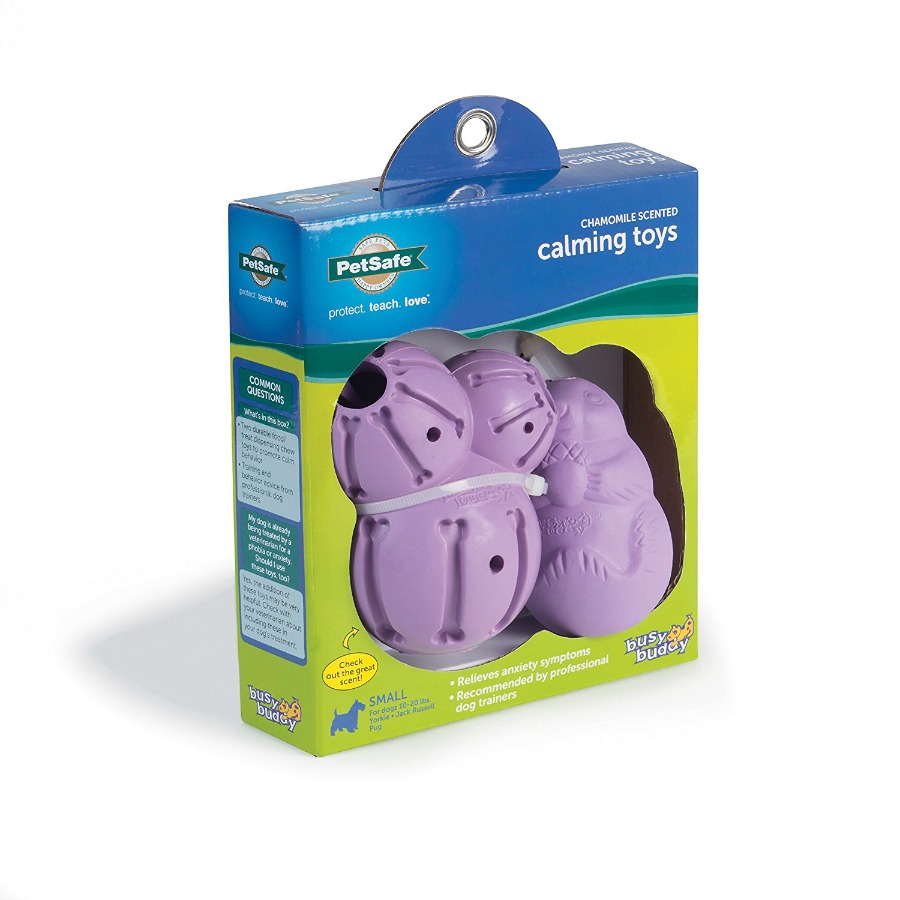 Disclosure: Budget Earth did not receive monetary compensation for this review, but did receive products for review purposes.  All opinions on this product are my own honest assessment, and may differ from our readers' opinions. 
Would you like to have your products featured in a giveaway event? Want to increase your social media exposure? Contact susan.l.bewley@gmail.com to see how I can help YOUR company today!