Disclosure: I received this products for free to review. The opinions in my review are honest and my own.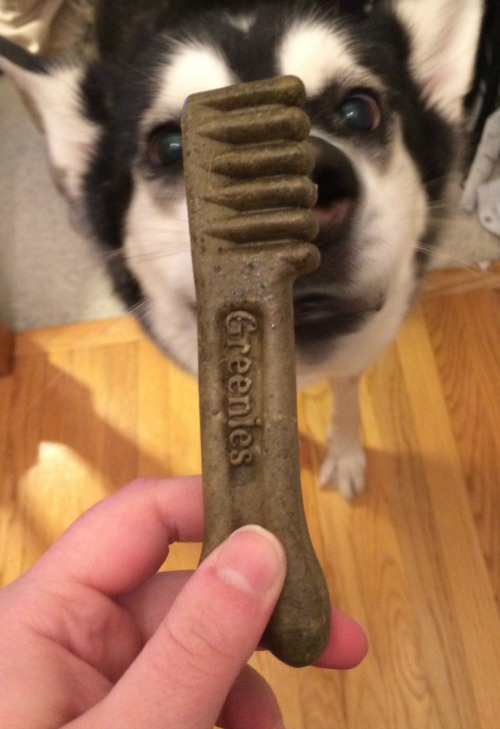 As many pet owners know, dental health is serious business for dogs. With most dogs showing signs of dental disease by the age of 3, it is important that we do everything we can as owners to keep our favorite canine's teeth in top shape as long as possible. Since Reya isn't a huge fan of getting her teeth brushed (or letting anyone in her mouth for that matter), GREENIES® have always been a major part of our daily routine. With how much Reya loves her dental chews, I was excited when I learned that GREENIES® had a new set of products, including two fun flavors and a new line of grain-free chews!
GREENIES® Dental Chews: What is It?
Looking for a great treat to make taking care of your dog's teeth easier than ever? If so, we think you will love GREENIES® Dental Chews. Not only do these treats taste amazing to dogs and cats, they are healthy too, promoting dental health, hairball control for cats, healthy skin and fur, joint support, and better digestion! They are even more digestible than premium dog food since they are contain highly soluble ingredients so that dogs break down the treat quickly. As the number one vet-recommended chew and treat, it isn't surprising that GREENIES® Dental Chews are also the first treat to receive the Veterinary Oral Healthy Council Seal of acceptance for controlling plaque and tartar buildup. The best part of Greenies, however, is that dogs absolutely love them and look forward to this daily treat!
Want to know something even better for us dog and cat owners? GREENIES® just added even more options for dogs and cats in February. Now, our favorite furry family member can enjoy wonderful flavors such as Bursting Blueberry, Freshmint, and even Grain Free Varieties. We are certain that once your pet tries these yummy treats you won't have to worry about their teeth again!
GREENIES® Dental Chews New Flavors: Overall
To check out the new flavors, Reya was sent a pack of GREENIES® brand new Freshmint Dental Chews. From the moment we open the bag, even the humans loved these treats – unlike some other dog treats, they smell amazing! Of course, it only mattered that one person in our household loved these treats – Reya. In all honesty, I think there may be a chance she likes these new mint GREENIES® better than the original flavor! Best of all, her breath smells amazing after having one of her dental treats. Now, I can't wait for them to start selling a giant box of this flavor since they are loved so much in our household. Based on our own experience, we are happy to give GREENIES® Freshmint Dental Chews an A+ rating!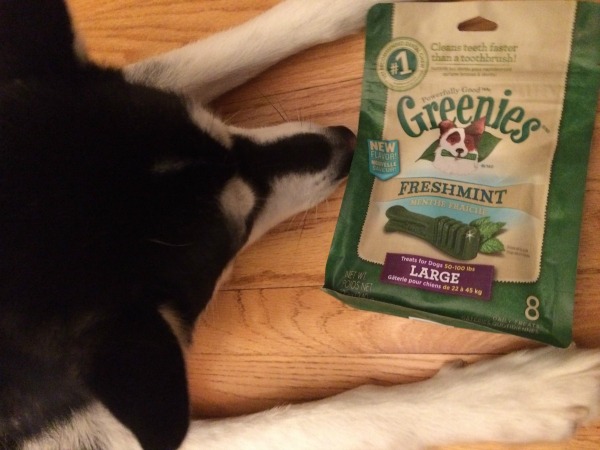 GREENIES® Dental Chews New Flavors: Where to Purchase
Want to try these awesome treats for your favorite pup? You can find GREENIES® at most pet stores near you, including Petsmart and Petco. If you are looking for the Grain Free varieties, they are currently sold at Petsmart and will soon be available at Petco as well! To find a location near you, check out the GREENIES store locator!
Want to learn more? Check out GREENIES® on Social Media!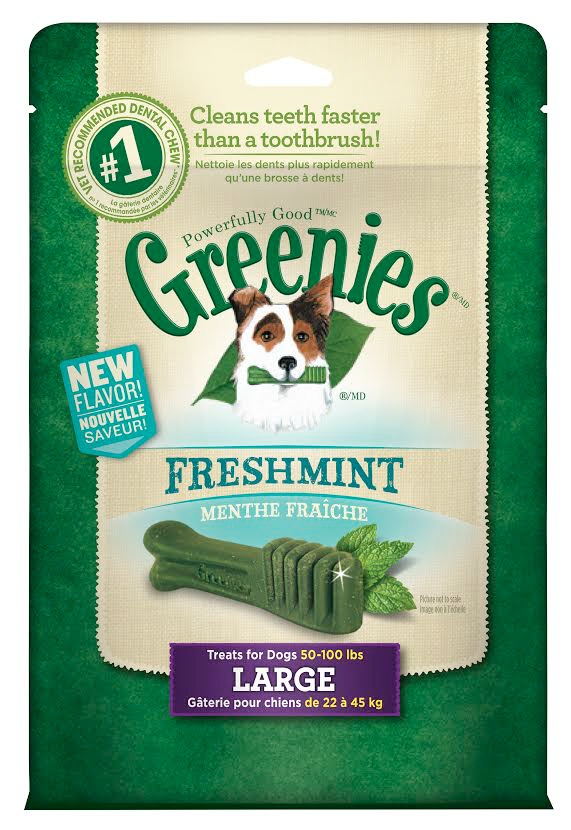 Disclosure: Budget Earth did not receive monetary compensation but did receive products for review purposes. All opinions on this product are my own and may differ from our readers' opinions.
Would you like to have your products featured in a giveaway event? Want to increase your social media exposure? Contact susan.l.bewley@gmail.com to see how I can help YOUR company today!