Disclosure: Budget Earth received products for this review. All opinions, however, are honest and my own.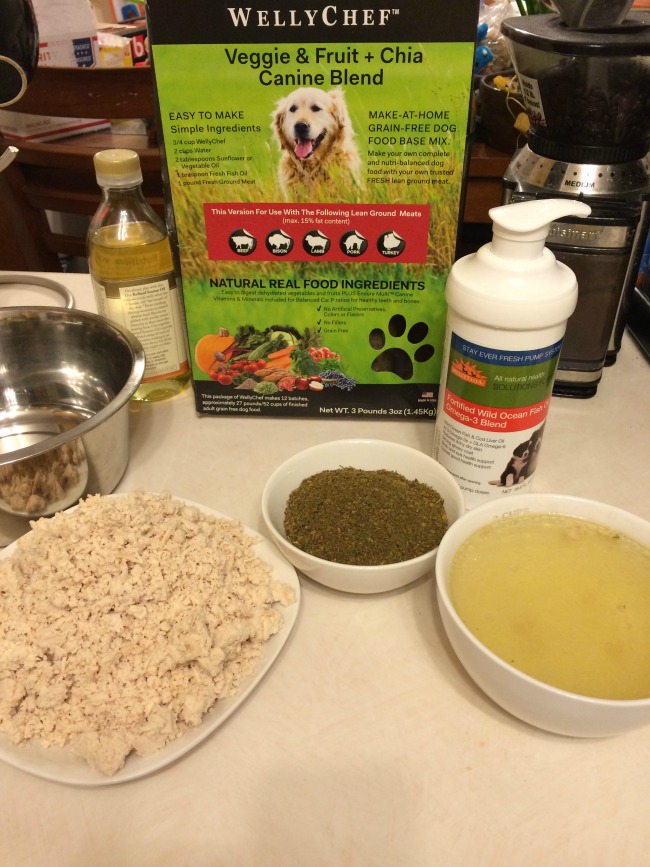 I don't know about you, but I sometimes struggle looking for food for Reya. Even though many people don't talk about it, I have never met a dog that wants to constantly be eating the same food. Since I am very picky about the food Reya is allowed to eat, this can make finding high quality, natural foods for her rather tricky, but important. One type of dog food my girl has always loved, however, are dehydrated foods, especially if they are chicken or turkey based. While at BlogPaws, I met representatives from WellyTails, who told me about their high quality, dehydrated food and fish oil supplement. All you have to do is add your own protein and water to have a high quality meal for your dog. Since I was curious about the food and Reya was VERY eager to try a sample at their booth, they gave a box to try at home. After finding some chicken breast on a good sale, I decided it was the perfect time for us to try out WellyTail's WellyChef dehydrated food and fish oil supplement for ourselves!
WellyTails: What is It?
Looking for all natural dog food that is not only healthy but nutritionally balanced? If so, we think you will love WellyTails dehydrated food WellyChef and their Fortified Wild Ocean Fish Oil supplement. Their foods are designed to not only make preparing your own dog food at home easy, they use ingredients that are scientifically proven to make sure your dog is getting the best food possible. All you have to do is add your own protein, fish oil, sunflower oil, and the WellyChef mix to create high quality, all natural dog food that drives dogs wild. With how the food is designed, you can choose to use their food along with cooked or raw meat, making it perfect for whatever diet you find best for your dog. Best of all, their food is made in North America, making sure that your dog isn't exposed to anything scary. They are certain that once you try their food, you won't want to give your dog anything else!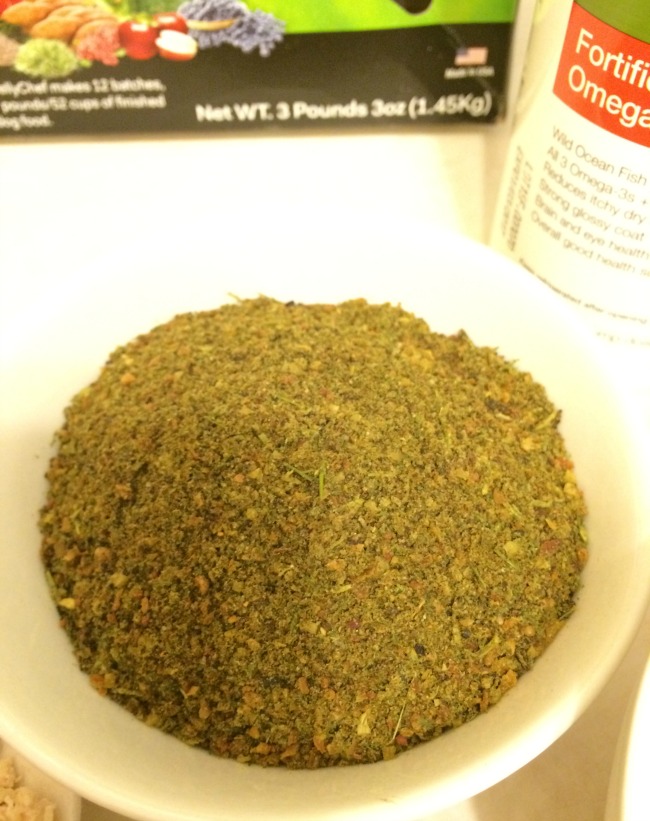 WellyTails: Overall
In all honesty, I wasn't for sure what to think about WellyTails when I first started making this food. I had always tried dehydrated food that already included some variety of animal protein. Since I found an awesome deal on chicken, however, I boiled the chicken and got to work. After chopping up the chicken in my food processor and measuring out the water used for cooking the chicken, I got to work making Reya's first meal with this food. What shocked me, however, was how much Reya started singing and yelling at me when I started making this food. She wanted to dig into it NOW. Not when it was ready – now! It seemed like the longest 15- 20 minutes ever as I waited for the mixture to hydrate. After using their fish oil pump (which is quite awesome, I have to say), I measured the correct serving amount for her and prepared to give Reya her dinner. As you can see from the picture, it hydrated rather well and looked pretty good!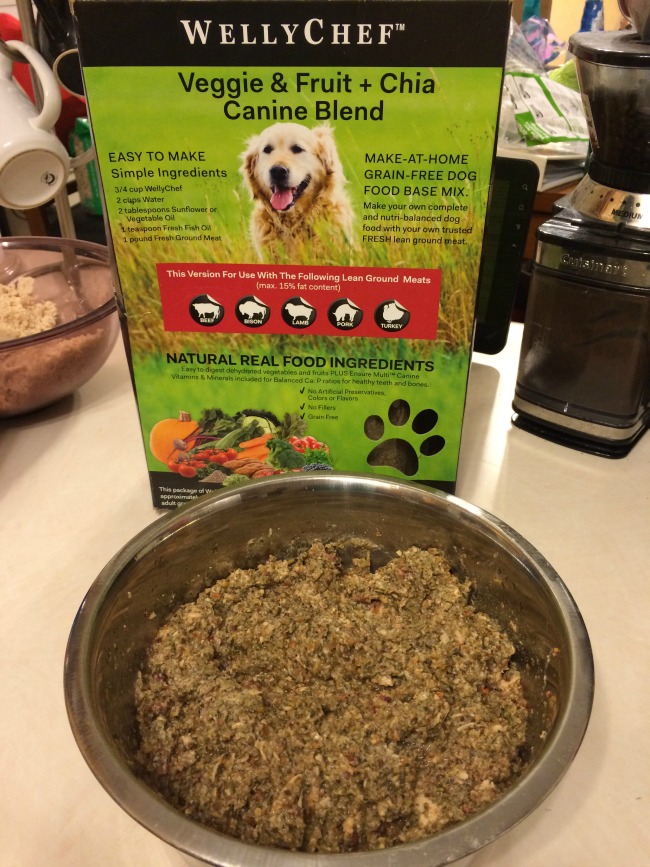 The real test, however, was Reya's reaction. After pacing for nearly 20 minutes to have her food, she was ready to dive into this food and start eating. From the moment I put it down on the floor, she was hooked! After about fifteen minutes, her bowl was completely empty and she savored every bite. After her meal, she laid down on my feet and gave me lot of love, letting me know that mom did a good job with her 'hunt' in the kitchen. I was personally happy that she loved this food, especially with all the wonderful nutrients in this gluten-free dehydrated food. Even Ivi had fun 'stealing' some of her sister's food this morning while she was distracted. So far, this food is a major hit in my household and I'm excited to try it with other proteins. Based on our own experience, I am happy to give WellyTail's WellyChef food and fish oil supplement an A+ rating and highly recommend it to my readers!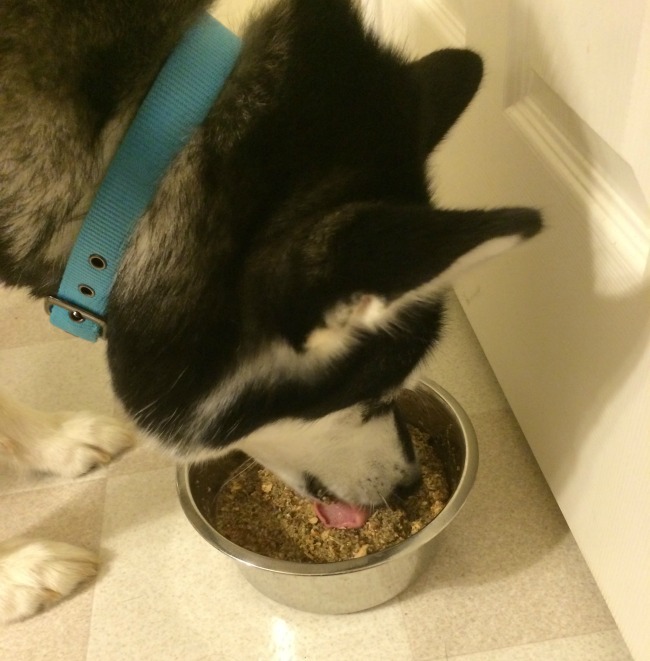 WellyTails: Where to Purchase
Want to purchase some of this awesome food for your own dog? You can buy WellyChef food and supplements on WellyTails website. Once you try this awesome food, you see why dogs everywhere love WellyChef!
Want to learn more? Follow WellyTails on social media!
Facebook |Twitter | Pinterest | Instagram

Disclosure: Budget Earth did not receive monetary compensation for this review, but did receive products for review purpose.  All opinions on this product are my own honest assessment, and may differ from our readers' opinions. 
Would you like to have your products featured in a giveaway event? Want to increase your social media exposure? Contact susan.l.bewley@gmail.com to see how I can help YOUR company today!