Are you looking for new ways to make money online or get gift cards? For years, I have been testing out different survey companies and quick games that allow you to make money online. Some of them are good, and some I have mostly ignored since I don't get the point of their program. I am not one of those people who hurry to a site for a chance to win – my time is more valuable than that – and I want to make sure I'm not spending money to make (less) money. One of my new favorite sites that I found recently where I am working to get Amazon gift cards is Gifthulk.
With Gifthulk, users are able to earn gift cards, electronics, premium game cards, and other rewards through their store through Hulk Coins. These coins can be earned by doing things you already do online – like internet searches and browsing different websites. Currently there are over 15 different ways to earn Hulk Coins including –
Internet Searches
Treasure Chests (you get free keys everyday – this is an instant win game)
Watching Videos
Entering Giveaways
Surveys
Friend Connect
Daily Tasks
Polls
Playing Online Games
Online Deals & Offers
& More
The designers of Gift Hulk based their business model around the thought that "Time is Money" and that you should be able to make money doing the things you love online. One of the biggest ways to make money is through their search results which pull information from Google, Bing, & Yahoo.
What I love the most about Gift Hulk is that there isn't a catch. Those of you who take part in a lot of the survey sites know that some of them make us pay shipping or wait a ridiculous amount of time to get our gift cards. On Gift Hulk, everything in their store is always in stock and has free delivery! As well, the prize list is constantly growing as they add more items that are suggested by members.
Are you interested in trying out Gift Hulk? Currently, it is open to users who are from the USA, Canada, UK, Australia, Ireland, and New Zealand. It is ALWAYS FREE TO JOIN and they have the best customer service of any program I have seen online. To join, feel free to click on any of the banners on this page. Also, don't forget to check below to enter to win gift cards from Gift Hulk!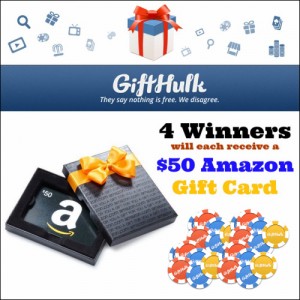 The GiftHulk Giveaway Event was organized by Mom Powered Media. Please take a moment to also visit our lovely co-hosts, whom without them great things such as these would not be possible: Mom Knows It All, Keeping Your Cents, The Write Mama, Mew Review and Secret Southern Couture.
Four lucky winners will each receive a $50 Amazon Gift Card.
Giveaway ends July 29th at 11:59pm, open to USA, UK, Canada, Australia, New Zealand, France, Germany and Ireland residents, ages 18+. To enter please use the Rafflecopter form below. Good luck!
Disclosure: Budget Earth did not receive compensation for this giveaway. Facebook, Twitter, & Pinterest are in no way associated with this giveaway. Prize fulfillment and shipping will be handled by sponsor.
Would you like to have your products featured in a similar giveaway event? Want to increase your social media exposure before the holiday season? See how we can help! Contact budgetearth@gmail.com to see what Mom Powered Media can do for your company!