Disclosure: I received this product for free to review. The opinions in my review are honest and my own.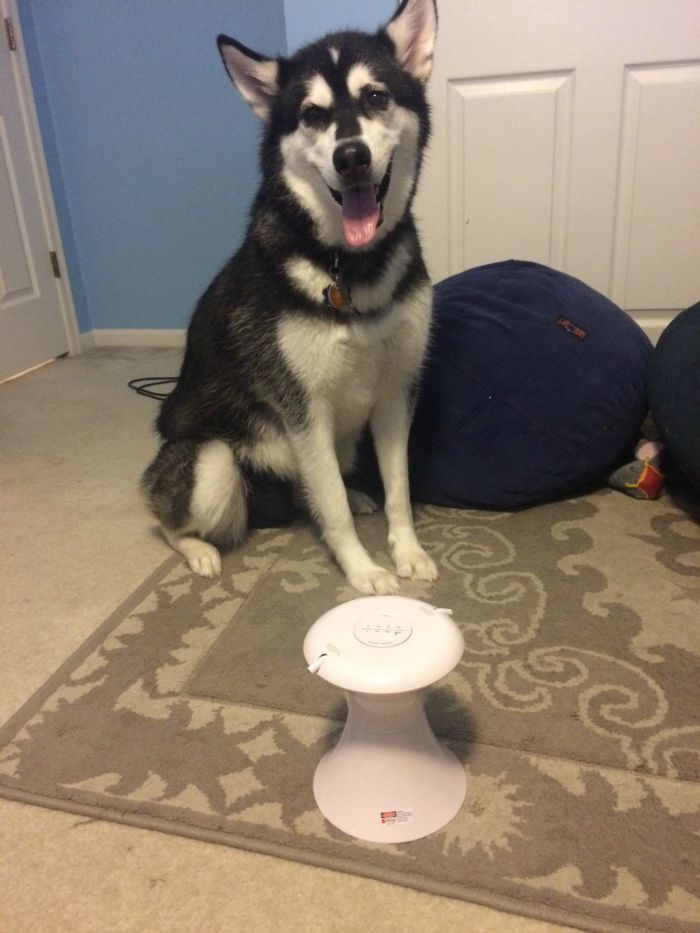 Do you have a pet that loves to play with laser toys? In our household, these toys are a big deal.  Even though the puppy is here to tire her out, Reya sometimes would prefer flopping on her favorite spot by the front door and cuddling with her new dragons rather than playing with interactive toys. Believe me, she will go through a puzzle toy in less than five minutes so she can go back to lounging around. One of her favorite toys of all time was when we were taking the temperature of some of our dragon tanks with an infrared thermometer, with a laser pointer guide: we accidentally learned that Reya loved to chase lasers, so much so that she would happily race throughout the house to catch the laser. We have even seen her nose laser pens in hopes we will give her something to chase, especially on rainy days.
While we were at BlogPaws, Reya actually got to see a small version of a laser toy designed for cats, which made her go wild (it may have made her Mom panic a bit, especially since she nearly took down a table to get to it!). Luckily, she stopped herself before that happened and happily watched the toy move about. When they saw how much she loved it, PetSafe said that Reya had to try the Frolicat Dart Duo. Once the toy arrived, I couldn't wait for Ivi and her to play with this new toy!
Frolicat Dart Duo: What is It?
Looking for a fun toy to help dogs and cats alike be more active? If so, we think you will love the Frolicat Dart Duo – made by PetSafe. This automatic rotating light toy has two lasers, so that multiple dogs and cats can share in the fun! Just place the toy on the floor, turn it on, and watch them play! The unpredictable movements of the toy keeps dogs and cats alike motivated as they dart, pounce, and chase the laser as it t spins and moves the lasers on different sides of your pet . Not only does it come with four adjustable speeds, but four timer settings as well, giving you 16 engaging play combinations to find what is perfect for your own pet's needs and endurance.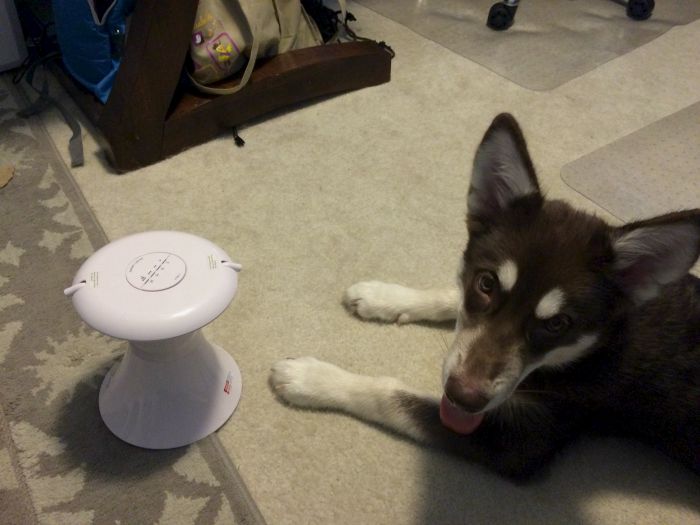 Frolicat Dart Duo: Overall
From the moment I turned on this toy, my girls were hooked. Reya was bouncing all over the room in pure excitement, trying to catch the laser. While Ivi wasn't too sure about it at first, she soon joined in and tried pouncing the laser that wasn't taking Reya's full attention. After awhile though, she moved to the floor and just started trying to catch the laser with her paws (lazy puppy!). In the end though, this toy was about a half hour of pure cuteness before the girls went to doing something else. Since this was actually right about the time it was set to turn off, this seemed like perfect timing for this toy. I will say I did change the speed a few times just to see which setting the girls like the best. After about two days of play, I have to say I am in love with the Frolicat Dart Duo – nearly as much as our pups – and can't wait to see how it is with my mother in law's cats. Based on our own experience, I am happy to give the Frolicat Dart Duo an A+ rating and highly recommend it to our readers!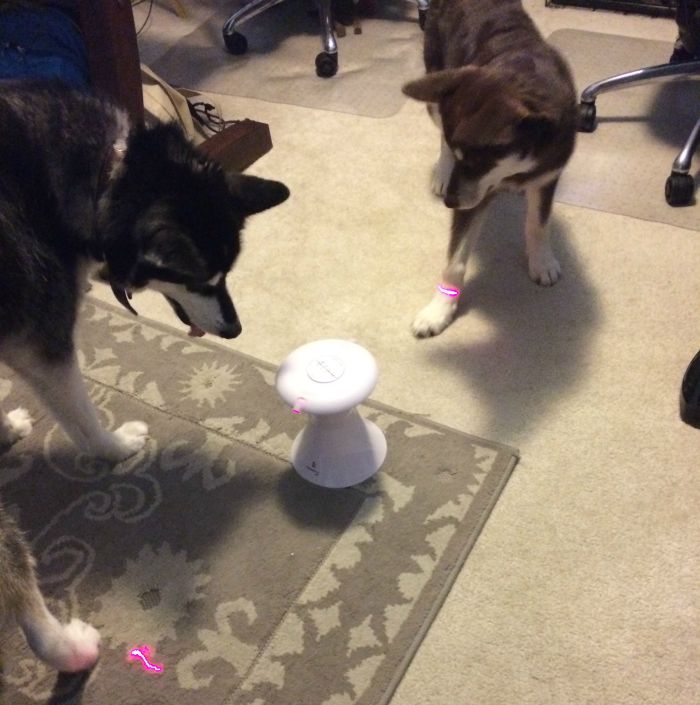 PetSafe Frolicat Dart Duo: Where to Purchase
Want to purchase this adorable toy for your own dog or cat? You can buy the Frolicat Dart Duo on the PetSafe website for only $42.95 (MSVP: $45.54)! (Note: toy requires 3 AA batteries that are not includes).
Disclosure: Budget Earth did not receive monetary compensation for this review, but did receive products for review purposes.  All opinions on this product are my own honest assessment, and may differ from our readers' opinions. 
Would you like to have your products featured in a giveaway event? Want to increase your social media exposure? Contact susan.l.bewley@gmail.com to see how I can help YOUR company today!