Disclosure: Budget Earth received products for this review. All opinions, however, are honest and my own.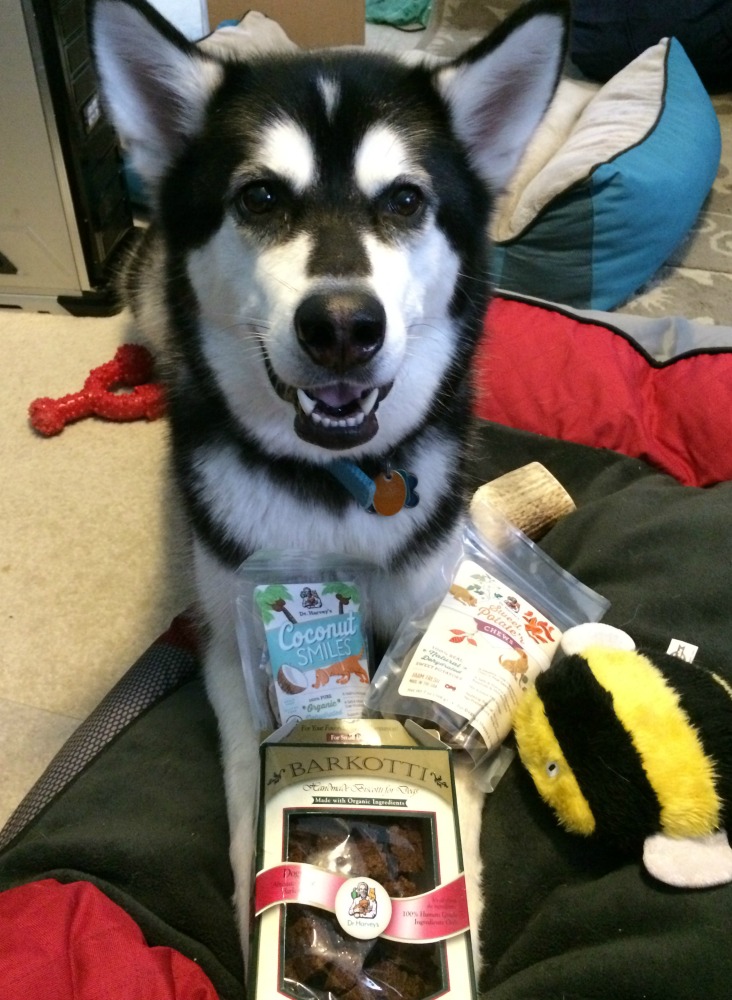 Do you have dogs that truly love treat time? For us, treats aren't just something the girls enjoy, but are used to reinforce good behavior and for learning new tricks. Of course, we don't use just any type of treats in our house, especially since we think treats should be nutritious and made from only all natural ingredients. With more companies making treats outside of the United States or Canada, it is important that you not only check that they didn't come from China, but that the ingredients are as healthy as possible. As odd as it sounds, our dogs actually like and feel better eating healthier treats. Luckily, we recently learned that Dr. Harvey's has a line of natural treats that are not only nutritious and safe, but drive dogs absolutely wild!
Dr. Harvey's Treats: Coconut Smiles
Trying to find a nutritious treat perfect for puppies and dogs? If so, we think you will love Dr Harvey's Coconut Smiles. These treats are made using only one ingredients – USDA organic dehydrated coconut. This super food isn't just good for us, but dogs as well. Not only rich in favor, is full of powerful nutrients that can help with the following:
Relieve arthritis
Reduce cholesterol levels
fight against heart disease
Improve digestion
Improve skin and coat
Improve body's metabolism and hormones
Reduce allergic reaction
Prevent and control diabetes
In our household, Ivi and Reya both go wild over these treats. So wild that if we aren't careful, they will start fighting for our attention since they both want these treats NOW. Who knew coconut would be such a hit? What I also love about these treats is a little really does go a long way. One piece of coconut I can break apart into three to four different pieces for the girls, making training even more productive without overdoing it on treats. Based on our own experience, we are happy to give Dr. Harvey's Coconut Smiles an A+ rating and highly recommend them to all of our readers!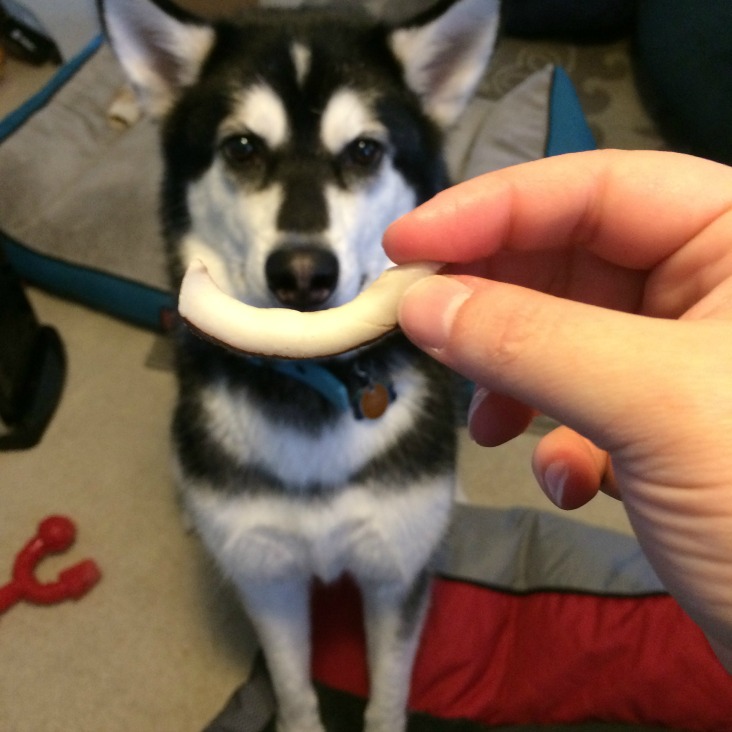 Dr. Harvey's Treats: Sweet Potate'r Chews
Want to find delicious treats for your dog made from human ingredients? If so, we think you will love Dr Harvey's New Sweet Potate'r Chews. These treats have only one, all natural, dehydrated ingredient – sweet potatoes. While these treats may sound simple, they are low calorie and very high in vitamins and minerals, making them the perfect treat for dogs of all ages. Best of all, they are safer than rawhide or molded treats, making them perfect for your dogs teeth and gums without any added salt or sugar. Since they are grown and packaged right here in the United States, you also don't have to worry about the potatoes being exposed to anything frightening, especially since Dr. Harvey's is a strong believer in not using preservatives, dyes, or synthetic chemicals. Really, these are the perfect natural treat for that drive dogs crazy!
Want to know what our girls think of these Sweet Potate'r Chews? Reya loves anything sweet potato so I wasn't too surprised when she gobbled these up happily though. Ivi though, this was her first real experience eating sweet potatoes. From the moment she sniffed and took a bite, however, she was hooked! Best of all, these treats have been a real life saver with her teething, since they are gentle on her gums and developing teeth. Based on our own experience, we are delighted to give Dr Harvey's Sweet Potate'r Chews an A rating!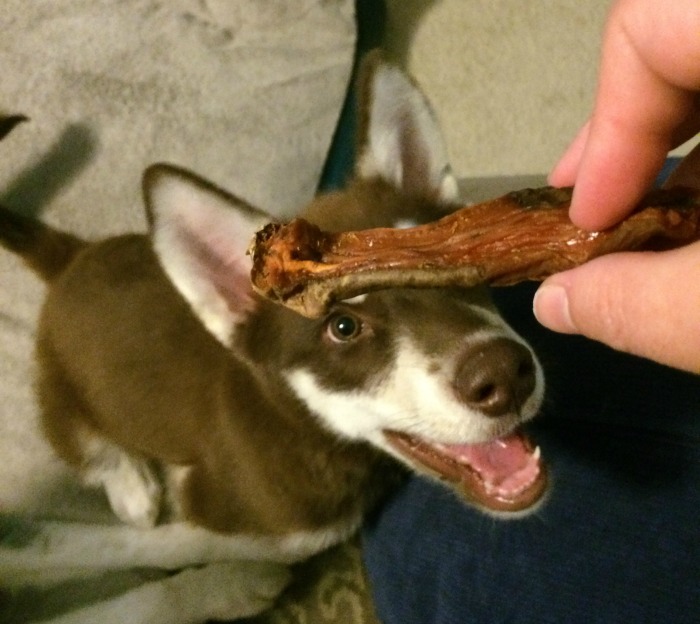 Dr. Harvey's Treats: Organic Barkotti
Looking for yummy, crunchy treats for your favorite dog? If so, we think you will love Dr Harvey's Barkotti Treats. Using a vegetarian recipe, this recipe is filled with vitamins and minerals from various fruits and vegetables, creating a crunchy, healthy treat that dogs love. With the simple ingredient list, these treats are perfect for dogs of all breeds and ages, making these the ideal guilt free treat!
In our household, both Ivi and Reya love these treats. From the moment I opened the package, I had two very attentive girls who were very eager to bite into these treats. Best of all, they were hard but not too hard, allowing Ivi to easily chew up these treats with her puppy teeth. What mom loves too though is that they are not only healthy, but don't smell bad at all, being a nice treat compared to other treats. Based on our own experience, we are happy to give Dr Harvey's Barkotti Treats an A rating.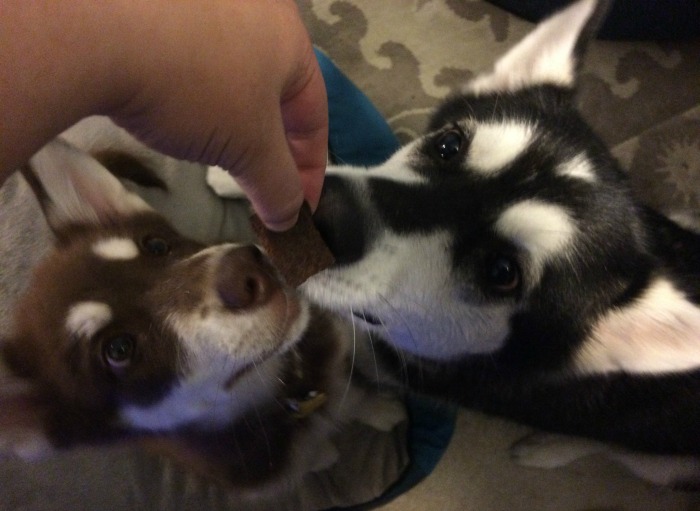 Dr. Harvey's Treats: Where to Purchase
Want to purchase these wonderful, all natural treats for your own dogs? You can find all the awesome treats featured in this review on the Dr. Harvey's website. Also, don't forget that all of their treats are made right here in the United States! Once you try these great treats, you will see why dog lovers everywhere love Dr. Harvey's!
Want to learn more? Check out Dr. Harvey's on social media!
Facebook | Twitter | Youtube

Disclosure: Budget Earth did not receive monetary compensation for this review, but did receive products for review purpose.  All opinions on this product are my own honest assessment, and may differ from our readers' opinions. 
Would you like to have your products featured in a giveaway event? Want to increase your social media exposure? Contact susan.l.bewley@gmail.com to see how I can help YOUR company today!