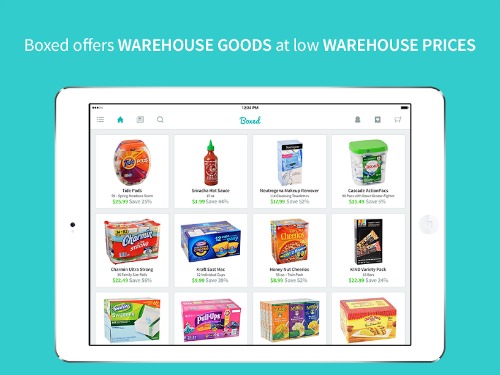 Do any of you hate going to Sam's Club or Costco? I will freely admit, I dread it. Going to these stores, especially on weekends can easily end in hours of time lost. By the time you finish looking at the store, get what you need, get things you weren't planning on getting, and get through the line, it's easy to lose 2-3 hours. For me, the experience is draining and exhausting, never mind a huge time sink in my precious weekend. While I do try shopping online for items, they usually aren't available in bulk in prices that I consider reasonable, leading to us sometime going without or putting off our trip to Sam's Club. In the end, it felt like a battle my husband and I just couldn't win. At least, until we found an online wholesale store that seemed perfect for us – Boxed.com!
Boxed Wholesale: What is It?
Looking for a way to buy bulk sized items without paying club fees or having to leave your home? If so, we are certain you will love Boxed.com. This online-only service completely changes your wholesale shopping experience by delivering bulk sized goods straight to your doorstep in two days or less, without having to pay any membership fees! Not only does it save you time, but money as well since they offer fantastic discounts, sales, and you don't have to worry about paying gas whenever you need to go to the store. Of course, the best part is you don't have to be stressed out by dealing with crowds or large lines since this warehouse is available on any computer or through your mobile device using their user-friendly smartphone app. With this fantastic service, you will learn to love shopping all over again!

Boxed Wholesale: Overall
Okay everyone, I will freely admit, I love this service. Not only does Boxed have some of the normal brands you see in Sam's Club and Costco, but many organic and natural brands as well! As those of you who live a healthy lifestyle know, it's very hard to get these brands at a discounted price, making any deals you can get ever better! I personally loved their large selection of products, ranging from groceries to cleaners, and even odds and end gift items. Best of all, are the discounts! For my review, I was given a $50 gift card and told to have fun. Many of the items I purchased were anywhere from 38% – 67% off their retail price, with my favorite being my 64 oz bag of coconut flour. As some of you know, this flour isn't cheap but a very yummy and healthy baking substitute. At the end of my shopping experience, I was delighted with how much I was able to buy for the money, including a nice stainless knife set!
In all, I ended up saving a bit over $46 on my first order, allowing me to get a bit over $100 worth of items for only $54, how cool is that! Which, by the way, was without any sort of promo code or added discounts! Like anyone who orders stuff online knows, buying from wholesale places online is only as good as their shipping. Not only was Boxed.com very fast with their shipping, but all items that could break were well-wrapped in bubble wrap, and the box itself was packed tightly with paper, guaranteeing nothing shifted. I can't remember the last time I had something packed THIS well! Really, I don't think I could be happier. Based on my own experience, I am delighted to give Boxed.com an A+ rating and can't wait to use it more in the future!
Boxed Wholesale: Sign Up Today!
Would you like to take advantage of these amazing deals right in your own home? Head over to Boxed.com and sign up today! Once you have tried this fantastic service you won't fight your way through big box retailers again!