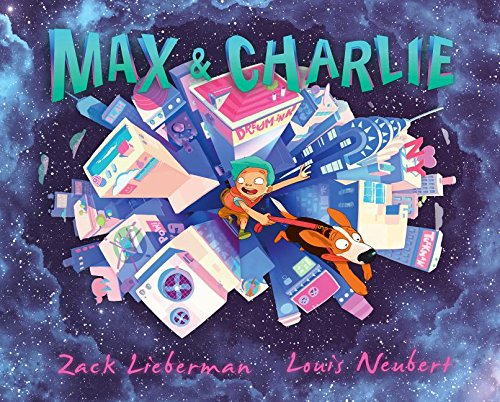 Do you love comics and graphic novels? Ever since I was a kid, I loved reading comic books and later, reading a variety of graphic novels from not just the United States, but Japan as well. As I've gotten older, I have especially loved reading some of the more modern graphic novels to get kids and adults excited about reading. One of the most recent books I had the opportunity to read was Max & Charlie by Zack Lieberman. After reading about the book being about a fun adventure through New York City, I knew I had to give this book a try!
Max & Charlie: About the Book
Are you looking for a fun graphic novel that will get gets looking forward to reading? If so, we think you will love Max & Charlie! Here is what the publisher has to say about this fun book!
MAX & CHARLIE is a graphic novel adventure through the chaOs of a dreamed New York City. We follow our reluctant young hero (Charlie!) as he chases his silly beagle pup (Max!) through a beautiful dreamed day in the city. But there's something a little strange about this place… and we hope you read the book to discover what's what!

This beautifully-made book was printed in the USA and was created independently by a small team of independent artists in Brooklyn, USA and Bristol, UK. Learn more, check out lots of behind the scenes action, and lots more cool stuff at MAXandCHARLIE.com
Max & Charlie: Our Thoughts
Okay, I will freely admit, this is a fun, slightly trippy graphic novel. This cute book is about Charlie and his dog Max as they go on a dream like adventure around New York City. It is filled with fun, adventure, and a few thought provoking moments that is plain cool for kids and adults alike. That being said, it is very fast paced and likely not a good book for small children since some of the scenes may seem a bit confusing or more like a nightmare. Honestly, I would consider this more of a book for about eight or ten and older due to some of the scenes. Not because they are violent, but it being hard for some young children to understand. With a bit of imagination though, it is fun to see him go along with Charlie's adventure as he goes about New York. My favorite part of the book, however, is the vivid artwork and colors, making it a fun book for the whole family to enjoy.
Max & Charlie: Where to Purchase
Max & Charlie: Want to pick up this book for yourself or someone in your family? You can purchase Max & Charlie on Amazon in hardcover for $31.80 or paperback for $19.91.
Would you like to have your products featured in a giveaway event? Want to increase your social media exposure? Contact susan.l.bewley@gmail.com to see how I can help YOUR company today!