Unlike many college students, I never lived on campus. When I went to Bresica University and the University of Louisville, I drove to class every day, a bit more of a feat when I went to UofL since it was over an hour and a half away. Like any college student, I had a variety of papers, statistics, and other information I kept on me at all times, including confidential information when I was taking classes that involved working with students. Since I had so much to keep up with, I usually kept a USB drive in purse or backpack at all times. While I had backpacks on my main PC, it was always a near breakdown when I realized I left my USB drive at home – something I couldn't exactly turn around and grab when I went to the University of Louisville. Back then, I would have loved to have had a Memory on Hand USB Bracelet.
Memory on Hand Bracelets: What is It
If you are like me, you likely hadn't heard of Memory on Hand until this review. This small company specializes in make stylish, silicone USB bracelets that mesh perfectly with today's busy lifestyle. While there have always been USB necklaces, these were always tacky and something most women wouldn't be caught dead wearing, especially on campus. Not only do they look great, they easily allow you to bring your USB drive with anywhere in a way that doesn't look tacky and keeps you from forgetting important documents or papers.
While Memory on Hand is still a fairly new company, they have already sold over 100,000 of these bracelets, and been featured on the Today Show. The original bracelet was designed by Andrew Kitzenberg in 2010 as part of a college project. Tired of constantly losing his USB drives, he created a USB bracelet that could travel with everywhere. After graduating college in May 2010, he decided to turn his USB bracelet into a business, creating Memory on Hand with a fellow classmate, Jeff Brayer. Today, they sell over 34 styles of Memory on Hand USB bracelet.
Memory on Hand Bracelets: Hardware
On a hardware standpoint, the USB drive on the Memory on Hand USB bracelet is similar to most other flash drives. It is a small, solid state USB drive that is compact and easy to carry around with you anywhere. To help protect the drive itself, it is completey covered with silicone when worn like a bracelet. What is very unique about the design, however, is the top, since it attaches to the USB drive using little silicone teeth that fit the metal part of the USB drive snugly.
As for the usability of the Memory on Hand USB bracelet, it comes in three size – 2 Gig, 4 gig, or 8 gig. For this review, Memory on Hand provided me with a black and white 2 gig bracelet, which is pictured below.
Like most USB drives, it is important to remember that you truly do not have 2 gigs of storage on the drive due to the way drive memory is calculated. Just to keep this short and sweet, some memory is lost during formatting, making a 2 gig drive actually 1.87 gig USB drive. While this may sound like a bad thing, don't worry, this is how all USB and hard drives work.
During my own testing of the Memory on Hand USB Bracelet, I found that the USB drive was very quick to respond. I have had some USB drives in the past that took nearly a minute to be recognized by windows, but the USB drive that is part of this bracelet is recognized in seconds in my experience. This is a very good thing since it means you can start transferring or saving data immediately. For my test, I filled this bracelet with 496 MP3s, and played them on both my laptop and main gaming PC. I found that information transferred perfectly and there was no loss of data, meaning that the hardware works perfectly. From a hardware standpoint, the Memory on Hand USB Bracelet seems to be looking pretty good!
Memory on Hand Bracelets: Style
What truly makes these bracelets unique compared to other USB drives on the market is that they are meant to make a fashion statement. While you may be able to find some cheaper drives, how many of them are decorative bracelets that carry information in a way that's hard to leave behind? Really, I am surprised that no one came up with the concept for the Memory on Hand USB Bracelets sooner! As stated before, the USB part of this bracelet is attached to a 7.5 inch silicone wristband. Why silicone you may ask? Well, for one, it is very water resistant, allowing you to wash your hands, go out in the rain, or exercise without ruining the USB bracelet. Just as fair warning, remember that water resistant doesn't meant its safe for the shower or swimming!
While I am techy and a bit of a geek, I have to admit, I love these Memory on Hand USB bracelets! It is rare you find an accessory that is functional AND good-looking! These bracelets are available in a number of solid colors, tie-dye, and even rainbow colors. What I especially loved is that these bracelets aren't just girly, but something a guy wouldn't be embarrassed to wear in the right colors. As for the fit itself, the bracelet was fairly loose on my own wrist, fitting similar to a dangle bracelet. On my husband's wrist, however, it was a snug fit. Not too tight, certainly not too loose. The silicone band itself has quite a bit of stretch, allowing just about anyone to wear these bracelets.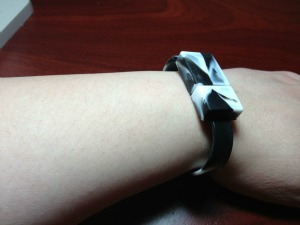 Memory on Hand Bracelets: Usability
So, the big question is, are these bracelets just a gimmick or something useful? Personally, I think these bracelets are absolutely brilliant! I can switch pictures easily with friends, transport MP3s between computers, and keep a backup of my novel with me at all times. I would have absolutely loved to have had one of these bracelets with me in college, especially with how many papers I was having to write with very little notice. Really, the Memory on Hand USB Bracelet is a must for any college student!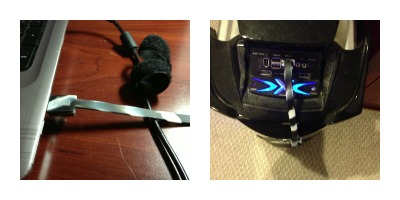 Memory on Hand Bracelets: Overall
I'll be quite honest, I have absolutely fallen in love with the idea behind the Memory on Hand USB bracelet. When I was college or travelling constantly, I would have loved to have had one of these bracelets. While I don't travel as much anymore, I still find that this USB bracelet is quite useful for me, especially when I'm transferring large files between my main computer and another computer in my household. After wearing and playing around with this bracelet for two weeks, I can easily give this bracelet an A+ rating and highly recommend this bracelet for parents who are on the go or college students looking to keep up with all of their college work!

Memory on Hand Bracelets: Where to Purchase
Want to purchase a Memory on Hand USB bracelet? As of the writing of this article, you can purchase one of these bracelets for about $14 – $24, depending on the size of the USB drive you want in your bracelet. With over 34 different designs, everyone can find exactly what they are looking for at the Memory on Hand store. If you purchase one of these bracelets from Memory on Hand, you can get an additional 20% off for being one of our readers by using the code HAPPYHOLIDAYS. To get the best deals from Memory on Hand, make sure to check out their Facebook & Twitter pages! You can also purchase these bracelets on Amazon.com. If you would like to see what others have to say about these bracelets, feel free to check out Memory on Hand's product page on Amazon.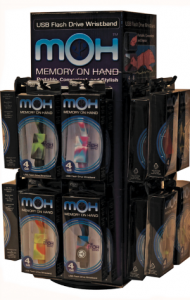 Disclosure: As a reminder, none of the writers at Budget Earth received compensation for any of the contests listed on this blog. We did, however, receive a bracelet from Memory on Hand for review purposes through Tomoson.com. All of the opinions on this blog are the opinions of said author and these opinions may differ from your own.