Do you find yourself struggling when it comes to purchasing healthy, eco-friendly items for your family? I'll be honest, I have overwhelmed myself more than once researching items. Usually, this ends with me giving up for a time or needing my husband to help me since I'm being indecisive. With so much conflicting information out there, it's hard for us to tell the difference between clever advertising, scare tactic marketing, and truly healthy products with scientific backing. More than once, I have wanted to find a company that was honest and did all the research for me. I didn't think a place like it really existed, until my friend Tara at A Spectacled Owl told me about Mighty Nest when she was looking for Back to School supplies.
Curious, I headed over to their site and took a look. I was immediately blown away by the large selection of eco-friendly products, ranging from kitchen supplies to bedroom sheets. Since my husband and I travel quite a bit, I immediately went looking at some of their food travel stuff. Normally, stores that focus on eco-friendly items put all their attention on having only cute stuff for children, leaving adults with very little choices if they want something to pack food for a trip or just to pack lunch for work. I had never seen a place with so many options that were perfect for everyone. Wanting to know more, I reached out to Mighty Nest, who was excited to let me review for free a nice lunch set, perfect for busy adults like me. Knowing that my readers would be excited to see these items, I couldn't wait to get started!
Mighty Nest: Who Are They
Never heard of Mighty Nest? In my opinion, they are one of the best kept secrets in the green community. They are a site designed for busy women and parents who are striving to not only find eco-friendly items, but educate themselves about products and the latest information out there that is relevant for keeping our families healthy. All the items in the Mighty Nest store were pre-researched by the Mighty Nest staff, taking the guesswork out of purchasing toxin-free, high quality items for your home. Best of all, every item sold on Mighty Nest is free from many common contaminants and potentially hazardous chemicals, like BPA, PVC, phthalates, lead (or other heavy metals), melamine, chemical flame retardants, and parabens. With a large social media community and a great staff, Mighty Nest has quickly become a place for everyone to feel motivated and empowered as they learn to live a healthier lifestyle.

Mighty Nest: ThinkBaby Stainless Steel Bento Box
Maybe it's from my teenage years of loving anything Japanese, but I have a thing for Bento boxes. They are compact, cute, and seem to naturally hold the perfect serving size of most foods. The ThinkBaby Stainless Steel Bento Box is fun and unique since it comes in a variety of colors. Most important, however, it is Bisphenol-A (BPA) free, PVC free, Lead free, Phthalates free, and of course, Melamine free. Personally, I love this design since it is dishwasher safe and perfect for traveling. The clasp lid is especially cool for eating in the car since it makes sure that liquids don't spill.
I'll admit, I may be a traditionalist. For me, sushi is just one of those perfect travel foods. Its compact and easy to eat. Granted, I usually go for things that don't require soy sauce while I'm in the car, but a bento box allows you to throw in a packet if you are just dying to have it. For this trip, I'm planning to dump my soy sauce in the plastic green layer and eat my sushi at the park this afternoon when we bring my puppy Reya out for her afternoon run.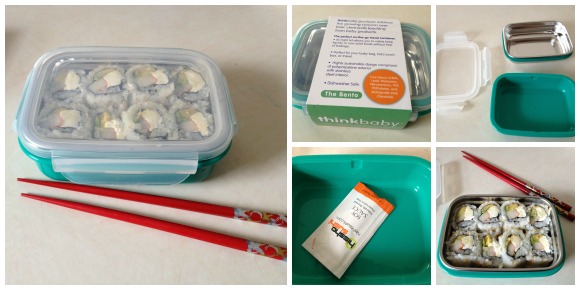 Mighty Nest: Kids Konserve Small Stainless Steel Containers
If you are dieting, the Kids Konserve small stainless steel containers are perfect! These little containers are dishwasher safe and made from recyclable plastic and are free of BPA, PVC, Lead, and phthalate. Don't let the kid in the name fool you, these are containers designed for the whole family. I personally love these little stainless steel containers because they are the perfect serving size for Greek yogurt. Since they are leak proof, you don't have to worry about your yogurt getting everywhere, which is important if you are on the go. I have had many disasters where I was at truck stops or rest areas in the bathroom, trying hard to get yogurt out of my purse or backpack. In other words, not fun! The small size of these containers also make it possible for you to fit both of these containers easily in one standard sized lunch bag. For me, this means I can keep my granola separate so it doesn't it soggy and disgusting!

Mighty Nest: LifeFactor Glass Water Bottle
I don't know about you, but one of the most annoying things for me when I'm on the go is dealing with annoying plastic bottles. Most of my bottles are eco-friendly, but can easily leak, making them a major hassle when I'm walking or driving. When I saw the LifeFacter Glass Water Bottle, I was quite excited! Everything on this bottle is dishwasher safe and non-toxic, making it perfect for people like me who are constantly on the go. Best of all, the silicone sleeve helps you keep a good grip on the bottle, while also protecting it against falls (klutzy me already found this out and nearly had a heart attack thinking she broke her new bottle!) Since it's glass, it is also great at keeping beverages cold longer, making it perfect for water or one of my favorite drinks – chocolate almond milk!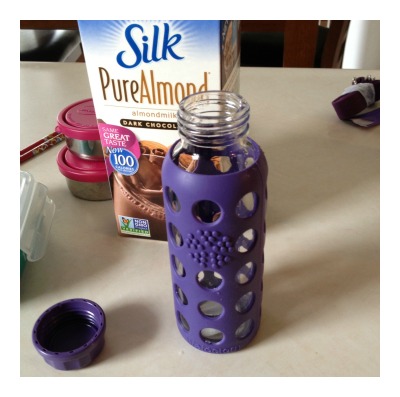 Mighty Nest: Purple Dandelion Cooler Bag
When I first saw this bag on Mighty Nest, I fell in love. I have no clue what it was with this Purple Dandelion Cooler Bag but it seemed to be made just for me. This purple bag is useful and fashionable, something you rarely see with eco-friendly products. While I love the design of this bag, I was more impressed when I looked inside. The bag itself is completely insulated and has a nice removable insert, allowing you to put an ice packet in the bag without it going anywhere near your food! Really, this is the perfect lunch bag for girls of all ages! Since I wanted more room today, I decided to forgo the insert. See how roomy it is inside?
Mighty Nest: Overall
From my own experience with Mighty Nest, I have to say I am very impressed with their company. Not only is their site filled with great information, but products that are perfect for just about everyone. Having a site that takes the work out of finding green products is really amazing, especially with how much I worry about chemicals in my home, especially my kitchen. As well, they have items that look stylish, allowing green girls like me to show off some unique fashion as we carry our healthy lunch to work, on a day trip, or even just a quick trip to the park with the puppy. Based on my own experience with Mighty Nest, I can happily give this online store and their products an A+ rating! Now, I can't wait to get more eco-friendly items for my home (I'm currently eying their 100% cotton king sheet sets!)
Mighty Nest: Where to Purchase
Want to purchase any of the items featured in this review? How about get some wonderful, eco-friendly items for your home? At Mighty Nest, keeping your family healthy and away from harmful chemicals is easy with their handpicked, curated items. To learn more about Mighty Nest and see their large shop full of amazing products, make sure to check out the Mighty Nest Website!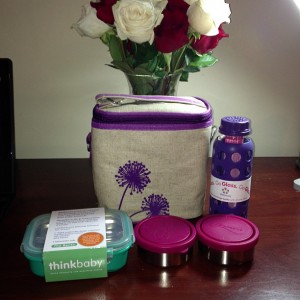 Disclosure: Budget Earth did not receive compensation for this review but did receive free products for review purposes via Mighty Nest. All opinions on this product are my own and may differ from our readers' opinions.
Would you like to have your products featured in a similar giveaway event? Want to increase your social media exposure before the holiday season? See how we can help! Contact budgetearth@gmail.com to see what Mom Powered Media can do for your company!