Do any of you like wearing makeup? Be honest. Personally, I can't stand wearing makeup. It is itchy, feels heavy, and I feel like a clown half the time with all the different types of makeup. Sometimes makeup really does look amazing, but unless I have a half hour to really devote to it, it just doesn't look all that amazing. Add to the fact I have fair skin and you can see where I'm coming from when it comes to makeup. Part of my problems stem from the fact I have sensitive skin. If the makeup doesn't make me break out, not getting all the makeup off of my skin in time will cause ugly little blackheads. To avoid feeling worse about myself, I usually go natural and just feel a bit more self conscious to begin with.
Until recently, I had just given up with makeup. There really didn't seem to be anything out there just for me. When I was first told about Mineral Hygienics by another bloggers, I will admit, I wasn't interested. The last thing I wanted to deal with was a natural makeup that didn't work. If I was going to be forced to wear makeup, I wanted something that actually worked. Just as I was about to totally discard the information from my friend, I saw Mineral Hygienics was looking for reviewers. Knowing I had nothing to lose, I decided to give this all natural makeup a try. From what I've seen, I'm glad I did!
Mineral Hygienics: What is It
Mineral Hygienics may very well be the only truly natural makeup on the market. With only four ingredients, this makeup is designed to be completely hypoallergenic, light, and natural without causing breakouts or acne. While other brands focus on creating cheap makeup and spending most of their money on advertising, Mineral Hygienics focuses on what matters most – their customers. Each of their makeups were tested to perfection, creating 100% synthetic-chemical free makeup that is easy to apply and guaranteed not to do any damage to your skin, allowing you to feel more confident about your appearance!
Mineral Hygienics: Effectiveness
At first, I had no clue what to think of this makeup. There couldn't possibly be a mineral makeup capable of covering up blemishes. Most of the natural makeup brands out there actually use chemicals that, while they are natural, aren't as effective as some other choices. When I heard that Mineral Hygienics only used four ingredients, I was expecting this to be another high priced, waste of money makeup. I am happy to say that I was wrong. Using the powdered makeup and provided brush, I was able to use to the foundation and finishing powder pretty quickly and got results similar to what I normally have after spending a half hour or more on my makeup. Best of all, it felt so light! In all honesty, I was worried I messed up with how light it felt, and wasn't certain it would last throughout the day. From my own experience spending time playing outside with Reya, traveling, and visiting friends, I was surprised to see that most of my makeup was still there that night and looking amazing!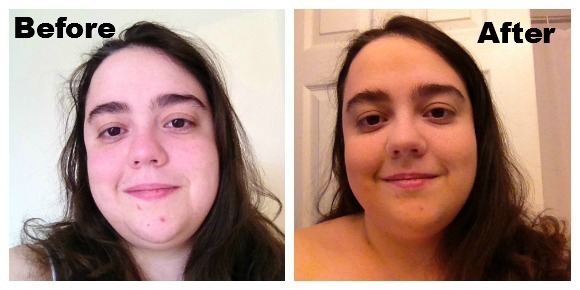 Mineral Hygienics: Quality
One of the first things I noticed about Mineral Hygienics is the quality of this makeup. Unlike cheap makeup, it doesn't have a bad smell and seems to go on easily. While it may not last as long as other makeup, this has to do with the fact that it is only four natural ingredients that are designed to be safe for the skin. By not using synthetic preservatives and other fillers, this makeup is able to stay on your skin without causing acne or other blemishes. Personally, I love having access to makeup that is truly natural by being free of talc, harsh dyes, main made fragrances, bismuth oxychloride, parabens, mineral oils, petro chemicals and many other questionable ingredients found in modern makeup.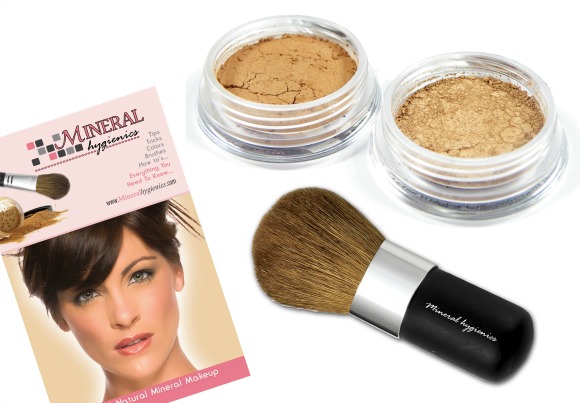 Mineral Hygienics: Overall
I'll admit, I am very confused. For the first time, I think I have actually found a natural makeup that makes wearing makeup enjoyable. This makeup is easy to apply, stays where it should, and actually looks natural! Best of all, it hasn't made my acne worse when I wear it, making me feel more confident about actually wearing it! Really, this seems like the perfect makeup for just about anyone and is fairly inexpensive. For this reason, I am happy to give Mineral Hygienics an A rating.
Mineral Hygienics: Where To Purchase
Want to try Mineral Hygienics makeup for yourself? Spoil yourself with the best kept secret on the internet when it comes to makeup. Currently, you can purchase this awesome makeup on the Mineral Hygienics website. To get an extra 10% off, don't forget to use the code *budgetearth*. After you have used this makeup, you won't even think about using cheap makeup again!
Disclosure: Budget Earth did not receive compensation for this review but did receive free product for review purposes via Tomoson.com. All opinions on this product are my own and may differ from our readers' opinions.
Would you like to have your products featured in a similar giveaway event? Want to increase your social media exposure before the holiday season? See how we can help! Contact budgetearth@gmail.com to see what we can do for your company!