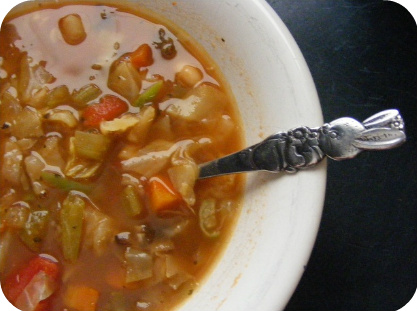 I usually use Hungry Girl's recipe as my go-to for minestrone, but something about this version (from the same cookbook as my sukiyaki recipe) caught my eye.  Maybe it was the lack of noodles and spinach (which I'm used to seeing in minestrone recipes) and their replacement with cabbage and mushrooms (I had some in the fridge that I needed to use up).  Either way, it provided my sister and me with some interesting running commentary while we were cooking together.
I'd call this more of an imposter soup, as I didn't feel like I was making (or later, eating) minestrone (which is my favorite), but it was still a delicious vegetable soup.  It kind of reminds me of how sometimes people complain about faux meat products not tasting "meatlike."  They aren't actually meat, so I've found that you it's best not to expect them to taste like meat.  They can, however, be enjoyed for what they are – a nice alternative.  This recipe is similar in that, while I find that it is not what I consider true minestrone, the flavors do meld nicely together, making for a delicious dish.  Additionally, while I'm not usually a fan of cooked cabbage, I actually enjoyed the taste and texture of it in this particular soup.  It's a pretty forgiving recipe, too.  I forgot to add in some of the ingredients at the proper time (hey, it's distracting when the food paparazzi keeps you talking and laughing while cooking), but the final result wasn't affected.  My family was happy to arrive home to a hot, veggie-packed lunch after a chilly morning spent out at our farm.
Classic Minestrone Soup Recipe
Ingredients
1 Teaspoon Virgin Olive Oil
1/4 Cup Water
1 Large Sweet Onions chopped
2 Carrots Chopped
4 Cloves Garlic minced
2 Stocks Celery Chopped
1 Bay Leaf
1 Tablespoon Dried Basil
1 Teaspoon Dried Oregano
1/2 Teaspoon Dried Rosemary
1/2 Teaspoon Ground Black Pepper
3/4 Pound Mushrooms Chopped
1/2 Cup Vegetable Broth
1/2 Small Head Cabbage
1 20 oz can Diced Tomatoes
2 Cups Cooked White beans
6 Cups Water
1 Cup Green Beans fresh or frozen
Pasta (optional) rotini, penne, or egg noodles
freshly grated parmesan cheese
Instructions
Heat the oil and ¼ c water in a large soup pot. Sauté the onion until it is translucent.

Add the garlic, carrot, and celery (as well as leeks, if using) to the pot and sauté until the veggies are soft, about ten minutes.
Add the herbs and black pepper and cook, stirring, briefly. Add the mushrooms and continue to cook until the mushrooms are soft and have released most of their liquid, about another 8 to 10 minutes.

Add your wine or vegetable broth and boil until the liquid is reduced by half. Scoff at your recipe because it says this will take 45 minutes, but it takes you probably no more than ten.
While your liquid is reducing itself, shred or chop the cabbage. Add it to the pot along with your tomatoes and the white beans. Pour in the 6 c of water and allow the soup to simmer until the vegetables are tender (this took me about half an hour).
Add the green beans and cook just until they turn bright green. You can also add noodles, if you like. I supplemented my soup with garlic pepper, but you can easily throw in a dash of salt or other seasonings to your taste. The parmesan cheese is optional, but I find that it adds another dimension to the flavor. I highly recommend that, when serving, you add about 1 t per bowl.

Source: Adapted from the (1995) Vegetarian Times Complete Cookbook, by the editors of the Vegetarian Times and Lucy Moll.