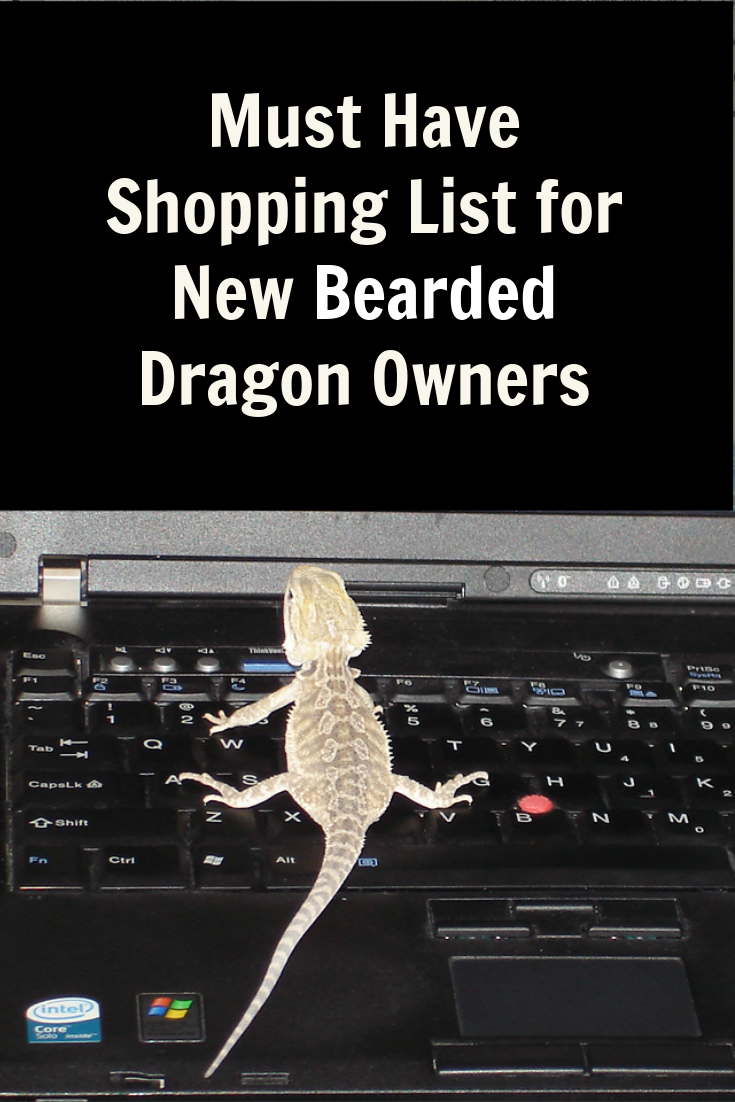 As many of you know, my husband and I have a variety of pets in our home, including bearded dragons and turtles. Just like Ivi and Reya, they are a major part of our family. When our very first reptile came into the family, I have to admit, we weren't prepared at all. We were poor college students and didn't even know the right questions to ask at our local hometown pet store. Unfortunately, due to not having the right information to care for it, our poor little baby passed away 6 months later. Now, after having reptiles for over a decade as pets, we want to help others make sure they make the right choices when it comes to reptile care.
One of the first thing we actually did wrong was not buying everything our poor bearded dragon needed to survive. Most lizards require some very basic things that most new owners know nothing about, including UVB lights. Back when we got our first dragon, I would have loved to have had an in depth list and informative site to help us make sure we had everything we needed for our new dragon. This area has so much information to get new reptile owners started when it comes to proper reptile care.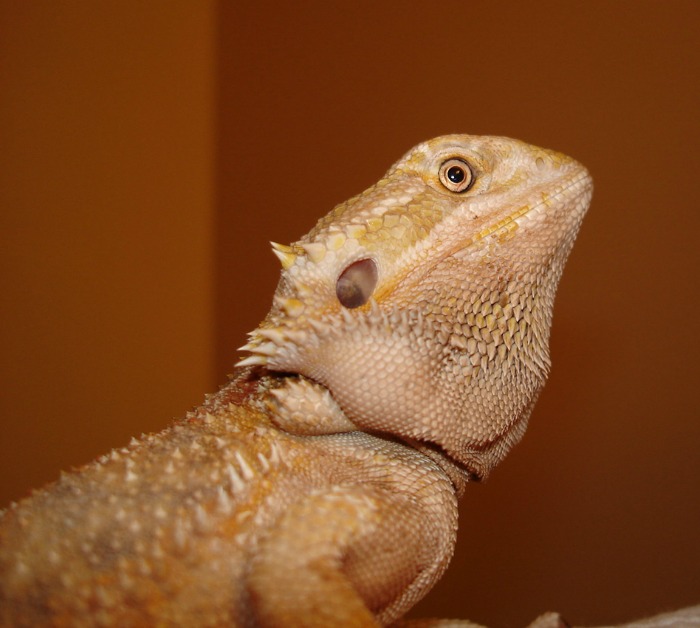 To help new reptile owners, we created an awesome bearded dragon care shopping list for you guys! What will you need for your new dragon includes –
Terrarium (20 gallon tank to start)
2 Heat Lamp Fixtures (we use the same for heat & light for ease of use)
UVB Light for Desert Reptiles (we use the Exo Terra Repti Glo 10.0 Desert Terrarium Bulbs)
Paper Towels (for lining the bottom of the tank)
Basking Toy (we use a fake branch from the reptile department – washable, and less likely to hold bacteria than real wood. A large sandstone can also work, which can be found in garden stores)
Water Dish (I use a shallow dish like this for shredded veggies too food)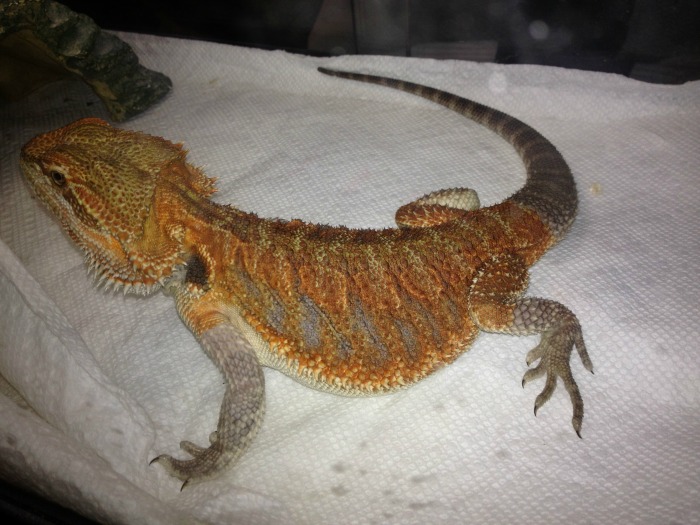 Even though a lot of pictures online show it, do not use sand in your bearded dragon's tank. Sand can impact (clump in the intestines and block the normal movement of food) and kill most dragons. If you have a dragon that likes to dig, you can have a separate tank with calcium sand for enrichment time. Reptiles should NEVER eat in a tank with sand or any other type of bedding, however, since it can cause impaction.
Also, never place multiple bearded dragons in the same tank. While they can sometimes cohabit, this one is a case by case basis and rarely ends well, since bearded dragons WILL eat other reptiles who are smaller than them.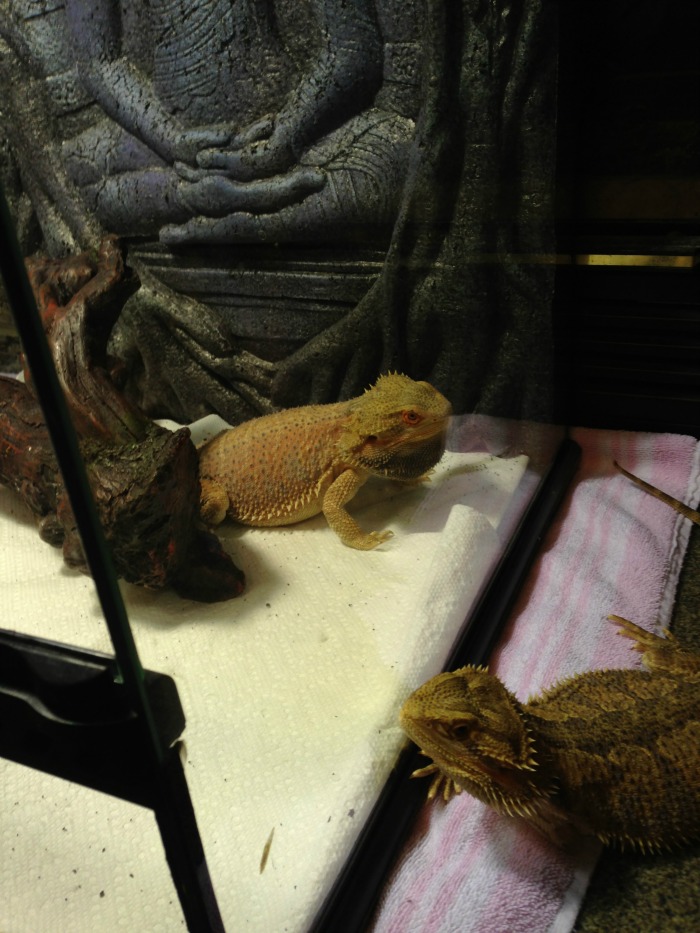 As for food, bearded dragons love crickets, hissing cockroaches, superworms, and hornworms. Personally, we love to rotate between crickets and superworms, and try hornworms throughout the year as well. All food for your dragons, however, should be gutloaded (pre-fed highly nutritious food) with special food to make sure they have the proper nutrients.  With all of our dragons, we buy all of our crickets, superworms, and hornworms from an online retailer called Great Lake Hornworms. For emergencies, however, we purchase crickets and hornworms from Petsmart. No matter which food you use, however, they should be dusted with calcium and vitamin powder to prevent metabolic bone disease (a nasty disease where their bones weaken or disfigure, and can also cause organ failure). Bearded dragons also should eat vegetables regularly; ours enjoy shredded carrots, bok choy, and kale.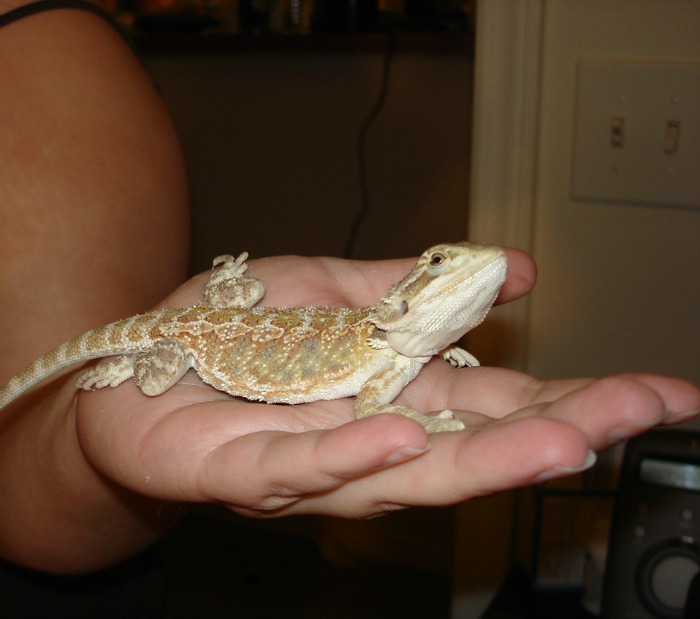 Another thing many people do not discuss is what happens when reptiles get sick. It isn't uncommon for lizards, especially bearded dragons, to get respiratory infections. For this reason, it is important to have a veterinarian that specializes in reptile care. You can likely find a reptile-friendly vet by calling your local vet and asking. Just know that many offices are not prepared to handle reptiles so you have to do your homework first! Personally, if we needed to locate a vet in a new area, we would use the Association of Reptilian and Amphibian Veterinarian vet finder on the Kingsnake website.
That being said, it is great reading about reptile behavior and illnesses on the internet if you are worried your reptile may be sick; or even better, before it happens! We love the petMD® Reptile Care Center since it filled with a wealth of information of reptile care for new bearded dragon owners. They also have articles on snakes, tortoises, and many other reptiles that can be kept as pets. My husband and I are very excited about this new resource, especially with all the conflicting information you can find online about reptile care.
Have any questions about reptile care or owning a bearded dragon? Ask us and we will do our best to answer them!