Alright ladies, I am going to be talking about something today that many of us usually don't like talking about – our periods. Guys, before you start running like crazy from this topic, don't worry – I'm not going into the gory details or an anti-guy post here (wait? I'm not supposed to admit that, am I?). What I am actually going to talk about is a neat little subscription box I found out about recently called My Cotton Bunny. By now, you are probably wondering what this has to do with our periods. What makes this box service so cool is that it sends our monthly supplies to us in the mail, along with cool gifts to perk us up during that time of the month! Since this is a fairly new service, this has been one of those well kept secrets on the Internet – at least until now!
My Cotton Bunny: What is It
Alright ladies, let's be honest here – how many times have you been unprepared for your period? I know I am one of those girls who always assumes I have enough tampons in the house…and when the day comes, I start a frantic search throughout the house looking for tampons in my purses, or that box I just KNOW I bought. We have all been there, done that. Some of us have maybe even got that horrified look from our husband when we ask them to go pick up tampons or pads for us. I don't think anything puts more fear in the hearts of men than being told to go to Wal-Mart or Target to pick up a nice frilly box of tampons. For some reason they seem to think we love throwing that box in the cart too and announcing to the whole store we have our periods – especially since every feminine hygiene company seems to think we want frilly, obvious packaging.
This is where My Cotton Bunny steps in and saves the day. Every month, they send you a nice subscription box that looks girly, but doesn't look like a period box at all. Inside, you have the tampons or pads you need for the month, a box of fudge, and a well made tote bag. I also love that they are hand packed in Los Angeles, California, letting you know each box is packed with love. By having this delivered right to your door monthly, you will never be caught unprepared again, or have to embarrass your husband or boyfriend by sending them out for tampons.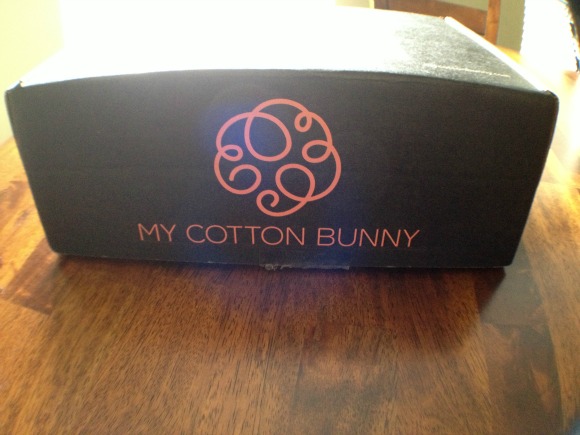 Cottony Bunny: The Hygiene Products
Before we go into the hygiene products in this box, I want to talk about the box itself. One of the things I really loved about the My Cotton Bunny box was the fact that it DOESN'T look like a period subscription box. In fact, it looks more like a makeup subscription box in my opinion. I know most people don't care, but to me, I really don't want to trading announcing my period to a store for announcing it to all my neighbors. This is great to me since it gives me at least the comfort of having a bit of privacy.
Now, for the hygiene products. When you sign up for My Cotton Bunny, you decide what type of product you want – tampons or pads. Once you make that choice, you then choose the brand you want and the type of absorbency you need. I loved that they include most of the brands and products you see on most store shelves. I was even surprised to see the little compact Tampax Radiant's as an option in this box. Choices are always a good thing. The only thing I do wish is that they carried some of the bigger tampon boxes. I am one of those unfortunate women who have long, five, six or seven day periods, so a box of 16 or 18 just isn't enough for me. I would even happily pay an extra few bucks for this option! Since I know I am not the norm though, I will obviously not hold this against the company since I think this is such a spiffy idea!
My Cotton Bunny: The Fudge & Gift
Now, for my favorite of the My Cotton Bunny Box – the fudge! Each box contains a piece of fudge from The Epic Fudge Factory. Since I had never heard of the company, I was a bit worried about this really not being high quality fudge, or possibly even the cheap stuff you sometimes see at tourist areas. Well, my opinion changed as soon as I put this dark chocolate fudge in my mouth. I swear, this is the best fudge I have ever tried in my life! This fudge alone almost makes the box worth it in my opinion. Add in the tote bag, and you have some nice treats to help you feel extra special during your period.

Cottony Bunny: Overall
So, what is my opinion of the My Cotton Bunny Box? That this box is the best thing since man invented fire. Why didn't we have something like this before ladies? Other than wishing they had some larger boxes of tampons as an option, I can't find anything I don't like about this box. Best of all, it really isn't that expensive! Based on my own experience with the My Cotton Bunny Box, I will gladly give it an A rating.
My Cotton Bunny: Where to Purchase
Would you like to try the My Cotton Bunny Box for yourself? You can get this awesome subscription box sent right to you for $13.95 a month. Not bad for peace of mind, huh? To learn more, make sure to check out the My Cotton Bunny website.