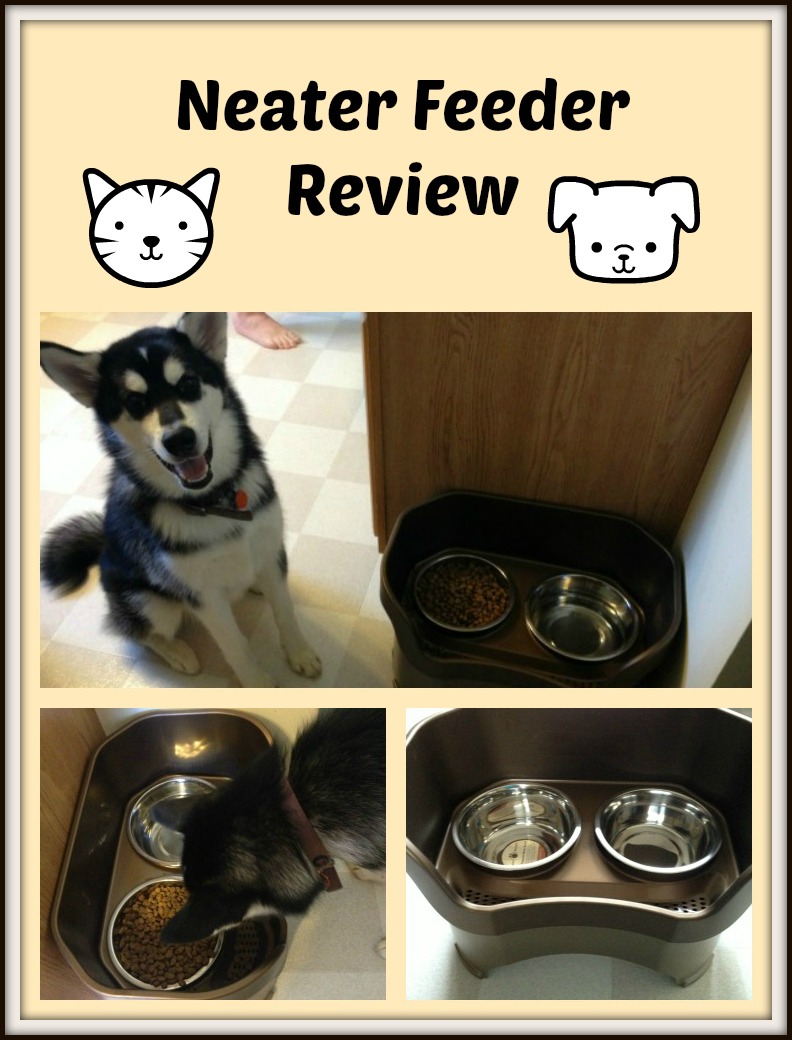 As some of you have noted from my previous dog reviews, I have a rather large, beautiful puppy. Reya isn't just a dog, but a member of my family. I focus on making sure she has the best food, toys, and everything she needs to be happy and safe. Unfortunately, having a large dog also comes with very large messes. While Reya is a quick learner and great at listening to commands (for a malamute), her messes are just as large as her. In other words, when she makes a mess with her water, she can easily seem to be mopping our kitchen floor. Since I am someone who isn't really fond of messes – especially in my kitchen – I knew I had to find something to make meals less messy. After a bit of research, I found what I thought might be the perfect solution – the Neater Feeder. Wanting to know more, I reached out to Neater Feeder, who was kind enough to  give Reya the large Neater Feeder for us to review. Knowing how messy my Reya puppy could be, I couldn't wait to get started reviewing this feeder!
Neater Feeder: What Is It
Normally I spend quite a bit of time going into a company, but the little video Neater Feeder made does a great job talking about the Neater Feeder. What really interested me though was how it was made and their non-profit work. The first feeder itself was created for the inventor's rescue dog, Duke, who is a bit of a messy eater (which you will see from the videos). To help contain his mess, the Neater Feeder was created, which turned doggy mealtime into a pleasant experience for everyone! To learn more about the Neater Feeder, check out the spiffy little video below which was created by the company.
Neater Feeder: Effectiveness
Okay, I'll be honest: the inventor of the Neater Feeder is a genius.  With the way this feeder was designed, it truly does keep mess in the feeder itself. The first line of defense is the high outer wall, which protects your floors and walls from messes caused by bumps or a very thirsty/excited dog. This is further assisted by the no skid feet,keeping the water dish from going for a slide. I wasn't too sure about the skid part on the feet when I first saw it, but once I saw Reya playing with her bowl and it going nowhere, I was convinced. As most large dog owners know, if a dog is determined to do something, it takes a lot to deter them. Reya very quickly gave up trying to move her Neater Feeder and focused on what was in the dish.
Now, what really makes the Neater Feeder effective and cool is the upper and lower reservoir. Its hard to see from the pictures, but when the feeder is assembled properly, it is at a very slight tilt. This makes eating easier for your dog (or cat), while also making sure that nearly-spilled water flows easily into the lower reservoir. As well, to make sure that food and water doesn't make a mess, the strainer catches excess food, keeping it on the top reservoir, as water neatly flows down. Reya seems to enjoy this as well since it makes sure that not a single piece of food gets away at meal time.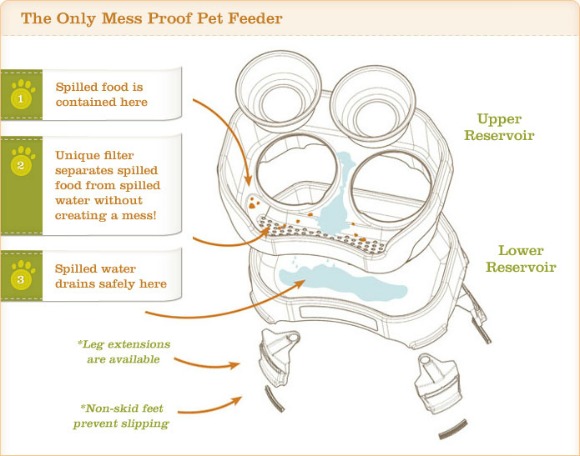 Neater Feeder: Clean Up
Like me, you are probably wondering how easily this feeder is to clean. No matter how clean you try to be, the Neater Feeder will need cleaning every so often. I am happy to say that the Neater Feeder is almost trivial to clean. You can either clean it quickly with a paper towel between meals, or throw it in the dishwasher when things get a bit too bad. With Reya's old medium Neater Feeder, I would throw it in the dishwasher and let it take care of the rest. Her larger Neater Feeder, however, is a bit more of a challenge just because of size. If I put it in the dishwasher, that is all that will fit in there. The other Neater Feeders, however, easily fit in the dishwasher alongside other dishes, making clean up simple. For sanitary reasons though, I do put Reya's Neater Feeder in the dishwasher on the anti-microbial setting, just to make sure we never have an issue with contamination. Yes, I'm paranoid, but it's better to be safe than sorry when it comes to my puppy's health!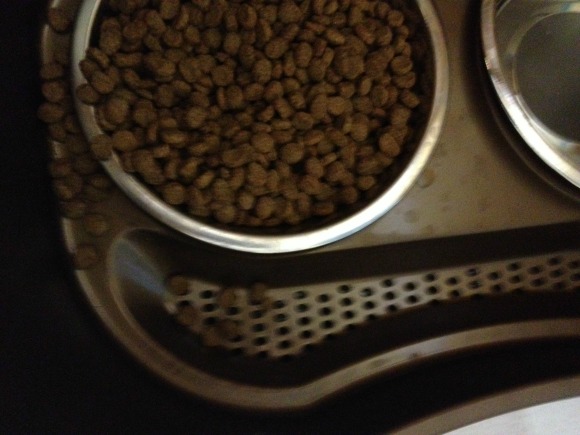 Neater Feeder: Comfort
Even though the Neater Feeder's main focus is dealing with mess, its other major purpose is making sure mealtime is comfortable for your pets. As all pets owners know, mealtime is very important to our animals, and the slightest change can make them very nervous. Like us, having to bend down in strained positions to eat can also bring about unnecessary muscle strain and irritation. It is very common for dogs especially to have to deal with neck and joint strain due to leaning down while eating, and obviously the larger the dog the more this will happen. Since they don't have an easy to way to communicate this, it usually ends with them eating quickly to avoid pain and discomfort. When dogs are eating at the proper height, they not only avoid pain, but are able to better digest their food by slowing down and relaxing. With how the Neater Feeder is designed, you can adjust it for your pet's height based on the size of the Neater Feeder itself, and by purchasing leg extensions. While Reya doesn't need them just yet, she will when she gets older, making it important for pet owners like me to have options to make things easier for our favorite dog(s).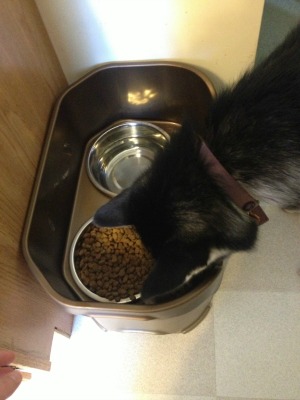 Neater Feeder: Quality
While this feeder is very effective at what it does, you are probably wondering about quality and how long it will last. I personally am very impressed with the quality. As you guys have probably seen from my other reviews and pictures, Reya is a very big puppy and like all Alaskan Malamutes, is only going to get bigger. She is still about 30 pounds from her full grown weight, which will be about 100 pounds.  Like most malamutes, she is very motivated by food. This means that mealtime is always filled with excitement and her sometimes coming to the bowl at full speed. She has bumped, played, and run right into the Neater Feeder numerous times over the months. I am happy to say that the Neater Feeder not only held up to her abuse, but contained the mess of being bombarded by a 50-70 pound puppy.
Now, before I go any further, the Neater Feeder does not advertise being chew proof. Reya has never had an interest in biting her feeder, so I'm not sure how it would handle a heavy chewer. The plastic part of it, however, is made from heavy duty recyclable polypropylene plastic, so it should hold up to quite a bit of abuse.  The bowls themselves are also nice, stainless steel bowls, with the food dish capable of holding up to 7 cups of food, while the extra capacity water dish can hold 9 cups of water! From what I have seen, I expect the Neater Feeder to last for many years, if not the next decade. If it can withstand a hyper Alaskan Malamute, I think it can withstand just about everything!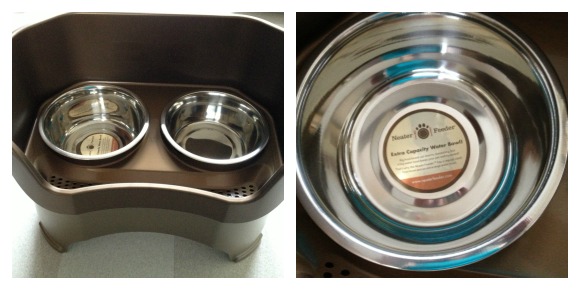 Neater Feeder: Overall
Having had pets with and without the Neater Feeder, I have to say I have no clue how I ever survived without one of these. Whenever we go visiting without bringing this feeder, I always regret it. With Reya's size, it creates a mini flood in my in-laws kitchen, which no one really enjoys except Reya. Really, the Neater Feeder takes the mess out of meal time with Reya and keeps things much more sanitary. I just couldn't image being without it now. Since I consider the Neater Feeder essential for any dog or cat owners, I have to give it an A++ rating and I'm not really sure that is enough plusses!
Neater Feeder: Where to Purchase
Want to know where you can purchase a Neater Feeder for your own dog or cat? Currently, you can purchase one of these pet feeders on the Neater Feeder website, Amazon.com, or at your local pet store. Currently, you can purchase the Neater Feeder in 3 sizes (small, medium, and large), with a choice of two colors – bronze or cranberry. After having used this with Reya, I have no clue how I could ever go back to using ordinary pet bowls.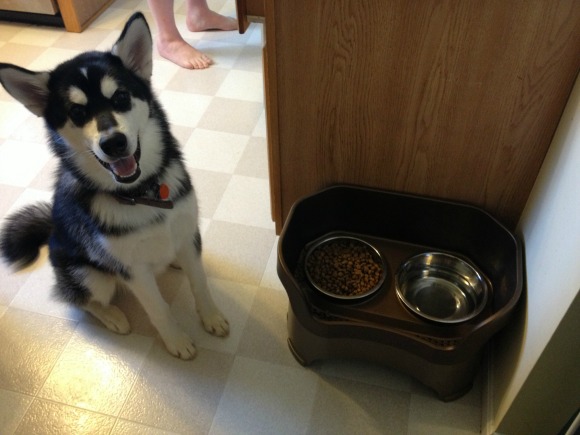 Disclosure: Budget Earth did not receive compensation for this review but did receive free products from Neater Feeder for review purposes. All opinions on this product are my own and may differ from our readers' opinions.
Would you like to have your products featured in a similar giveaway event? Want to increase your social media exposure before the holiday season? See how we can help! Contact budgetearth@gmail.com to see what we can do for your company!