Disclosure: I received this product for free to review. The opinions in my review are honest and my own.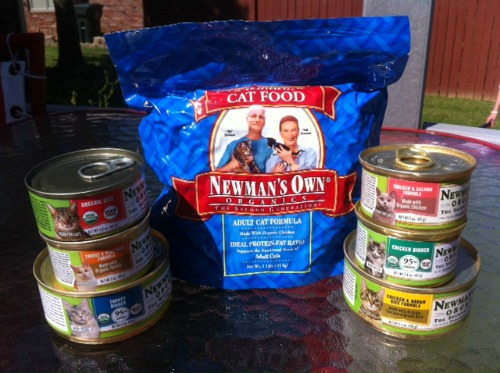 In case you all didn't know, my family is of the cat lover variety.  With five felines presently in the household, we have a good sampling of both picky eaters and what are affectionately referred to as garbage disposals (you know the type – they'll eat just about anything).  I was excited to receive some samples from the Newman's Own Organics line of cat food, not only because my cats love trying new food (and it's fun to give them a thrill every now and then) but also because my family has always loved the Newman's Own brand of products (in particular, their dressings and pasta sauces).  They sent me six varieties of wet cat food and a bag of dry cat food for the kitties to taste test.
Something I noticed right away about Newman's Own Organics line was that the company uses only organic meats, grains, and vegetables in their products (meaning there are no animal by-products, preservatives, or chemical additives). The meat used in their cat food is also certified organic by the U.S. Department of Agriculture, meaning that it's good enough for humans to eat.  The adult cat food contains probiotics for supporting feline intestinal health, and its crunchy texture is beneficial for good dental health.  All of our cats are in the adult or senior cat range (although you wouldn't know it by the way they act!), so we absolutely want to take the best care of them that we can.
My family has always served our cats a diet of mainly dry cat food, although we offer them wet cat food as a treat.  The six canned varieties we were sent included:
Turkey and Vegetable Formula
Chicken & Brown Rice Formula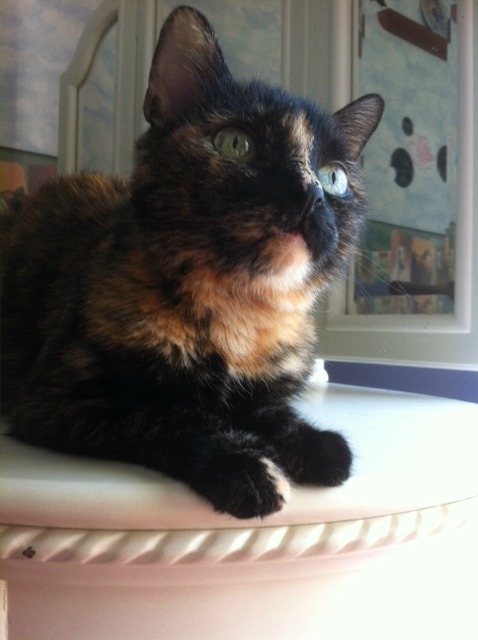 The first variety sampled was a small can of the chicken and salmon wet cat food, and over the next few days the cats were also treated to the organic beef, chicken and brown rice, and turkey formulas.  My cat, Blaze, tends to favor eating only varieties with sauce (her method of eating is licking up all the juice and picking at the treat itself) so I was a little disappointed that none of the flavors touted anything like that.  It was no surprise, of course, when she showed little interest in trying any of the wet cat food she was offered.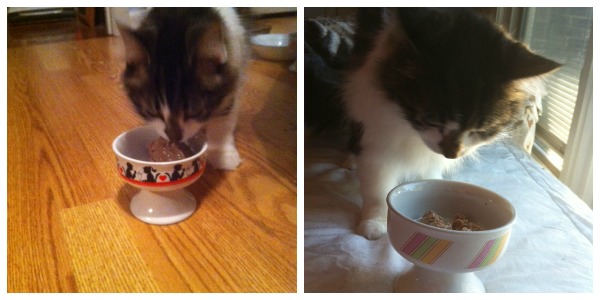 PB, on the other hand, is one of our cats who seems to love pretty much anything.  Until we separated her from our other cats, she would hover around them until they left and proceed to finish off any and all of the wet cat food treats that were left on the kitchen floor.   PB seemed unimpressed with three of the four selections offered her, and appeared to enjoy the chicken and brown rice best.
TC is another one of our "garbage disposal" cats.  He was genuinely excited about every variety of the wet cat food.  Truly, he seemed to
love
Newman's Own Organics, because every time a treat was offered he would eat it voraciously and lick the bowl clean.  If the other cats did not want to finish their treats, he would gladly finish for them.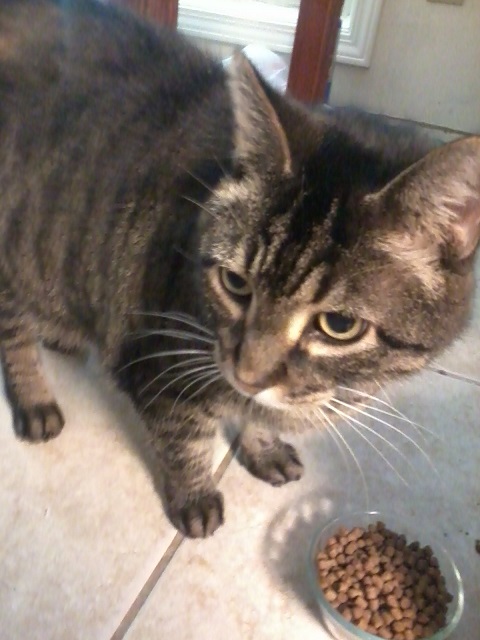 Thomas is our resident fat cat.  He will eat small amounts of wet cat food on occasion, but he prefers dry cat food.  He was very fond of the Newman's Own Organics dry formula.
Lucie requires a special diet so we only offer her a tiny portion of wet cat food as a treat whenever the other cats receive it (otherwise she feels left out).  This was her reaction to the cat food.
Tentative curiosity on the first couple of treats, but like TC…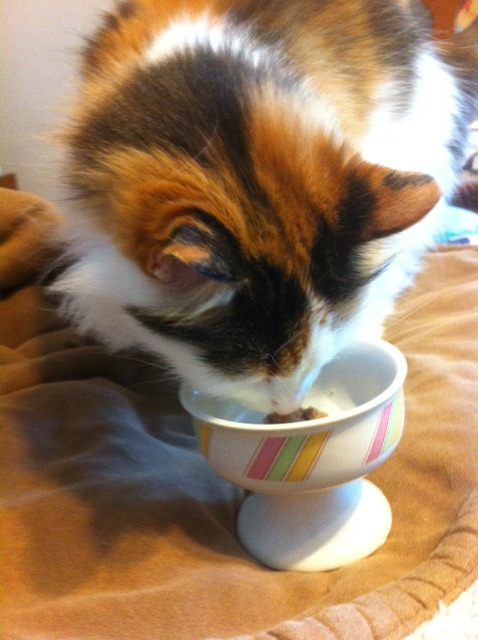 This was a winner, winner chicken (and brown rice) dinner.  She finished every last bite, which is a rarity for Lucie.  She also gobbled down the turkey dinner.
Overall, the food that went over best was by far the dry adult cat formula.  I left a small bowl of it out along with two other varieties of the dry cat food we usually buy (we like to rotate every now and then to keep the cats from getting bored), and four times out of five I'd notice the cats (other than Blaze) going for the Newman's Own brand.  The cats certainly emptied that variety the most quickly, and once it was gone I noticed Thomas sitting plaintively by the empty bowl, waiting patiently for it to be refilled.
The final verdict?  I'm no expert, but I think Newman's brand seems like an excellent, healthy choice for feeding one's cat.  It is, of course, mainly a question of whether your cat will appreciate the wholesomeness of the food (cats have their own taste preferences, just like people) and actually eat it.  Our cats seemed very split on whether they liked it or not, at least in regard to the wet cat food.  Fortunately, certain varieties of Newman's Own Organics are available in two different sizes, 3 oz and 5.5 oz, so you can get a sense of what your cat will like before you commit to buying a larger size.  It's certainly worth a try to see if your feline friends will enjoy it.
If you'd like to try Newman's Own Organics for your pet, visit their website for a list of stores that carry it in your area.  There are also some helpful links for where to purchase it online.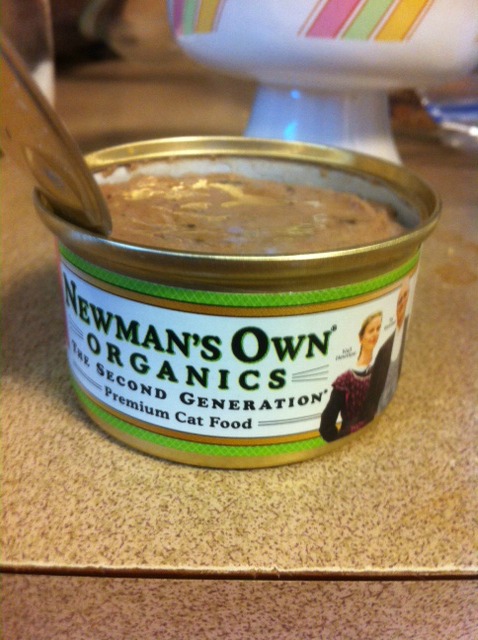 Disclosure
:
Budget Earth did not receive monetary compensation but did receive products for review purposes. All opinions on this product are my own and may differ from reader opinions. 
Would you like to have your products featured on Budget Earth in the form of a review or a giveaway event? Want to increase your social media exposure? Contact susan.l.bewley@gmail.com to see how I can help YOUR company today!