Are you someone who loves cute stationery? I will be the first to admit, I am. Ever since I was a little girl, I was always on the lookout for beautiful notebooks and stationery that caught people's attention. Being a writer, I am always walking around with notebooks, putting down notes on not just my current projects, but future novels. The ideas are always flowing. I don't know what it is, but cute stationery and office supplies just make me work better. Last year, I actually found a company I adore through one of my best friends, Tara – Night Owl Paper Goods. She did a review for them last year on A Spectacled Owl and I ended up winning a prize pack including a beautiful calendar and bag. Having loved this company so much, I finally built up the courage to reach out to them. Not only did the love the idea of working with Budget Earth, but they sent me a fun goody bag of stationery with all of my favorite designs!
Night Owl Paper Goods: Who Are They
Never heard of Night Owl Paper Goods? To me, they are one of the best kept secrets on the internet. This company makes inspirational, creative, and fun stationery made from recycled goods, especially wood and cotton. Their most popular cards are the ones made from wood since they are unlike anything you will find anywhere else. A lot of their designs featured animals including (you guessed it) owls, foxes, hedgehogs, and other adorable creatures. While they have a large stock of unique stationery, you can also special order something designed special for you or personalized, making them the perfect choice for custom wedding invitation, birth announcements, party invitations, and more!
Night Owl Paper Goods: Cards
If you are someone who loves stationery and giving cards for holidays, Night Owl Paper Goods is the place for you. They make a large selection of cards for just about every holiday, including Mother's Day, Father's Day, Christmas, and birthdays. You can find cards for just about every price range made from paper stock, wood, or even cotton. These are the type of cards you purchase if you want to make an impression. For example, we gave the card below to both of the mom's for mother's day (we purchased a second one – we weren't about to pick favorites on this one !) Both the mother's loved it, and my mother wanted to frame it since she thought it was so adorable.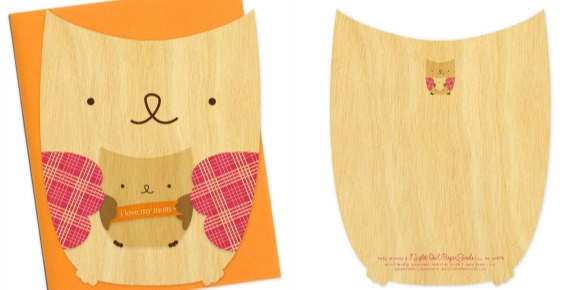 In my opinion, these aren't throw away cards, but keepsakes. Along with the mother's day card, I also have a picture below of one of their cotton cards and the adorable wood Christmas cards we bought on clearance from Night Owl Paper Goods!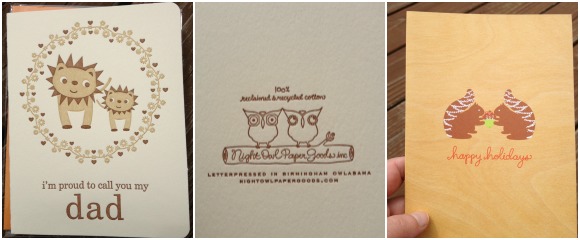 Night Owl Paper Goods: Journals
As I said above, journals are my number one weakness. I have so many cute journals all over my house filled with book notes. Out of everything I own, this has to be the cutest. I love all of Night Owl Paper Good's hedgehog designs. Being made of wood, I also get comments every time people see my notebook since it's so unique and adorable. As you can see from the inside, even the paper is high quality. You wouldn't think it was all made from recycled and sustainable wood, huh? What I also love is that the wood cover is flexible, meaning you don't have to worry about breaking it when its thrown in, let's say, an over packed purse?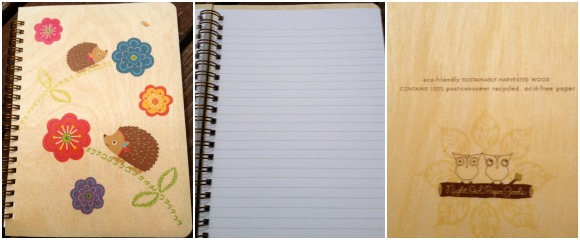 Night Owl Paper Goods: Bookmarks, Bags & Other Goodies
While I love stationery, I am also a sucker for good bags and bookmarks. Probably some of the most fun items from Night Owl Paper Goods that I use on a daily basis are their bookmarks and bags. In the picture below, I have one of their past tote bags, their new mini canvas bags, and my two adorable bookmarks. Like all of their other products, these are made from recycled products and are very high quality. I especially like the bookmarks since they are made to handle a bit of abuse. I have dropped large hardcover books with the books in the book and they are still in perfect shape. Since they are unique, it is also very difficult to lose them, making them perfect for heavy readers like me.

Along with their bags and books, you can also find a variety of other fun items on their site ranging from picture frames to plush stuffed animals. One of those items they have that is really fun for me are their calendars. I won the calendar below in Tara's Night Owl Giveaway last year. It makes me smile every time I go in the kitchen! I can't wait until the 2014 Calendar comes out, since I'm curious to see the pure cuteness!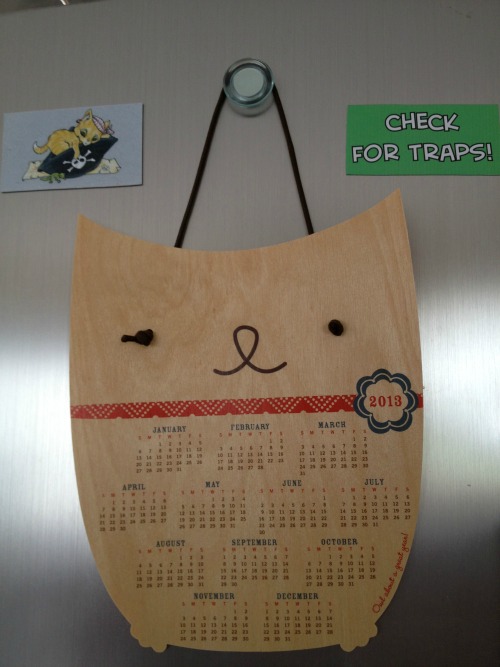 Night Owl Paper Goods: Overall
What do I think of Night Owl Paper Goods? I think they were the best thing to happen to the stationery market! I can finally buy journals, cards, and unique gifts that are eco-friendly and made right here in the United States. I can't image ever buying Hallmark card again! While they may be slightly more expensive, these items are worth every penny. I just wish I knew about them when I sent out wedding invitations when I got married two years ago. Without an reservation, I can happily give Night Owl Paper Goods an A+ rating and can't wait to make another order with this company. If you would like an extra discount on your first order, don't forget to use the discount code BUDGETEARTH for another 15% off!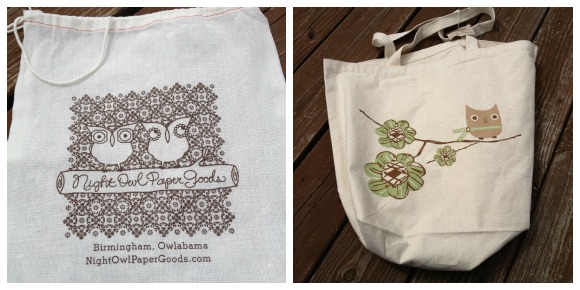 Night Owl Paper Goods Giveaway
Would you love to purchase some of these goodies for yourself? If so, we are happy to announce that we are working with Night Owl Paper Goods to bring you this awesome giveaway! We are giving away 4 – $25 gift cards to Night Owl, allowing you to go on a mini shopping spree! To learn more, read the rules below and then enter through the Rafflecopter!
Welcome to the Night Owl Giveaway Event
Hosted by Budget Earth & A Spectacled Owl
Sponsored by Night Owl Paper Goods
Night Owl Giveaway
4 Winner will receive One $25 Gift Card each to Night Owl Paper Goods
Open to US & Canada.
Winner will be chosen at random through Rafflecopter via Random.org.
Giveaway ends June 12th at 11:59 pm EST.
Winner will be notified through email.
Winner will have 48 hours to respond before new winner is chosen.
Must be 18 Years or Older to Enter Rafflecopter.
Entering the Rafflecopter means you agree to terms above.
If you have any questions, feel free to email budgetearth@gmail.com
Good Luck!
Disclosure: Budget Earth did not receive monetary compensation for this review and giveaway, but did receive a goody pack of items from Night Owl Paper Goods. The Christmas Cards & one of the Mother's Day Cards were purchased by Susan Bewley herself. All of the opinions on this blog are the opinions of said author and these opinions may differ from your own.