Disclosure: I received this product for free as part of a review for Night Owl Paper Goods. The opinions in my review are honest and my own.
With Christmas less than two months away, I have been spending quite a bit of time planning for the holidays. Normally, I have most of my Christmas shopping finished by now, but I'm embarrassed to say that I am just starting. The first thing on my agenda this year was actually picking out Christmas cards. Most years I don't bother buying Christmas cards because I can't find anything that really fits my family. After a bit of discussion, my husband and I decided we would order personalized Christmas cards. Having never done anything like this in the past, I went to the one place I know always makes adorable cards – Night Owl Paper Goods. After talking to them, I was very excited when I found out they would love for me to review their personalized holiday cards. To say the least, once I was issued a gift card for the purchase, I couldn't wait to get started!
Night Owl Paper Goods: Who Are They
For those of you haven't heard of Night Owl Paper Goods, they are one of my favorite stationery companies. This small company uses is known for their modern, yet folk inspired designs. As well, all of their designs are eco-friendly, recycled paper or wood, allowing them to reduce the overall carbon footprint of their products while giving everyone the gift of pure cuteness. What truly makes them unique in my eyes, however, are their products made from eco-friendly, sustainably-harvested birch wood. From my own experience, I have seen that their cards truly give an extra special touch above and beyond the typical cards. Having seen how much my mother and mother in law loved these cards, they seemed like the perfect place to order personalized holiday cards!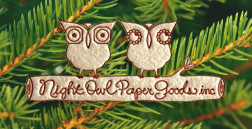 Night Owl Paper Goods: Ease of Ordering
I must admit, the hardest part of picking out a card is choosing from all the adorable designs. Early on I decided I wanted to send out wooden cards that doubled as ornaments. In my mind, this was obviously the hardest decision to make, right? Well, after an hour of looking at all their holiday cards my husband I finally decided on a cute otter design. For those who know my husband, it obviously involved a pun. Once I chose my card, I could decide what I wanted it to say, as well as if I wanted a family picture, calendar, or just our names on the back of the card. Since it was only the two of us, I decided to go with something simple on the back. Once the card was in the system, I was told I would have a proof back in 24 hours so I could see exactly what my finished card would like and look for errors. While this may not seem like a big deal, it actually is, since many card places use an automated, cookie cutter-like system that doesn't allow many changes. Since all of their cards are made by a professional designer, they can make sure everything is laid out properly and the card looks PERFECT in your eyes. Once you approve the card, it is sent off to be made, making the wait the hardest part. Really, I don't think ordering cards could be a more personal and involving process!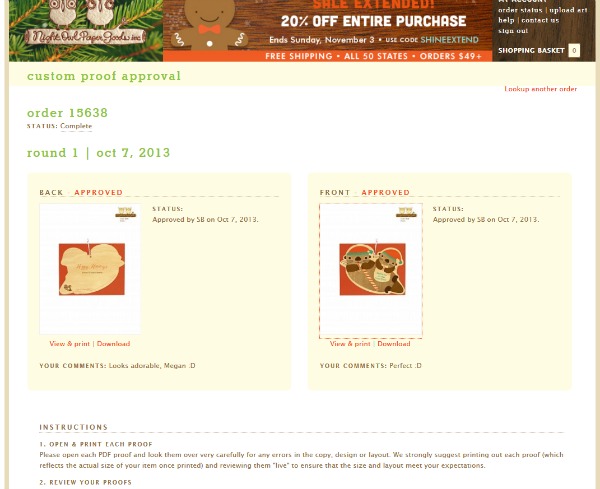 Night Owl Paper Goods: Finished Product
Okay, I will freely admit, I was a little kid when my box of items from Night Owl Paper Goods holiday cards arrived. I really wanted to see my adorable otter cards. From the moment I took them out of the box, I was wowed! As someone who has always loved their products, I had high expectations, and Night Owl exceeded them. My card couldn't be more perfect. Each of my card ornaments looked like older, aged woodcuts, giving them that perfect, folksy look that would like nice on just about any Christmas tree. I also love the little, thoughtful details – like the fact that the included hanging ornament string looks like peppermint, making the card stand out even more. Now that I have my cards, I can't wait to start sending them out!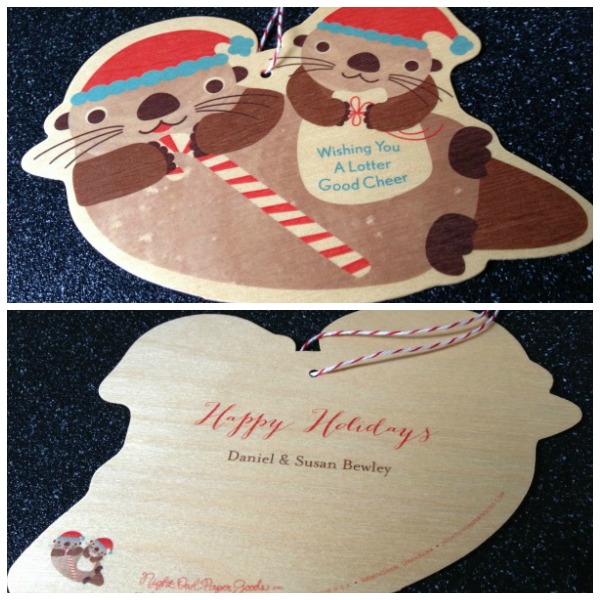 Night Owl Paper Goods: Overall
Okay, I don't think I can purchase boring Christmas cards again. I will freely admit, as someone who only rarely bought cards before, their cards feel a bit on the pricy side, but I also think they are worth every penny. You are truly getting a unique piece of art with all of their cards, and something that will get noticed when your friends and family open their holiday mail this season. If you can't afford to get personalized cards, their normal holiday cards are also something that just about anyone would enjoy opening. Based on my own experience using Night Owl Paper Good's personalized card service, and receiving the final product, I have to say I give them an A+ rating. There is truly nothing I would change and I highly recommend you consider purchasing your holiday cards from them this year!
Night Owl Paper Goods: Where to Purchase
To purchase personalized holiday cards from Night Owl Paper Goods, make sure to go to their website. There, you will find a large selection of personalized holiday cards & traditional holiday card designs that everyone in your family will love.
Disclosure: Budget Earth did not receive compensation for this review but did receive free products from Night Owl Paper Goods for review purposes. All opinions on this product are my own and may differ from our readers' opinions.
Would you like to have your products featured in a similar giveaway event? Want to increase your social media exposure before the holiday season? See how we can help! Contact susan.l.bewley@gmail.com to see what we can do for your company!