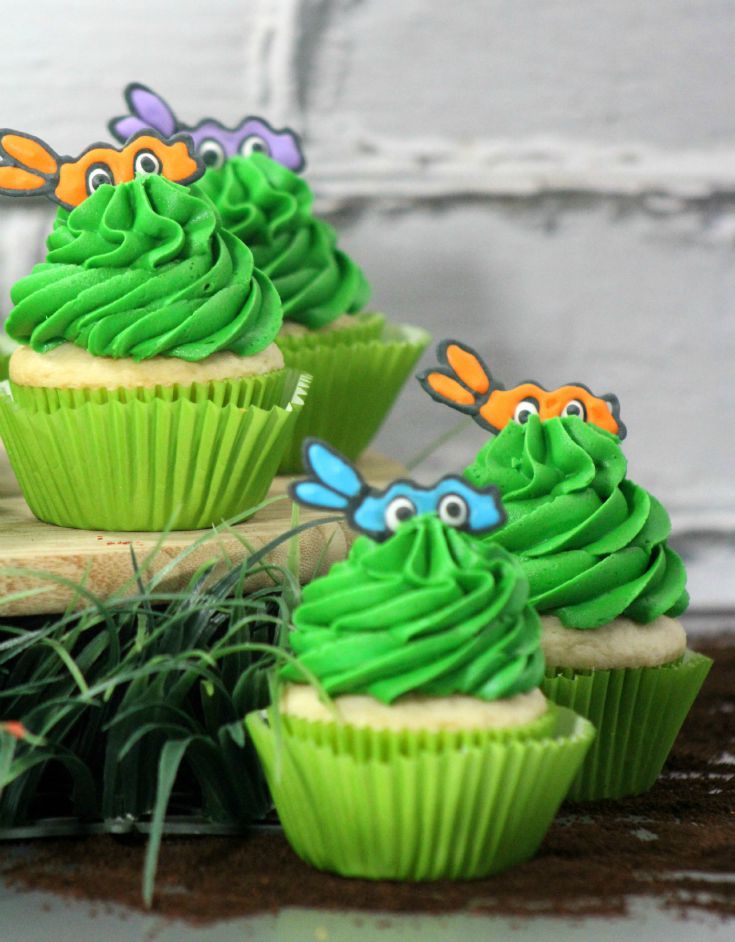 Do you have a child who loves the Ninja Turtles? Growing up, my husband and I were both huge Ninja Turtle fans. I used to get up early every morning before school so I could catch the latest episode. If I wasn't going to be home in time, the VCR was put to work recording the latest afternoon episode. As an adult, I still love watching some of the old episodes (even if it does seem a little corny now). With a new Ninja Turtle movie coming out soon, I want to do a marathon of watching not only the last movie, but some of the older movies and cartoon episodes as well. All I needed was Ninja Turtle-inspired food for the occasion.
Luckily, one of my favorite baking friends, Krista,  shared with me the cutest Ninja Turtle cupcakes ever that she made for her son's birthday party.  The moment I saw these cupcakes, I have to admit, I was amazed. They looked absolutely amazing! When I asked how she did it, she was happy to write it down for me and told me I was welcome to share it with everyone. To say the least, I am pretty excited and couldn't wait to share these adorable cupcakes with you.
Below, you will find the detailed recipe, as well as how to make the cute Ninja Turtle decorations on top as well. If you make these yourself, make sure to tag us and show us your hard work! So what do you think – cute or no?
Note: Special thanks to my friends Krista from Adventures of Country Divas for helping me with this recipe and pictures!
Print
Ninja Turtle Cupcakes
Have a child that loves the Ninja Turtles? Check out these awesome Ninja Turtle Cupcakes & learn how to make them here!
Author:
Category:

Character

Cuisine:

Cupcake
Cupcake Recipe:
3

cup

flour

3 1/2

baking powder

1

cup

margarine

2

cup

sugar

4

eggs

4 tsp

vanilla extract

1

cup

milk
Frosting Recipe:
4

C powdered sugar

1

C sweet cream

4 TBSP

Heavy Whipping Cream
Green food coloring
Royal Icing Recipe:
2

egg whites

1/4 tsp

cream of tartar

1 tsp

almond extract

2

+Cu powdered sugar
food coloring for red, blue, orange, and purple
Instructions
Cupcake Directions:
Preheat oven to 350 degrees.
Using paper liners line the cupcake tins.
Cream margarine and sugar until light and smooth in a mixing bowl with electric mixer.
Sift flour and baking powder together in another bowl.
Add eggs one at a time to the margarine and sugar mixing bowl.
Continue mixing.
Add vanilla extract.
Mix flour and baking powder in with the margarine, sugar, eggs and vanilla.
Slowly add milk and beat well.
Bake at 350 degrees for 15-18 minutes.
Allow to cool for 10-15 minutes.
Frosting Directions:
Mix the sweet cream and 3 C powdered sugar until it becomes creamy.
If the frosting is not creaming add heavy whipping cream.
If the frosting is too soft add 1/2 C powdered sugar.
Check to see if the frosting forms stiff peaks.
If not add more powdered sugar.
Add 4-5 drops of green food coloring.
Mix with a spoon to ensure the desired color.
Using a pastry bag and a large tip, frost the cupcakes.
Royal Icing Directions:
Combine all ingredients on medium speed for 4 minutes.
Divide the royal icing into 4 small bowls.
Add 5 drops of red food coloring into one bowl.. Stir well.
Add 5 drops of blue food coloring into second bowl… Stir well.
Add 5 drops of orange food coloring into third bowl…. Stir well
Add 5 drops of purple food coloring into fourth bowl…. Stir well.
Using a small pastry bag and a #2 pastry tip for each of the colors; red, blue, orange, and purple.
Search Google for cartoon image of the Ninja Turtles.
Copy/paste to word.
Save to your folder.
Print this image.
Tape this page with the picture of the Ninja Turtles to a cookie sheet.
Cut/tear enough wax paper to cover the page with Ninja Turtles printed on it.
Using the royal icing, either the red, blue, orange, or purple with a #2 tip trace the image of the Ninja Turtles.
If it is to be outlined….Trace this first.
Fill in the Ninja Turtle mask with more royal icing to match the outlining color.
Allow to dry 5-10 hours.
Ensure that the images are dry by gently pushing in on one of them.
If they allow you to push in they are not dry.
Once the page with the images of the Ninja Turtle Mask is dry…remove the tape from the wax paper and cookie sheet.
Cut the wax paper into squares surrounding the dried images.
Gently peel the wax paper from the back of the Ninja Turtles.
Make a small cut in the frosting in the center of the frosted cupcake.
Place the Ninja Turtle mask in the cut on the cupcake.
Do you have a child who loves the Ninja Turtles?