As some of you may have seen from one of my previous reviews, I am obsessed with my dry eraser board. I am always making lists and jotting down notes for myself. This is why I originally got my iPhone – I wanted to have something to keep me organized and allow me to constantly jot down notes. While it has been great at helping me keep organized – I am still obsessed with my dry erase board. I love being able to physically write things down and make notes as I go. My big issue, however, was that I just couldn't find a practical dry eraser board that fit in my purse. At least, this was the case until I found the Noteboards.
Noteboards: What Are They?
More than likely you have never heard of the Noteboards, unless you hang out in some tech communities. This cheap and versatile board was developed by a 23 year old Stanford dropout when he was looking to create a sign that could easily be modified while hitchhiking across the country. While the hitchhiking never happened, he still found that note cards made a nice dry erase surface that he could fold and bring with him just about anywhere. After being seen by others, he was encouraged to mass product these boards, creating a business that has been growing quickly, with over 14,000 Noteboards sold in a very short period of time.
So, what makes the Noteboards so unique? This portable dry erase board consists of 35 panels of stock paper that are laminated together and held together by joints, allowing you to have an unbroken, dry erase surface. Folded out, this board measures 35" x 15". Once folded, however, it is the perfect purse or pocket size- measuring the size of a standard note card in its bag – 5" x 3". Along with being a very convenient size, I am also happy to report the Noteboards are made in the United States (in Texas to be exact). I don't know about you but I love supporting companies that make products in the USA!
Noteboards: Usability
When I first saw the Noteboards, I was immediately inspired by everything I could do with this board. On one side, you have a very large blank surface. This is great for drawing or very quickly writing down notes. On the other side, you have a very unique grid surface, consisting of 1 inch black squares, 1 inch hexagon grid in blue, and a centimeter grid in light red throughout the board. This makes the grid very versatile, making it perfect for graphing, notes, or even math projects. While I love the blank side for writing, the geeky side of me immediately realized that the black one inch boxes make it perfect for one of my favorite hobbies – Dungeons and Dragons! Yes, I admit it – I'm a geek!
From what I have personally seen, the Noteboard really does seem good for just about everything. It's great for making lists, book notes, and just about anything you can imagine! As well, you can easily straighten the board with books, pin it to a board, or even use tape or sticky tack to place it on a wall. Probably the most useful thing I could see doing with this board is math – making it great for teachers or home school students. As someone who used to teach, I could easily see teachers having fun with these boards for group presentations, or demonstrating different math projects. Really, the possibilities are endless with Noteboards!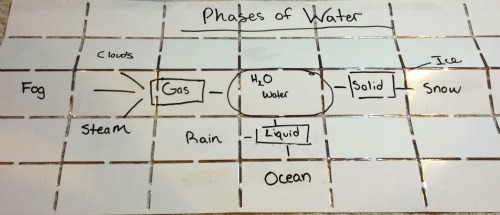 Noteboards: Durability
From what I have seen so far, the Noteboards seems to be fairly durable. I have folded this board up at least thirty times in the past week, and it only seems to be showing very minor stress around the joints. I'm personally not sure how these joints are going to handle long term use, but from my own experimentation they seem to be fairly durable. Just make sure to actually fold the board at its joints and not in odd and usual ways. This will guarantee that your board will be around and usable for quite some time!
Along the board, you also get two other products -a microfiber bag and a dry erase board with an eraser top. Both the board eraser and microfiber are perfect for erasing the Noteboards. It is recommended, however, that you do not erase the board with your fingers since this will smear the ink. If you find the board is having issues erasing, just use rubbing alcohol or hand sanitizer.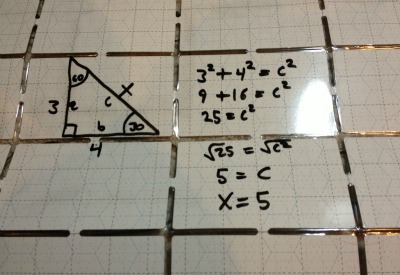 Noteboards: Overall
So far, I have to say I am impressed with the Noteboards. I would have loved to have this back when I first started roleplaying in high school, or when I was teaching. These boards are very inexpensive, portable, and perfect for planning on the go. Even my friends seemed fairly impressed with the Noteboards when I showed it to everyone. From my own personal experience, I would give the Noteboards an A rating. The only reason I am not giving this board an A+ rating is I'm not sure how long it's going to last. For the price, however, it really is perfect for just about anyone, including gamers, kids, parents, businessmen, and even teachers!
Noteboards: In the Box
The Noteboards
Dry Eraser Marker with Eraser
Microfiber Bag
Noteboards: Where to Purchase
There are currently a handful of places where you can purchase the Noteboards. You can purchase this neat dry erase product directly from thenoteboard.net or you can purchase it from Amazon.com. I would personally recommend getting them from Amazon.com, especially if you are a Prime Member, since they are being sold for $12. If you are someone who loves to roleplay or are constantly demonstrating things on the go, I would highly recommend purchasing the Noteboards!