Nugeni STEVA+ Complete Cleaning System Review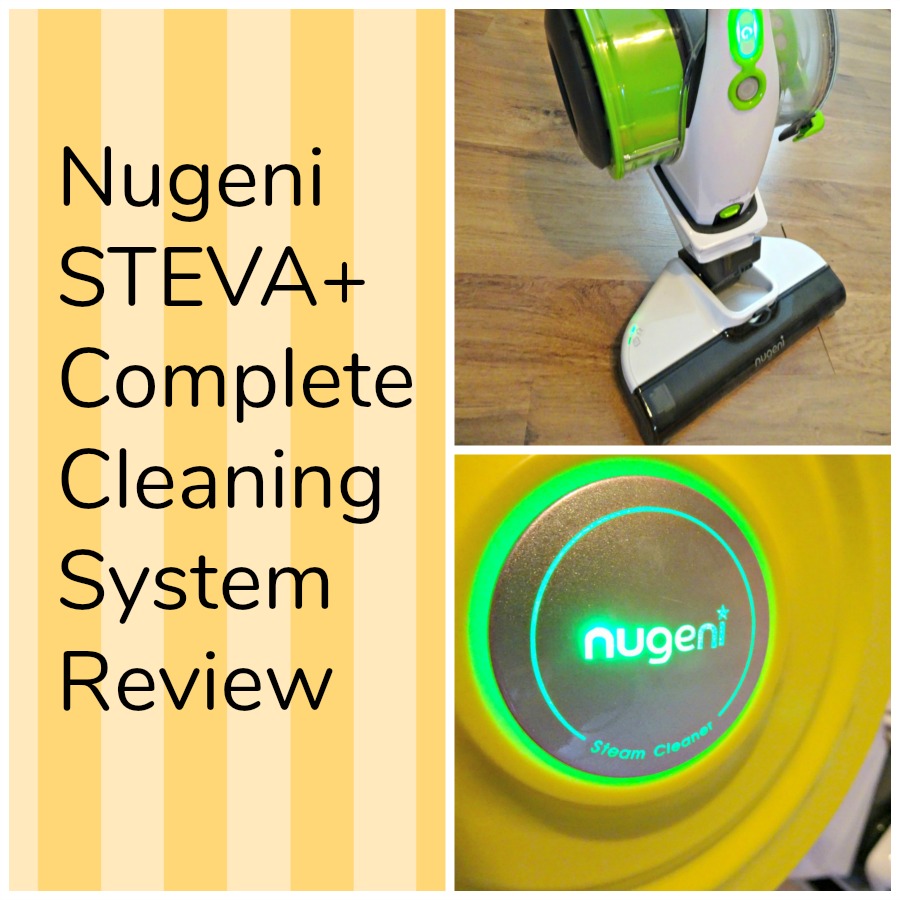 I am so extremely excited to talk about this awesome all-in-one vacuum and steamer by Nugeni. The sheer number of things this baby can clean is jaw-dropping, so prepare to be amazed! I have attempted to be as thorough as possible with this review. Let's start with the vacuum, shall we?
Nugeni STEVA+ Upright Vacuum

When I received my most anticipated Nugeni STEVA+ in the mail, I was impressed by how small the box was for how many different configurations this appliance has. We live in a small apartment that is limited to only two small closets in each of the bedrooms. No pantry, no coat closet, nothing. So storage space is a huge concern for us. With the Nugeni, I don't have to worry about where to store it, because its size makes it easy to put pretty much anywhere! The vacuum is also battery charged. Just pop it onto its charger base for a couple of hours, and you're ready to go cordless!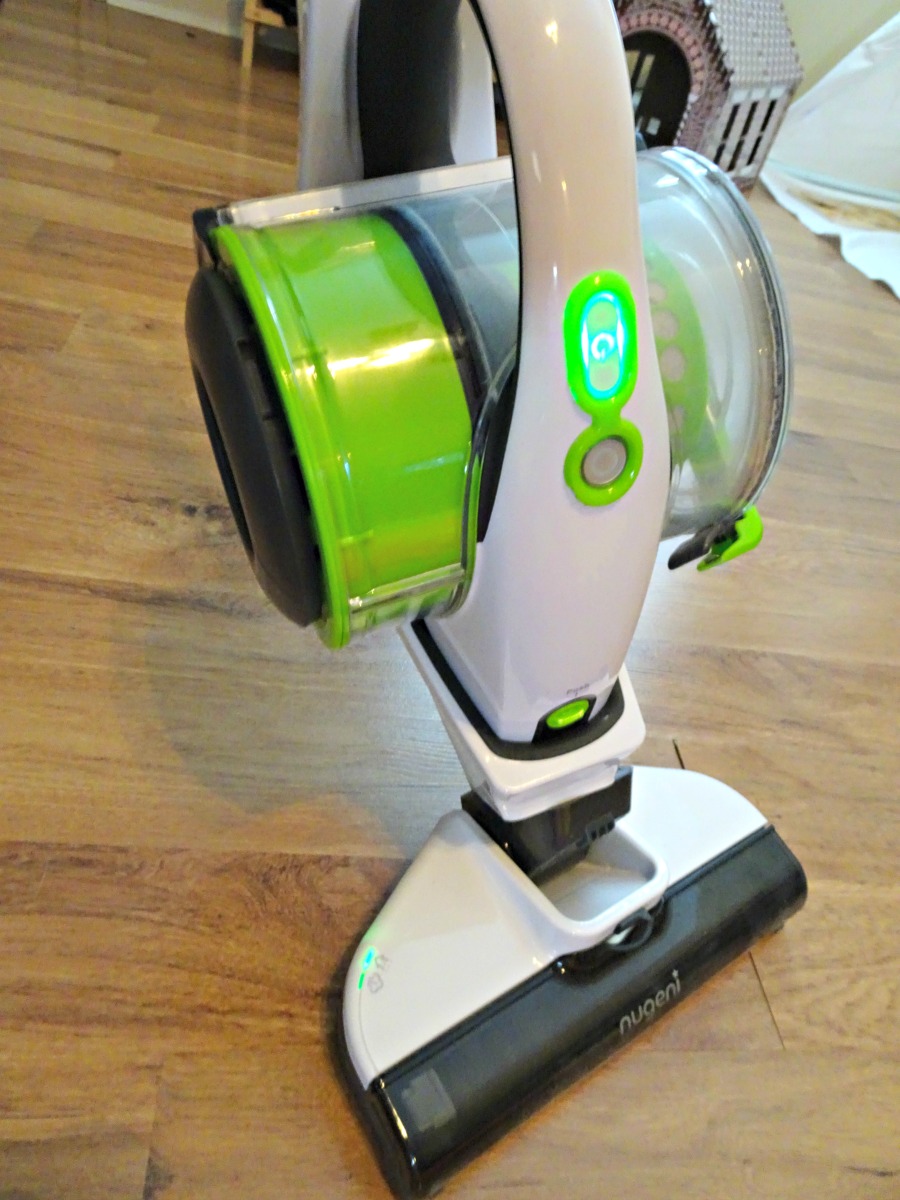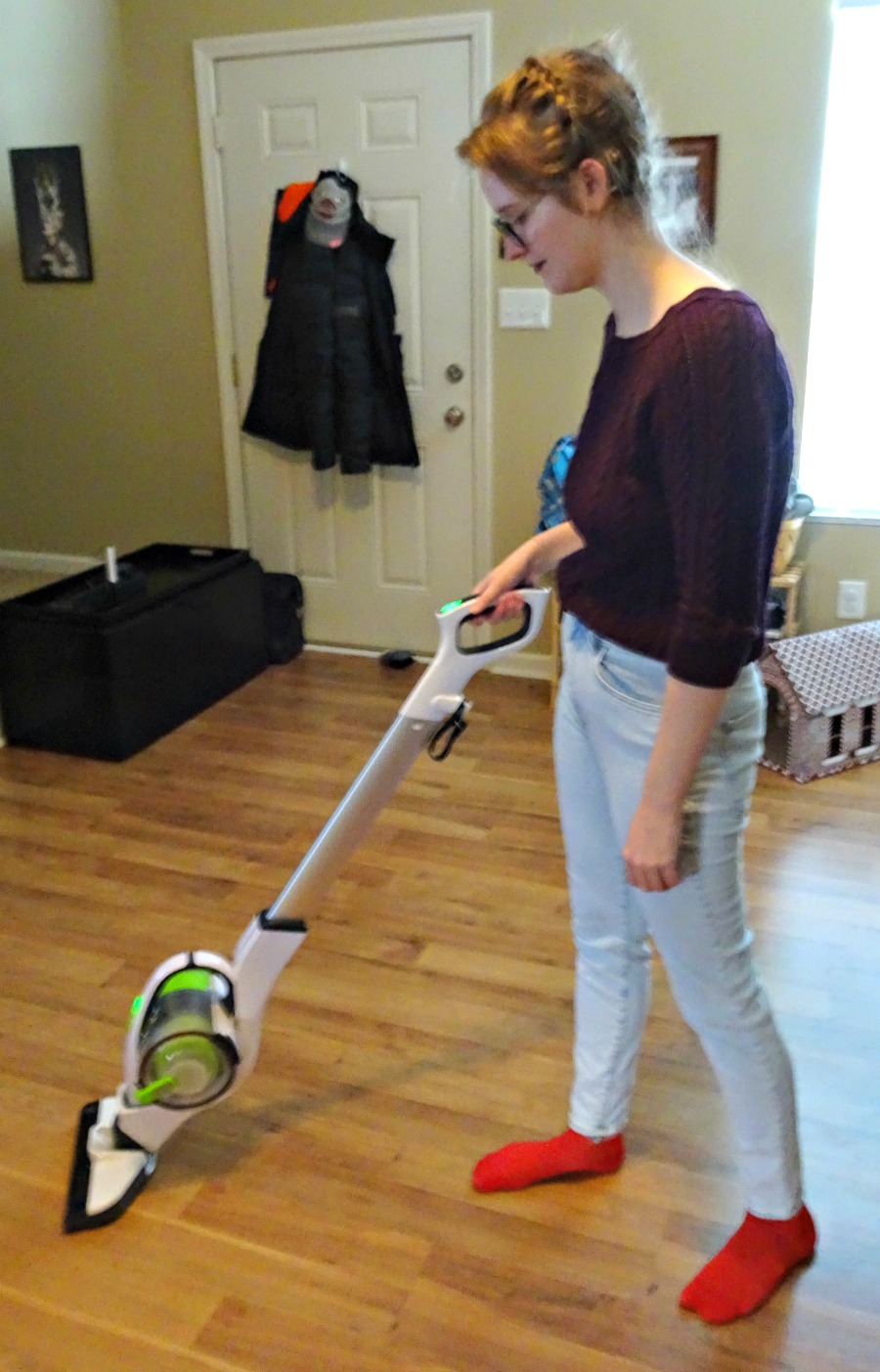 Now, if you are looking for a vacuum that you can just plug in and use without reading the manual first, this vacuum is not for you. It is absolutely imperative that you read your manual before using the Nugeni because of its many all-in-one features. You will want to make sure you have everything exactly where it needs to be before you use it. The nice thing is that the directions are all very simple and easy to understand, and once I read it one time I didn't need to go back and read it again! The upright vacuum was very easy to assemble by attaching the universal mop stick and then snapping the actual vacuum into the upright base. After letting it charge for two hours it was immediately ready for me to test out. We have vinyl flooring and tile downstairs that I usually have to sweep, so I tried it out there first. The suction power was great and it was very easy to roll over the floor. I picked up a lot of cat hair and various bits of dirt, food, and unidentifiable specks, which is exactly what you want to see in your canister after vacuuming! The small vacuum head worked well for me to fit underneath the couch and computer desks.
Next, I vacuumed the carpeted rooms upstairs. I definitely could tell a huge difference in the smell and the suction power of this vacuum compared to my six-year-old vacuum that smells burnt and gross as I use it. What was crazy was I had just vacuumed earlier that day with my old vacuum, so I wasn't expecting to pick up too much with the Nugeni. Well, I was wrong. The Nugeni picked up all kinds of dust and hair that my old vacuum was completely missing! The Nugeni vacuum has a cool feature called "turbo mode" which is activated by pressing the power button a second time. The light then turns blue and the suction power revs up to high speed. It made a difference vacuuming by the cat's litter box especially, as I could hear those tough pieces of stray litter being sucked into the vacuum. So cool!
I am giving the Nugeni STEVA+ upright vacuum a five-star rating for maneuverability, suction power, storage space, cordless use, and quiet operation. Now, if you have a lot of carpet or have a large home, the Nugeni may not be suited for cleaning your entire house because the charge only lasts for 20 minutes before it needs to be recharged. But for our small space, it is perfect! Besides, who wants to spend more than 20 minutes vacuuming anyway?
Nugeni STEVA+ Handheld Vacuum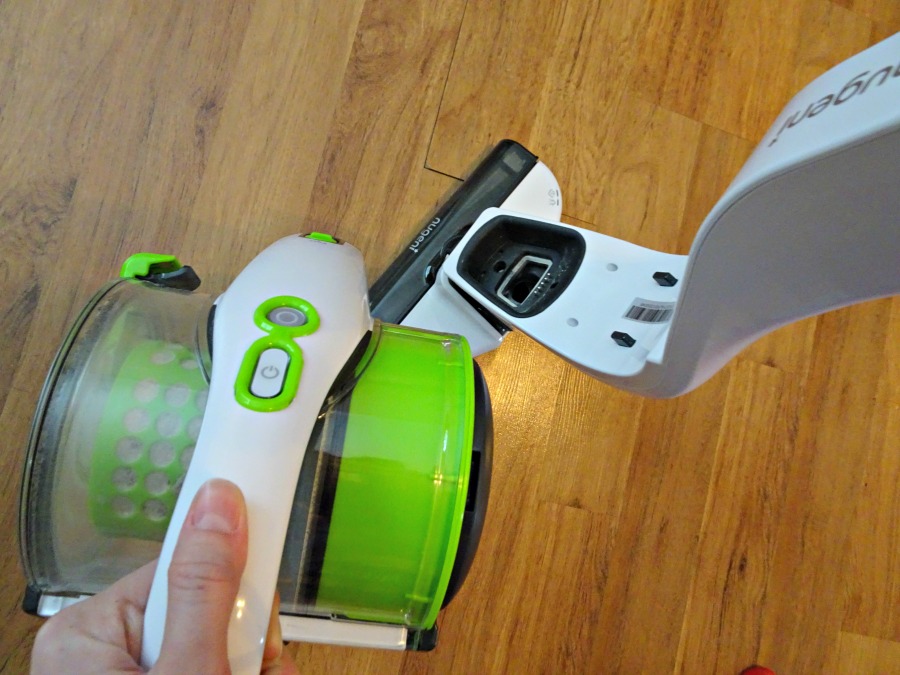 This was possibly what I was excited about the most with my Nugeni. I have been hauling a huge, hulking, vacuum up and down the stairs for years, holding onto the vacuum for dear life every time I had to clean the stairs. Now, all I have to do is pull the release button on the back of the upright stick and ta-da! I now have my handheld vacuum! You can clean using the vacuum exactly like this, or use the other various attachments provided in your box. All you have to do is attach the adapter, and then you are ready to switch between nozzles as you choose.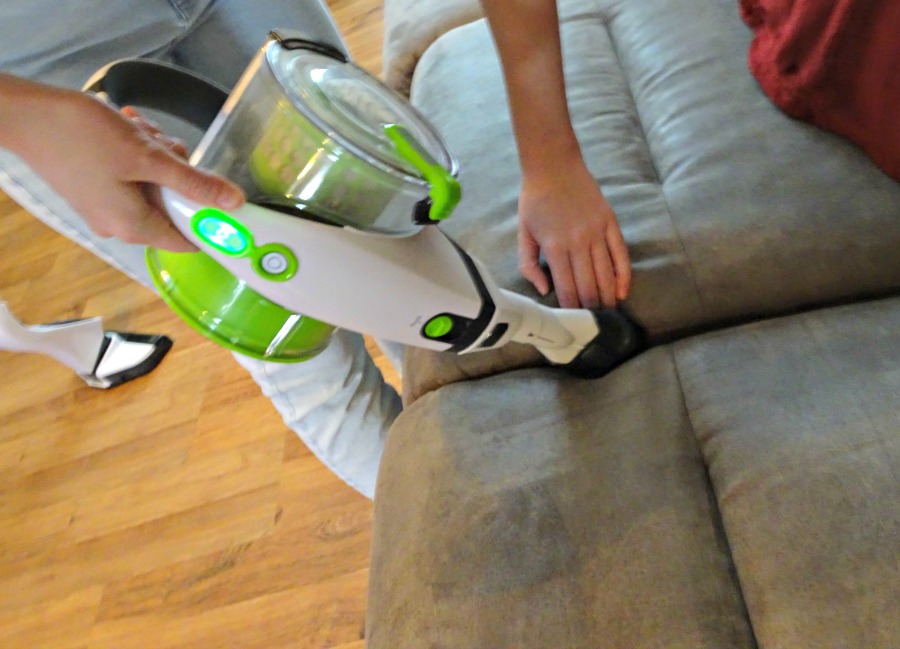 This brush attachment is what I used to clean my stairs and couch. The brush can slide backward or forward, depending on if you want to use it or not. The nozzle fits perfectly in between my couch cushions, and it worked like a charm on my carpeted stairs too! It was so nice not to have to strain my back carrying that huge vacuum up the stairs!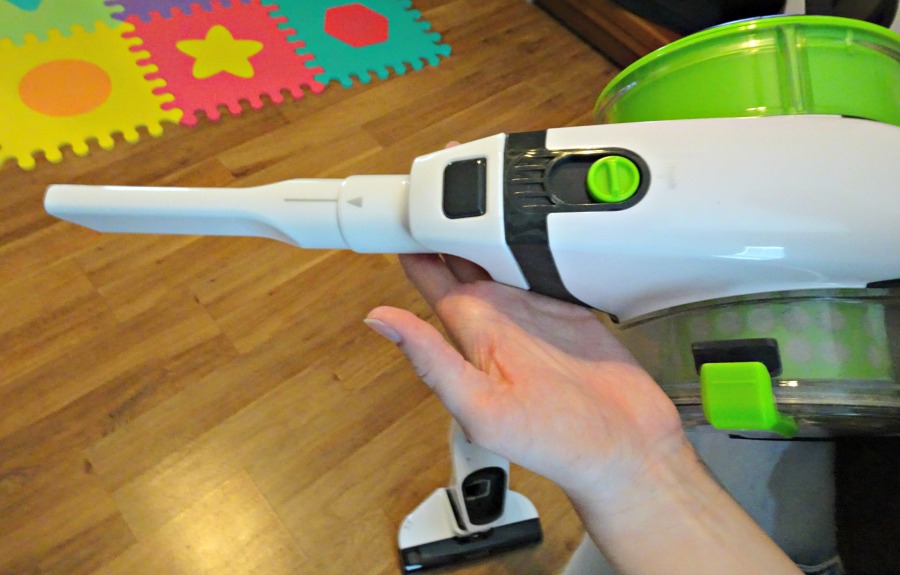 This attachment is great for getting around the baseboards of the house where animal hair and dust like to gather. I just slid this nozzle right onto the vacuum and went to work!
I am giving the Nugeni STEVA+ handheld vacuum a five-star rating for being lightweight, easy to maneuver, and versatile. Since this is the actual vacuum, the suction and power are exactly the same as when it is attached to the universal mop stick.
Nugeni STEVA+ Vacuum Cleaning and Maintenance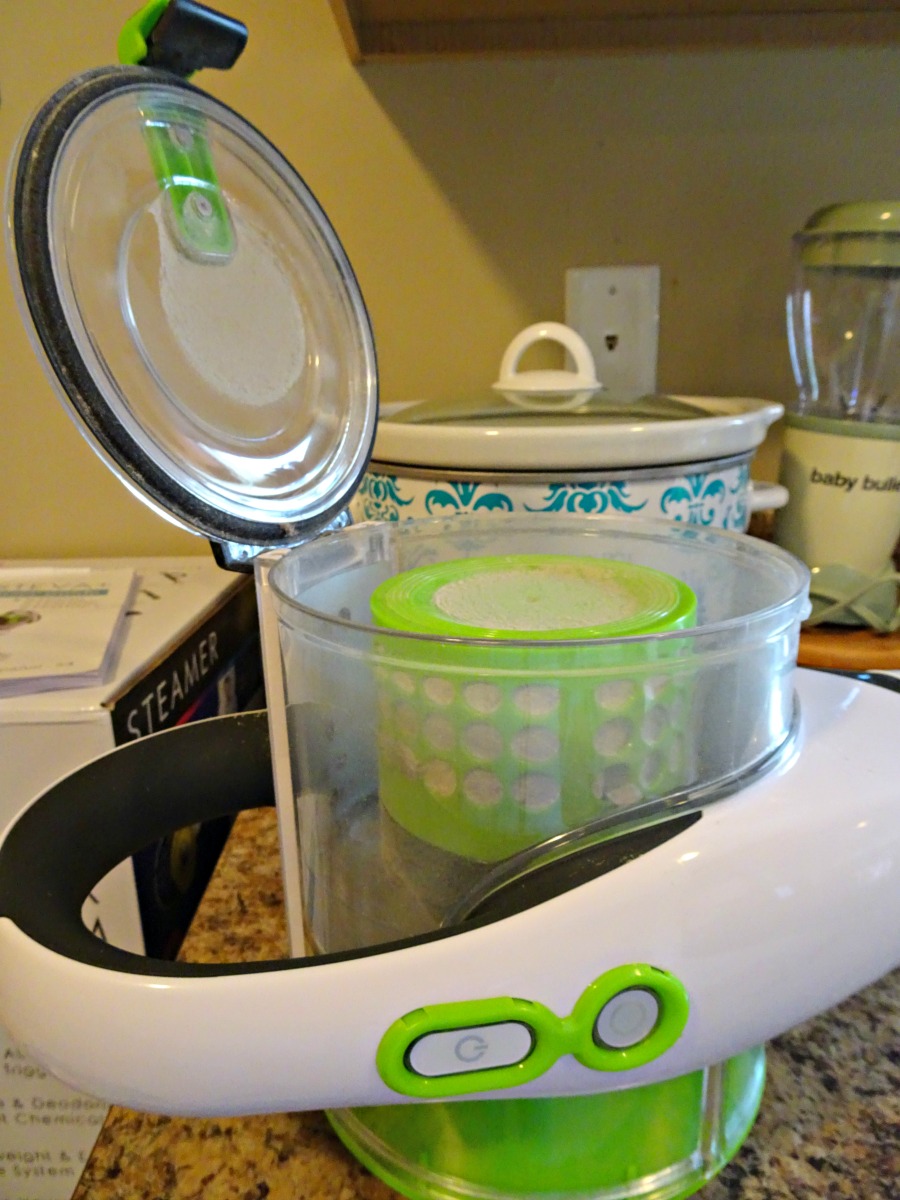 How easy is the Nugeni STEVA+ to maintain and clean? Super easy! Nugeni allows you to remove all of the moving parts of the vacuum for optimal cleaning and maintenance. To empty the canister, just pull on the latch and dump into the trash. I found it easiest to already hold the canister upside down into the can before opening, otherwise a puff of dust will occur into the air rather than the can.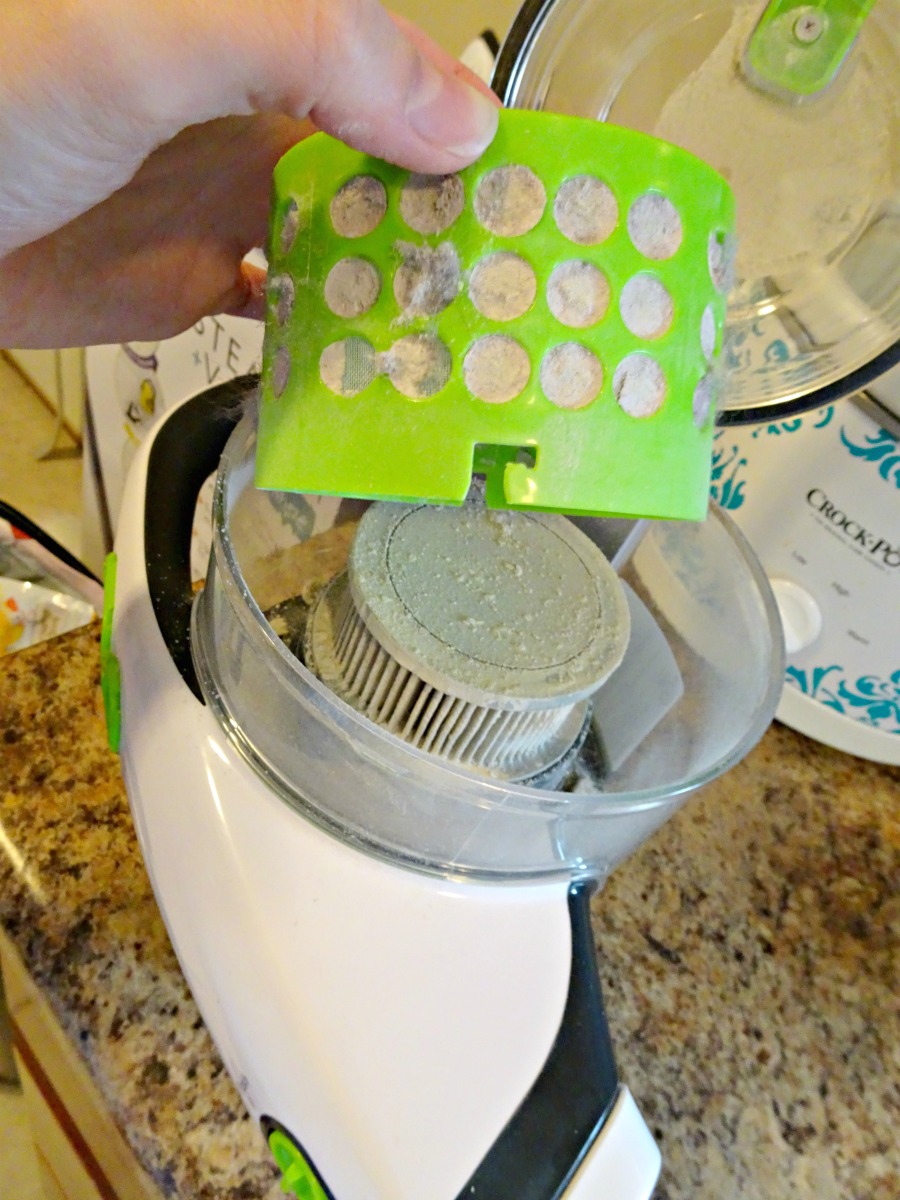 To access and clean the filters, just twist the green filter case and remove from the canister. Pull up on the second air filter to remove it as well.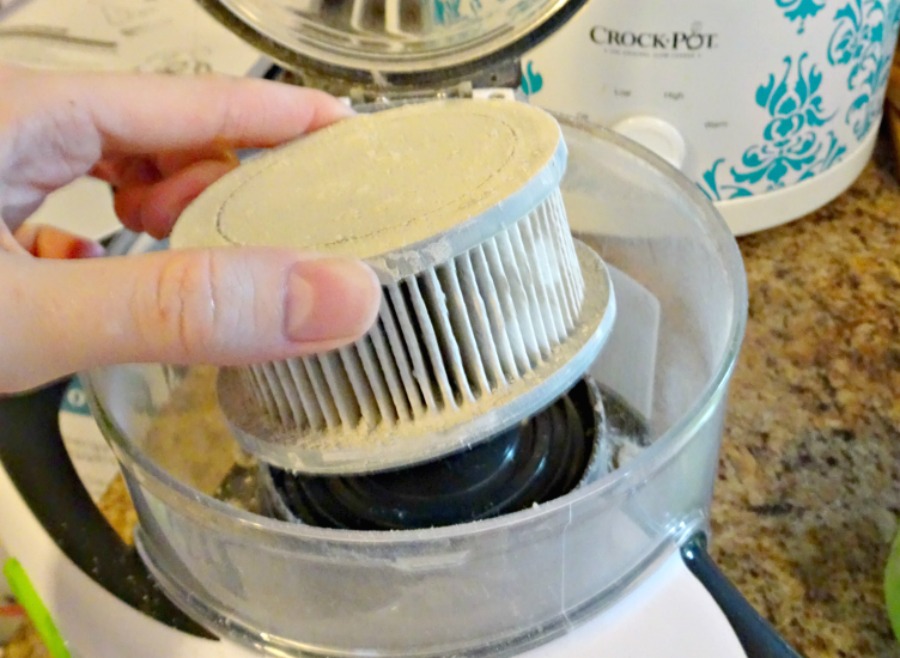 Your Nugeni comes with a small bristle brush for you to use to dust off your filters, which I found to be much more effective than trying to knock the dust off inside of the trash can. These filters are also washable as long as you do it by hand and allow to properly air dry before reinserting them. Eventually, you may have to order a replacement air filter, but with proper care this one should last for quite a while!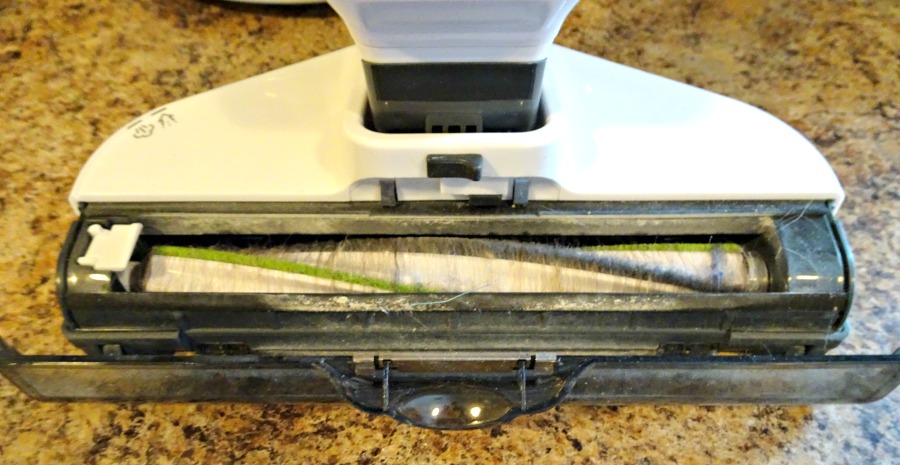 I am so happy that the Nugeni vacuum allows you to clean your own beater bar because usually you have to have tools to take these out of normal vacuums. With Nugeni, all I had to do was push the release button and pop the beater bar out of the case. Using a pair of scissors, I cut a straight line through all of the hair (I have long hair so as you can see, the entire beater bar was wrapped in it!) and then just tugged all the dust bunnies and hair off. I popped it back in, closed the case, and that was that!
I am giving the cleaning and maintenance of the Nugeni STEVA+ vacuum a five-star rating for ease of access, provision of a cleaning tool, and reusability of the filter system. Side note: Nugeni comes with a limited two year warranty as well!
Nugeni STEVA+ Steam Mop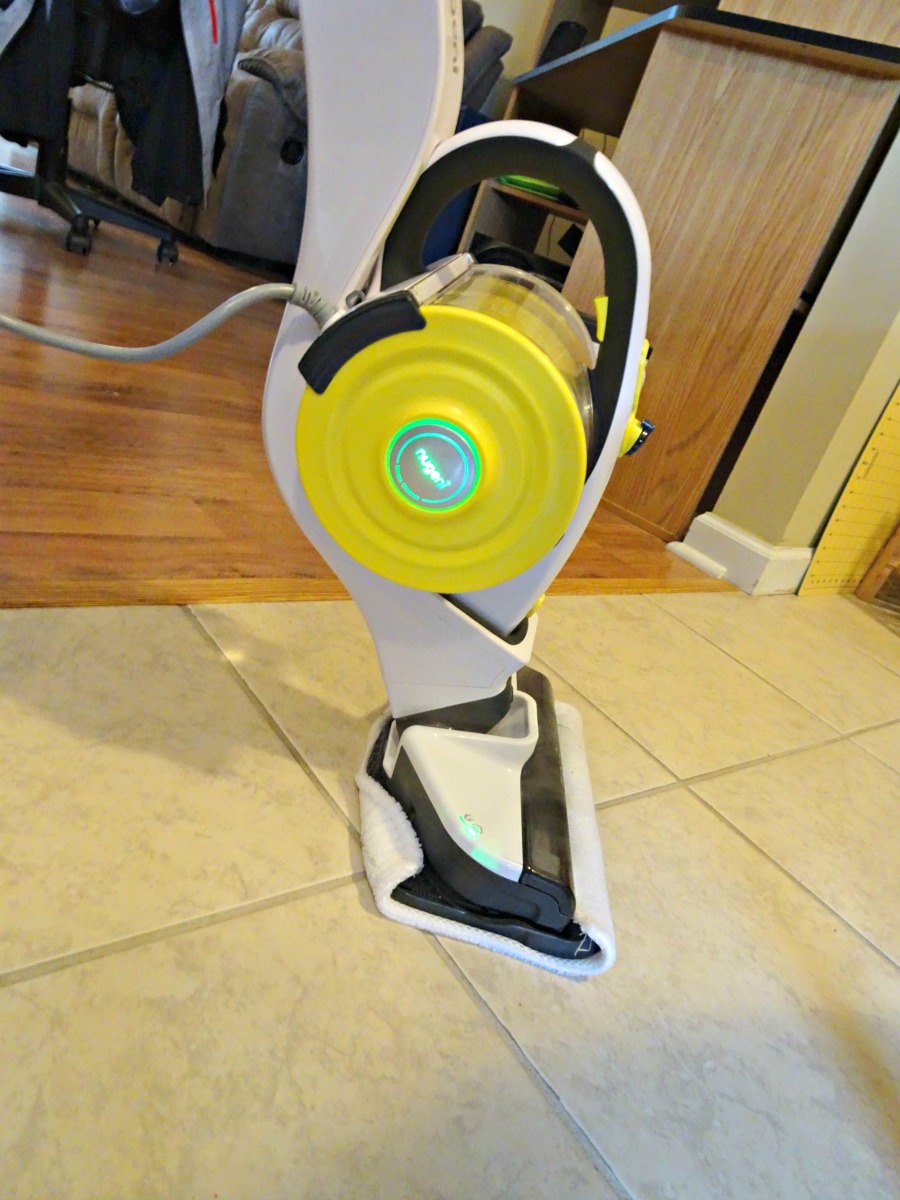 Alright, time for yet another form that your Nugeni STEVA+ can take: the steam mop! Unlike the vacuum component, the steam cleaner will need to be plugged into the wall in order to operate. The universal mopstick comes with a detachable velcro loop for you to use to wrap the cord while in use or after use, which I felt was a very useful feature!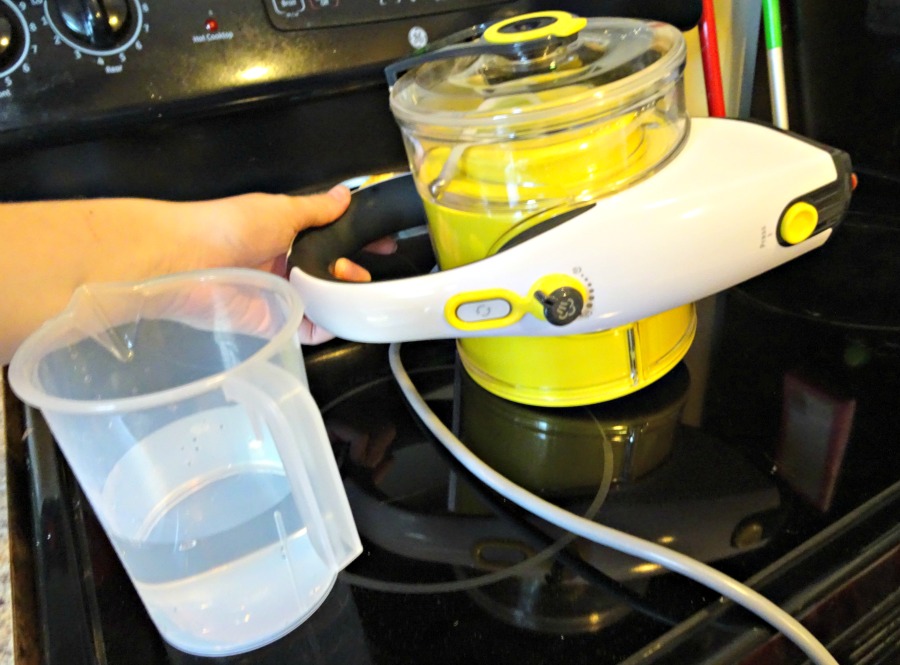 Before attaching the steam cleaner canister to the universal mop stick, use the measuring cup provided with the Nugeni to fill the canister with water. Next, connect the steam cleaner canister to the universal mopstick. Now it's time to attach the steam floor diffuser base! The Nugeni STEVA+ accessories include two scrubbing cloths and two cleaning cloths for the diffuser base that you simply velcro together.  To connect the diffuser base to the mop stick, set the mop stick on top and simply press down until you hear the click signifying it is secure. Time to clean!
It will take about thirty seconds for the steam to start going, but after that you will be ready to (steam) roll! When steam reaches about 212 degrees Fahrenheit it is able to sanitize and sterilize bacteria. No need for harsh soaps, chemicals, or sprays! Clean with steam to see and smell the difference! I was very impressed with how thoroughly the Nugeni mop was able to steam clean my tile and vinyl. My cloth of choice is the scrubbing cloth as it gets hardened food off of the floor with ease! I love how quickly my floors dry and that I no longer have to put down soap or chemicals to make my floor look squeaky clean!
I am giving the Nugeni STEVA+ Mop a five-star rating for easy assembly, sanitation without the use of chemicals, and different cleaning cloths for various levels of mopping.
Nugeni STEVA+ Handheld Steam Cleaner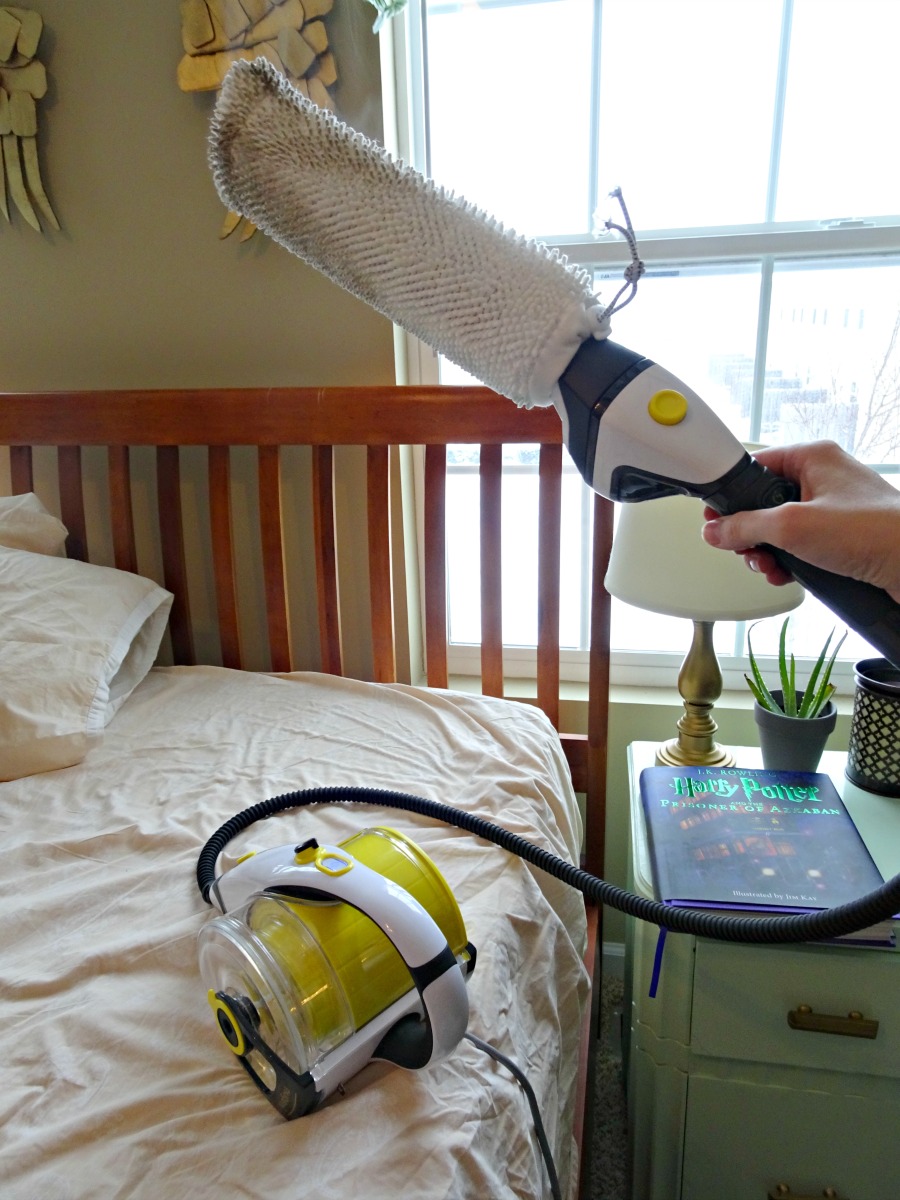 I was not expecting how much I was going to love the Nugeni STEVA+ Handheld Steam Cleaner. I figured out of all the features of the Nugeni, this would be the one I would use the least. I mean, I had never had a steam cleaner before, so what could I possibly have been missing out on? This month I had on my chore list a chore that I absolutely HATE: cleaning window shades. I really should do it every few months at least, but it actually gets done about twice a year, because I just hate doing it so much. It's dusty, it's time-consuming, it's annoying to slide your duster between every individual slat….words cannot express how much I dislike it. So I decided to test the steam cleaner on the window shades using the steam cylinder accessory because I hoped it would cover more surface area.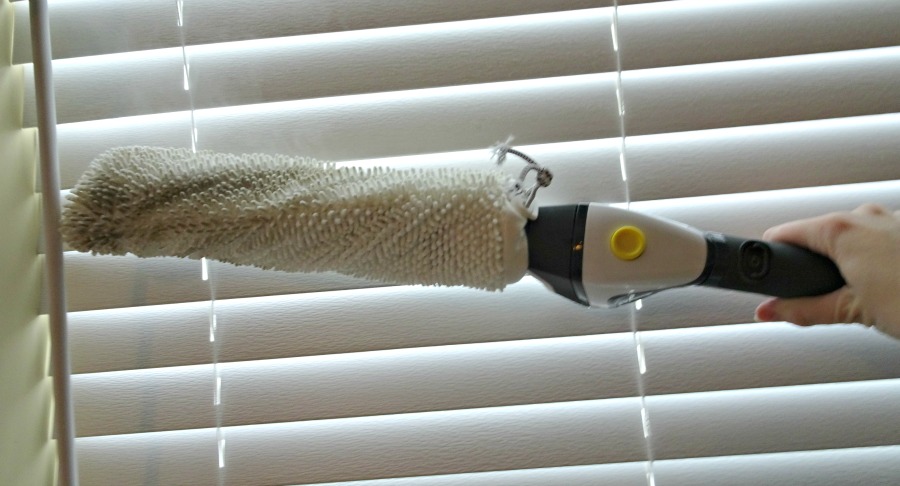 As you can see from the pictures, this thing picked up so much gross dust that it almost immediately turned brown! I was disgusted in the most satisfying way. Fellow clean freaks will understand! All I had to do was activate the continuous steam by holding the trigger on the steamer and pressing the power button at the same time. Then I could clean without holding the steamer! The Nugeni STEVA+ does come with a shoulder strap which will make you feel like an actual Ghostbuster as you roam around your house steam cleaning everything you possibly can steam. Now for the first time ever I am looking forward to cleaning my window shades! I also steam cleaned our couch and recliner using the garment tool accessory, which also worked very well but was thankfully not nearly as dirty as my windows.
I am giving the Nugeni STEVA+ handheld steam cleaner a five-star rating for a wide variety of cleaning accessories, powerful steam cleaning ability, and ease of use.
There are so many attachments and accessories that come with the Nugeni that I have only scratched the surface of what this amazing machine is capable of. I can't wait to find new uses for my Nugeni!
Overall, I am super amazed by the power and cleaning ability of the Nugeni STEVA+ Complete Cleaning System. If you are looking for a machine that can be an upright vacuum, handheld vacuum, steam mop, and handheld steamer without taking up a lot of space, then the Nugeni STEVA+ is for you!