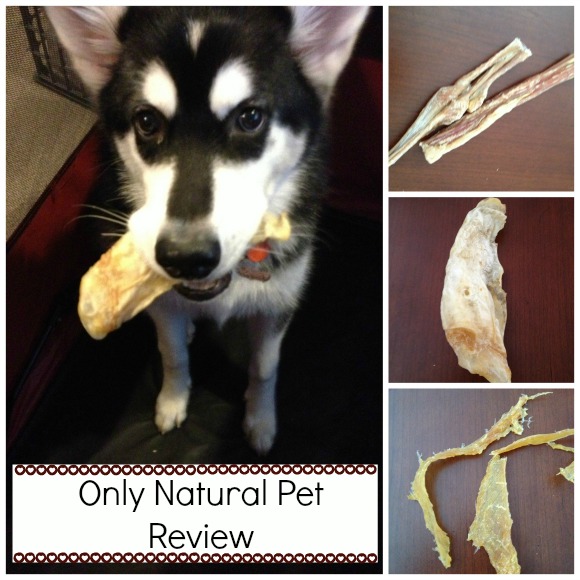 Like many owners with beloved pets, I spend quite a bit of time researching different products for my puppy. I love going into the mom and pop pet stores in my area for things,and while I'm there I make sure to look at the variety of treats available. More often than not, I usually leave being frustrated or spending more money than I had planned. It's not because I found amazing deals or too many choices, quite the contrary. It's because there may be two products in the entire store that meet my natural standards, and they cost an arm and a leg. While my Reya puppy loves them, it's usually a bit bittersweet when I see how quickly these treats are gone.
After this happened a couple of times, I knew I had to find a replacement and fast. It seemed logical to me that somewhere on the internet would sell only natural treats and products. I mean, for humans we have places like Mighty Nest – so it seemed only logical that there would be somewhere like this for our furry companions. After a bit of searching, I found the perfect place, Only Natural Pet. Wanting to learn a bit more, I reached out to the company, who was happy to send us products for Reya to review. Having a dog that is very food motivated, Reya couldn't WAIT to get started when the box arrived!
Only Natural Pet: Who Are They
Since 2004, Only Natural Pet has been providing the world with high quality, all natural pet products. With highly trained holistic pet health care experts selecting their stock, pet owners can rest assured that all the products sold on their store have their pets health in mind. Currently, they are the largest provider of exclusively natural pet care products in the world, carrying products that are organic, grain free, allergy friendly, and with ingredients from cruelty free farmers. Every product sold at Only Natural Pet must meet their quality standards, including items that are made by other brands. While the majority of their products are made in the United States and Canada, they do have a handful of products that are made in China in USDA certified facilities. They refuse to sell animals products made from nasty, harmful ingredients or from facilities who may use questionable practices, allowing pet owners to rest easy when it comes to giving their favorite dog or cat the best quality treats, food, and toys.
Along with having the best quality products for our pets, Only Natural Pet is also committed to protecting our environment. They are proud to be a socially responsible company and focus on reducing their overall carbon 'pawprint'. On a daily basis, they reduce, reuse, and recycle as much as possible, being a proud of their new carbon-neutral shipping options. All of their paper, ink, and boxes are made from recycled or biodegradable products, including their packing peanuts, which can be planted in your garden or washed down your sink since they are corn starch based. What impressed me the most about Only Natural Pet, however, is that they are 100% wind powered – something you rarely see when companies talk about their eco-friendly practices. In a way, Only Natural Pet was living green before it was even popular!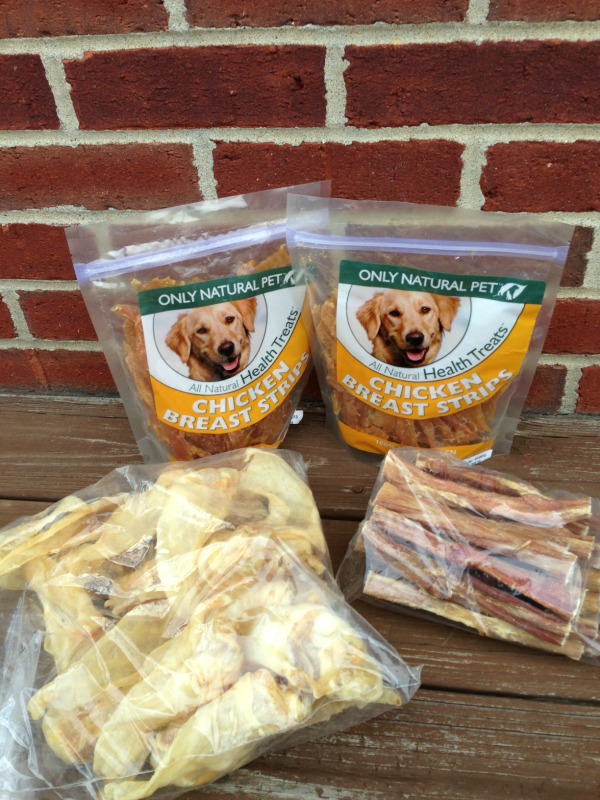 Only Natural Pet: Easy Chew Bully Sticks
It is rare that I buy Reya bully sticks, mostly because they are made with some rather scary ingredients when I look at the bag. Did you know that most of the rawhide treats on the market are treated with bleach, lye, and other harsh chemicals during the drying process? Being someone who knows quite a bit about lye from soap making, I don't want Reya going anywhere near this stuff! I was happy to see that the Only Natural Pet Easy Chew Bully Sticks were different. These sticks are made from 100% natural organ meat from grass fed, free range cattle. They are also easy to digest, low in fat, high in protein, and easy to chew, making them the perfect treat for dogs of all ages. Along with reducing tartar and plaque, they are also designed for thorough chewing, discouraging dogs from trying to swallow these treats in one go. Like all Only Natural Pet brand products, they also come with 100% money back guarantee.
While this may sound all well and good, you are probably wondering what your pets may think of these bully sticks. Now, I will warn you, Alaskan Malamutes are very motivated by food, but if Reya doesn't like something, she won't make a big deal about it. The last time we gave Reya something she didn't like, she tried hiding it behind an old monitor in our living room. Luckily, this wasn't the case with the Easy Chew Bully Sticks. She actually gobbled this up in less than five minutes, which is fairly impressive for the size of my dog. From what we have seen, she LOVED these treats. I am also happy to report that unlike most treats, she didn't have bad breath after eating it, which made them even better in my book!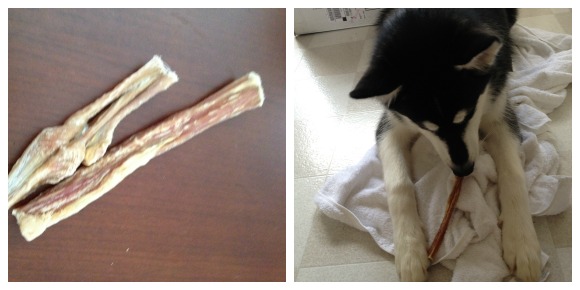 Only Natural Pet: Venison Ear Chew
Oh, where do I start with the Only Natural Pet Venison Ear Chews. In all honesty, I don't think I have ever seen Reya so excited and protective of a treat. I actually thought she didn't like it at first since she was carrying it around in her mouth and circling the kitchen.  It wasn't until I realized that she was looking for a good comfy place to enjoy it and protect it that I stopped worrying. This venison ear actually kept her busy for a full hour, which I had never seen before with my dog. These venison ears seem to really hit the spot with dogs.
Like me, you probably cringed when I first said I gave her a venison ear. While we would never eat an ear, we have to remember that dogs are natural scavengers. This means that if they kill an animal, they will enjoy every bit of the animal, including the ears – which is high in protein, low in fat, and satisfies your dogs need to chew. Venison is also the perfect choice for dogs who suffer from chicken, beef, or grain allergies, allowing all dogs to enjoy this yummy treat. Of course, Only Natural Pet Venison Ear Chews are also free of additives and dangerous chemicals that are usually used for making conventional rawhide (like bleach – yikes!). Now I just need to find somewhere to hide the rest of these treats since when Reya finds the bag, she tries taking it off the table to hide it!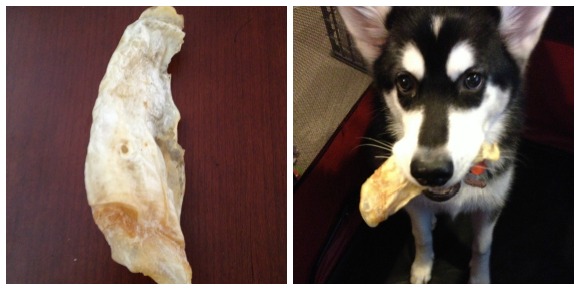 Only Natural Pet: Chicken Jerky Strips
When I first opened this bag of treats for testing, one thing immediately came to mind – chicken bacon.  I have no clue why but the Chicken Jerky Strips just remind me quite a bit of bacon! Unlike bacon, however, these treats are low in fat, chemical free, additive free, and made with only one ingredient – chicken! Additionally, like Only Natural Pet's other products, they are high in protein and grain free.  These may very well be the healthiest treats out there for your favorite pup, especially if they are big meat lovers. Best of all, they are even made here in the US, allowing you to support local organic farmers. My only complaint with these treats is that they are gone pretty quickly. This may be because I have a large dog but Reya finished each of these treats in about two or three minutes.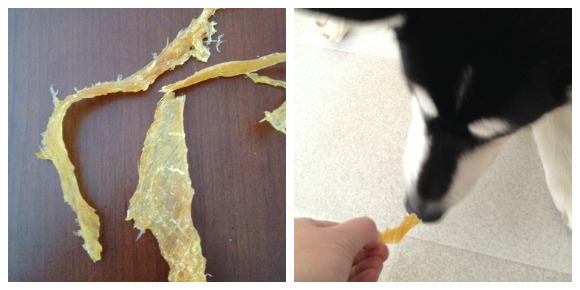 Only Natural Pet: Overall
What do I think of Only Natural Pet? As a proud natural-oriented pet owner, I have to say this store is the best thing since sliced bread, especially if you are worried about the quality of your pet's food, treats, and toys. It is reassuring having somewhere to shop where I don't have to worry about the ingredients in Reya's food, since everything sold at Only Natural Pet is made using high quality ingredients that are grain free, allergy free, and came from farms that follow cruelty-free animal practices. I think I may have found my new favorite store for buying treats for my Reya puppy. Due to their environmentally friendly practices, high quality items, and prices, I can happily give Only Natural Pet the rare rating of A++!
Only Natural Pet: Where to Purchase
Want to know where you can purchase some of these great treats? They are available every day on the Only Natural Pet website. Here you will find a large variety of eco-friendly products designed with your pet's health in mind. With their devotion to your pets health and the future of our planet, why shop anywhere else?  To make things even better, you can even save 10% on any order at OnlyNaturalPet.com with the Coupon Code "SUMMER" (this code expires on 8/30/13).
Disclosure: Budget Earth did not receive compensation for this review but did receive free products from Only Natural Pet for review purposes. All opinions on this product are my own and may differ from our readers' opinions.
Would you like to have your products featured in a similar giveaway event? Want to increase your social media exposure before the holiday season? See how we can help! Contact budgetearth@gmail.com to see what we can do for your company!