Disclosure: I received these products for free to review. The opinions in my review are honest and my own.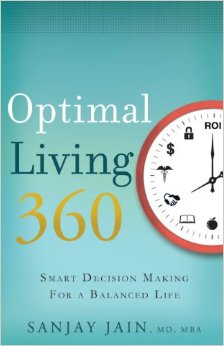 Are you looking for a way to improve your overall quality of life? With the new year being right around the corner, this is the perfect time to pick up books to help you succeed with your New Year's resolution. Recently, I was approached to review a new self-help book to help others gain better control of their lives and make better decisions – Optimal Living 360: Smart Decision Making for a Balanced Life. Since I am always happy to learn something new, I was delighted to read this new book.
Optimal Living 360: What is It
Are you struggling to make decision to improve your overall quality of life? In Optimal Living 360: Smart Decision Making for a Balanced Life, Sanjay Jain goes through his ASPIRES model to help others learn how to live a more fulfilling life. By following the easy to understand techniques discussed in the book, you can maximize your return in nearly aspect of your life, ranging from money, relationship, and even your health! With this refreshing self-help book, you can learn ways to better help your current situation and your life in the future.
Optimal Living 360: My Thoughts
I will admit, this book very much surprised me. When I first started reading Optimal Living 360, I was a bit confused about the book. Once I got into the book a bit more, however, I thought it was a very fascinating read. It goes into different aspects of life, from how to have a healthy relationship to taking your health into account. Overall, the ASPIRES model seems to be a very interesting way to help you make better decision on just about everything in your personal life. Based on my own opinion of the book, I am happy to give Optimal Living 360  an A- rating. While the book did seem a bit confusing at first, it is very useful and a must for most people who are trying to better themselves.
Optimal Living 360: Where to Purchase
Would you like to purchase a copy of Optimal Living 360? Currently, Optimal Living 360: Smart Decision Making for a Balanced Life is currently on sale for $13.31 on Amazon.com. If you want to improve your quality of life and happiness, make sure to give this book a try!
Disclosure: Budget Earth did not receive compensation but did receive products for review purposes. Budget Earth may, however, receive compensation through purchases from affiliate links in this post. All opinions on this product are my own and may differ from our readers' opinions. 
Would you like to have your products featured in a giveaway event? Want to increase your social media exposure this holiday season? See how Mom Powered Media can help! Contact susan.l.bewley@gmail.com to see what we can do for your company!