Disclosure: I received these products for free to review. The opinions in my review are honest and my own.
While modern medicine has come a long way, there are still some areas where I personally think natural is the better choice. For example, a minor cut isn't worth getting out serious medication. You go with the solution the best fits the problem. For people with sensitive skin and allergies, herbal solutions can be a much better option. With so many different options on the market, however, it is sometimes hard finding the perfect product. Recently, I was introduced to a line of all natural, herbal products that sounded amazing – Ora's Amazing Herbal.
Ora's Amazing Herbal: What is It?
Looking for high quality, all natural beauty line that has products for the entire family? If so, we think you will love Ora's Amazing Herbal. Their line of natural healing ointments, including lip calm and salves, are made using carefully infused herbal base oils. Each product starts with pure grapeseed oil, organic calendula, comfrey, plantain, chickweed, St. John's wort, burdock, and thyme. These infusions are then allowed to gently age for two months, where they are projected from heat and light in non-plastic containers. By doing this they extract the healing components of the herbs into the oils. allowing you to get the most out of these amazing products. Their product are also never tested on animals, organic, and fair trade, giving your family the best products possible!

Ora's Amazing Herbal: All Purpose Salve
As you can guess from the name, this salve really is good for just about everything. This natural first aid ointment is lightly scented with a variety of herbs. Along with helping with cuts and scrapes, it is also an amazing lotion on cuticles, cracked feet, dry skin, post-exfoliating treatment, and hand treatment for some skin. I also like that it isn't oily, giving you a soothing, all natural treatment. Based on my own experience with this product, I am happy to give Ora's Amazing Herbal's All Purpose Salve an A rating.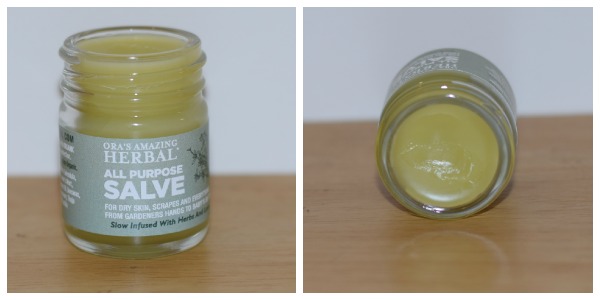 Ora's Amazing Herbal: Touchy Skin Salve
Looking for an awesome eczema treatment? If so, you will love Ora's Amazing Herbals Touchy Skin Salve. This unscented product does not have any essential oils, and is designed especially for sensitive skin. It also includes licorice root to give this product anti-inflammatory properties. Even though I haven't tried this salve on my face just yet, I have found that it is amazing at helping deal with over-dried, cracking skin from washing my hands with harsh soaps. So far, I am pleased with this product, giving Ora's Amazing Herbals Touchy Skin Salve an A rating.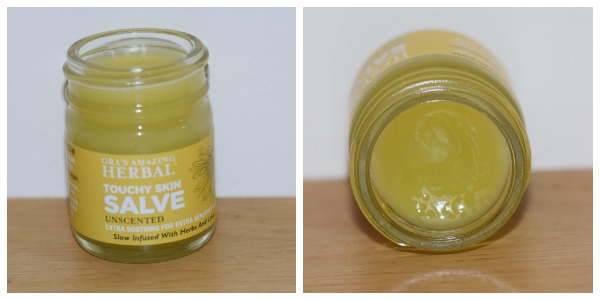 Ora's Amazing Herbal: Body Powder
Say goodbye to baby powders filled with fillers with Ora's Amazing Herbal's All Natural Body Powder in vanilla. This powder is scented with organic raw vanilla bean powder and is a silky powder that absorbs moisture, balances pH, and sooths irritated skin. I personally like using it as a natural deodorizer after cooking with garlic. It has a nice, refreshing scent that leaves you feeling amazing after a shower too. Based on our own experience, I am happy to give this talc-free body powder an A rating. Currently, this powder sells for $10.99 a bottle.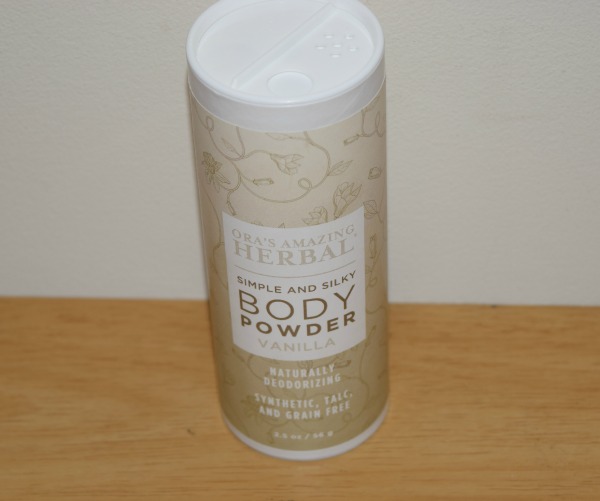 Ora's Amazing Herbal: Lip Balm
While I love all the products I got for this review, this is my absolute favorite. This ultra moisturizing lip balm is handcrafted with essential oils and spices to give the perfect flavor while also caring for your lips. For the review, I was sent the Chai spice, which includes cardamom, ginger, cinnamon, and vanilla. It has the most delightful scent and tastes pretty great too! Also, it is fairly cheap for natural lip balm, selling for only $3.99 a tube. Based on my own opinion, I am happy to give this lip balm an A rating.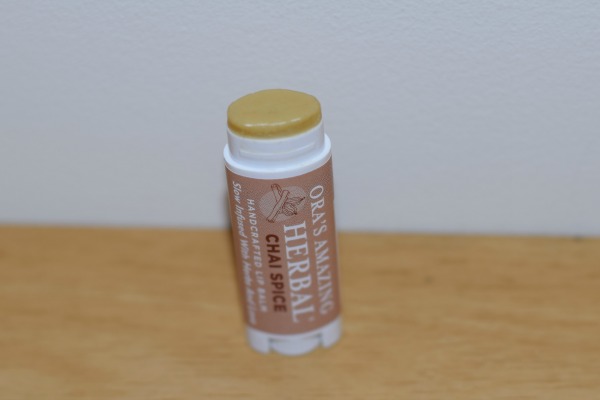 Ora's Amazing Herbal: Where to Purchase
Would you like to purchase some of their salves or amazing lip balm for yourself? You can find the full line of Ora's Amazing Herbal at their website.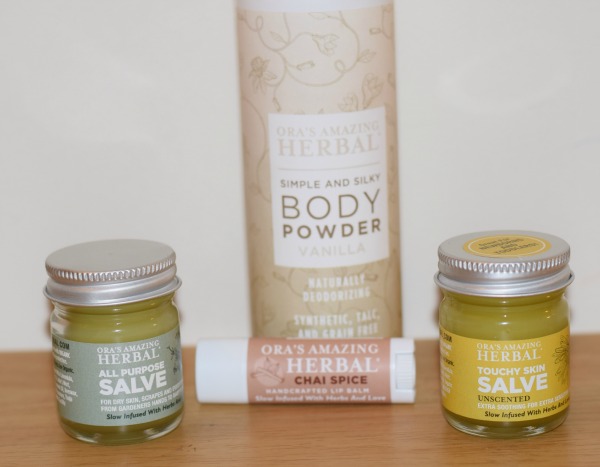 Disclosure: Budget Earth did not receive compensation but did receive products for review purposes. All opinions on this product are my own and may differ from our readers' opinions.
Would you like to have your products featured in a giveaway event? Want to increase your social media exposure? Contact susan.l.bewley@gmail.com to see how I can help YOUR company today!