Disclosure: I received these products for free to review. The opinions in my review are honest and my own.
Maybe it's silly, but as soon as winter started making it clear it was here to stay, I have been having a craving for Starbucks. The problem with Starbucks though is it is not diet friendly and definitely not friendly for my poor budget. After spending some time on Pinterest, I decided I was going to make my own lattes. The problem was I didn't have a milk frother, and was nervous to own one, especially since I had some very bad experiences with one in the past. As I was having a debate with myself, I was approached by Ozeri, asking me I was willing to try out their new milk frother. Curious and really wanting to make my own lattes, I said yes, hoping that this wasn't going to end up a comical experience with frothed milk all over the walls!
Ozeri Milk Frother: What is It
Want to make your own lattes at home? If so, you will love the Ozeri Deluxe Milk Frother! This petite milk frother takes up very little counter space, but allows you to froth milk in as little as 10 to 20 seconds. With this 15,000 RPM motor, you can froth up milk in what seems like no time at all, allowing anyone to enjoy a quick latte at home or in the office. As well, Ozeri Milk Frother also includes additional attachments, allowing you whisk eggs, soups, dressing sauces, and even cocktails! With this little mixer, you can do just about anything!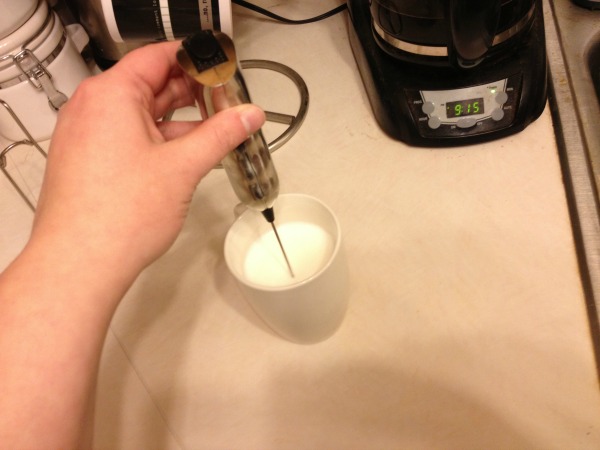 Ozeri Milk Frother: Ease of Use
This wasn't the first milk frother I have owned – far from it actually. I have tried quite a few of these things over the years, and found all of them previously to be a real pain to use. You had to hold it just right and it felt like magic getting it to work consistently. This was luckily not the case with the Ozeri Milk Frother. You just put in the batteries, push the button, and you are ready to go! Even changing out the beaters is really easy. The hardest part of using it is making sure the milk is the right temperature (not cold, not boiling) and that you don't accidentally hit the bottom of the cup with the beater. Since it can froth milk in seconds, you can quickly make a latte at home in no more than a few minutes!

Ozeri Milk Frother: In the Box
Ozeri Milk Frother
2 Milk Frothing Wisks
1 Egg Beater
1 Cocktail Mixer
Metal Stand
2 – AA Batteries
Ozeri Milk Frother: Overall
I will freely admit, I may be a bit obsessed with my little milk frother. Ever since I took it out of the box, I have been foaming up heated milk for homemade lattes and making specialty tea drinks – my husband has been amused, but not complaining at all, he commented on the thickness and texture of the froth being just like Starbucks. When I got this little kitchen gadget for review, I thought it was going to be another little thing to collect dust over time, not my new favorite kitchen gadget. This little thing may be as loved as my Kitchenaid Mixer in time. As someone who used to be a Starbuck's junkie, I love my little Ozeri Milk Frother, giving it an A+ rating in my book!
Ozeri Milk Frother: Where to Purchase
Would you love to purchase the Ozeri? This petite, powerful little milk frother can be purchased on Amazon for $28.95. This is much cheaper than most retailers, who sell this frother for $39.95. To learn more, make about this product and read other reviews, make sure to check out the Ozeri Milk Frother on Amazon.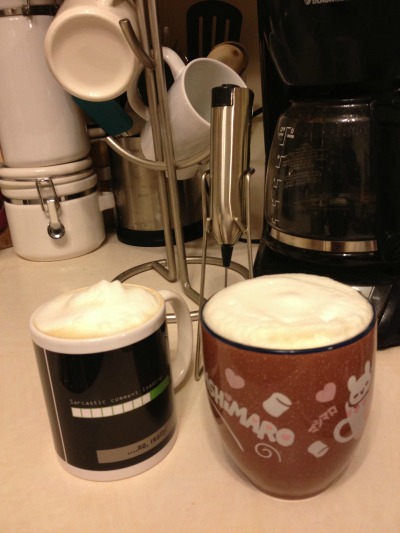 Disclosure: Budget Earth did not receive compensation but did receive products for review purposes. Budget Earth may, however, receive compensation through purchases from affiliate links in this post. All opinions on this product are my own and may differ from our readers' opinions. 
Would you like to have your products featured in a giveaway event? Want to increase your social media exposure this holiday season? See how Mom Powered Media can help! Contact susan.l.bewley@gmail.com to see what we can do for your company!