IMPORTANT MESSAGE: I want to let everyone know that Pawalla is no longer taking new subscribers and are closing. They are recommending that their current subscribers check out the Barkbox or Petflow Box. I have personally not tried the Barkbox but I can vouch for the Petflow Box. If you would like to read about the Petflow box, feel free to check out my Petflow Spoiled Rotten Box Review. I still recommend all the products listed in this review, but realize you will need to check them out on Amazon or at the retailers website.
Contrary to what many people believe, finding healthy treats and safe toys for your pets isn't easy. I never realized how hard it was until we brought Reya home. Like most new fur owners, we happily went to Petsmart, looking for fun items for our pup. I was surprised to see just how many 'natural' foods had fillers and how some of the popular toys were just outright dangerous. While I had found some great places online to shop, I was still overwhelmed with all the brands that were available, especially when it came to natural dog food. As I was browsing through Google, I came across Pawalla – a subscription box made just for pet owners. Wanting to know more, I reached out to them, and was ecstatic when they sent Reya a free box for me to review. As you can guess, everyone in the house was pretty excited to get started reviewing this box!
Pawalla: What is It
Wondering what makes Pawalla different form every other pet subscription box? The big difference is that this box is actually put together by a licensed pet nutritionist, Dr. Susan Lauten. Every item she puts in this box are premium and boutique manufacturers who make organic, all natural products that are made right here in the United States. Unlike other boxes, these boxes are also customized for your dog or cats size and life-stage, making them perfect for dog owners. While my own box wasn't personalized (they sent it before they knew Reya's size), this is one feature that I found very different and exciting as a pet owner about this service.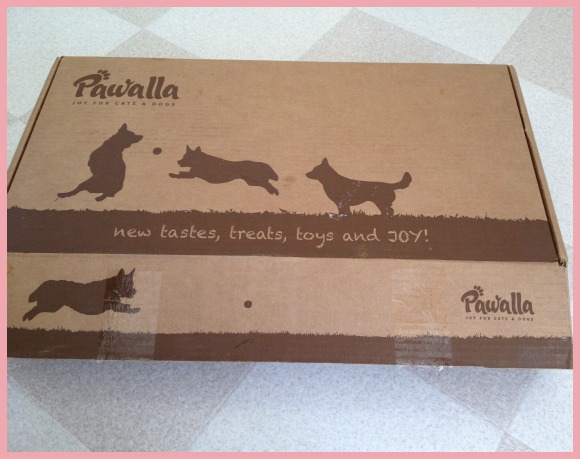 Pawalla: By Nature Food
To be quite honest, this was one of my first experiences with wet dog food for Reya. Since we were traveling when I tested out this box, it seemed like a great time to test ouf the two cans of food that came in this box. One was Duck, Green Beans, and Wild Rice Stew, and the other Salmon with Lentils in Yogurt and Lemon Grass Sauce. When I opened the can, I was expecting something closer to cheap wet cat food. I was amazed to see that it looked like a canned stew for humans! There were huge chunks of meat, veggies, and rice, making it the perfect treat for our puppy. To say the least, Reya cleaned the bowl since she was pretty certain she WAS getting human food!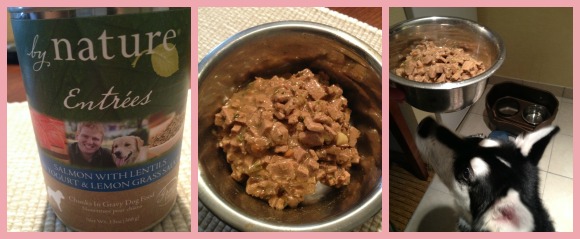 Pawalla: YumZies Natural Hickory Bacon Treats
This is another treat that went over fairly well with Reya. These tiny treats are the perfect size for traveling or in the car since they don't easily crumble. With six different fatty acids, these treats are designed to make your pup's coat look even healthier, and contain only natural ingredients, flavors, and preservatives. So far, these have been our preferred treat for walking or quick training on the go!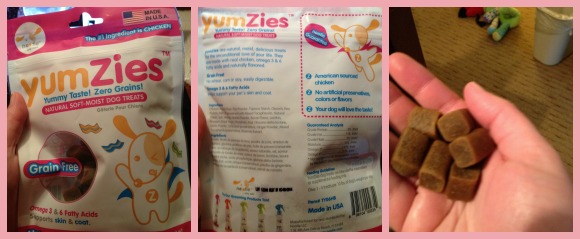 Pawalla: Wigzi Bone
This was the one treat I wasn't intending reviewing for Reya. It wasn't that I didn't like the Wigzi Bone, it was that it wasn't sized for a large dog. Well, don't tell my dog that, she loves this thing and we had to eventually give it to my mom for her Yorkie. This toy is made from 100% recycled materials and is durable enough for rough housing. I am just still amused seeing my large dog trying to play with this little toy!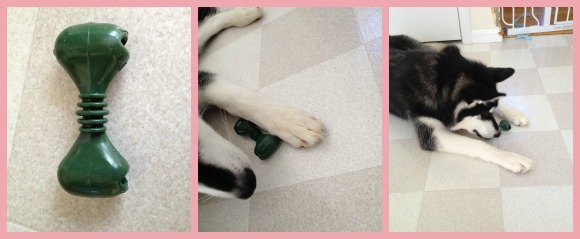 Pawalla: Honey Kitchen Ice Pups
Do you have one quick, simple treat that gets your dog running? For us, its ice. Reya LOVES ice and will come running if she hears our icemaker. When I saw the Honest Kitchen Ice Pups, I knew this treat would be perfect for our dog. These ice cube treats are flavored just for dogs tastes buds and a great, nutritious way to encourage them to drink more water.
Pawalla: Locomotion Pet Treats Honey Apple
Let's face it, dogs LOVE table food. Why not give them something that is homemade, using ingredients we love, but is made special for them? The Locomotion Pet Treats are made using most things we would use to make cookies, but without some of the ingredients that can be toxic for dogs. Each of these cookies contains vitamins, minerals, antioxidant, and Omega-3, allowing your dog to have a healthy treat that tastes good. My Reya seems to like these treats fairly well. As a matter of fact, Reya has tried stealing the box from tables more than once so she can have the whole box for herself!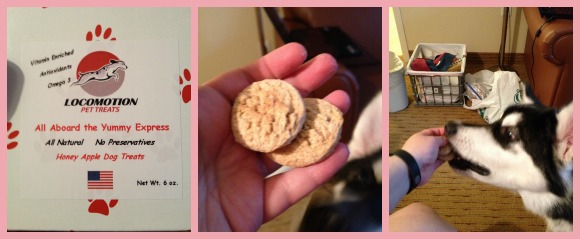 Pawalla: Doggie Walk Bags
Am I a dork, since I was excited about this item? As a dog household, we are constantly investing in 'poopy bags'. While you can buy the cheapest thing on the market, you always have to ask yourself if this is the best choice when you have a big dog. With the size of Reya's poop, I don't want that bag failing on me, especially when we are going on two mile walks! These bags come in a nice, convenient bag that can attach to a leash or pocket. What makes them impressive however is the texture of the bag and the easy to carry handles. I personally liked the texture because it make picking up messes outside much easier.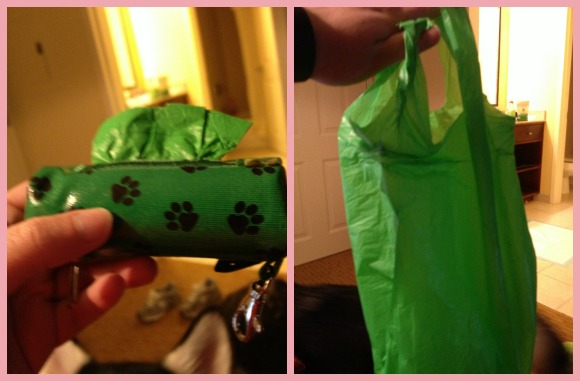 Pawalla: The Flying Basset Breath Spray
Lets me honest, how could you not like a product that makes your dogs breath smell like mint? While Reya wasn't a huge fan of it, it very quickly got rid of doggy breath, making her more cuddly for everyone in my family. While it is a bit of a chore to use, it is well worth it on those off days when her breath is just a bit overwhelming!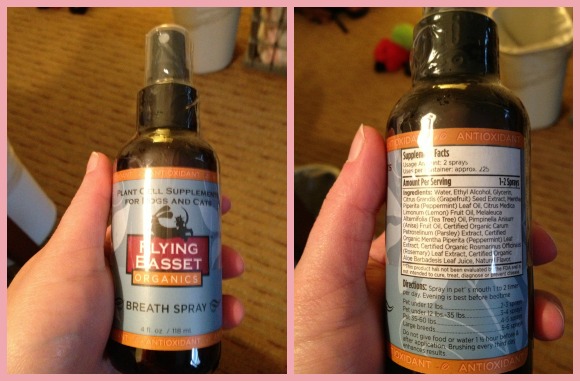 Pawalla: Overall
What did I think of the Pawalla box? Personally, I couldn't find anything wrong with a single item in this box. Everything was very well picked and suited to dogs with allergies, or who love eating things similar to their humans' food. Based on my own experience with the Pawalla subscription box, I can happily give it an A rating.
Pawalla: Where to Purchase
The Pawalla box has unfortunatly been discontinued 🙁
Disclosure: Budget Earth did not receive compensation for this review but did receive free product for review purposes via Pawalla. All opinions on this product are my own and may differ from our readers' opinions.
Would you like to have your products featured in a similar giveaway event? Want to increase your social media exposure before the holiday season? See how we can help! Contact budgetearth@gmail.com to see what we can do for your company!