Disclosure: I received this product for free to review . The opinions in my review are honest and my own.
 
I know it sounds crazy but we are constantly traveling with Reya. We bring her to New Jersey with us, to the other side of Kentucky, and plan to bring her cross country out west with us at some point. When we travel, she is happy to spread across the back seat and make herself at home, even during long twelve to fifteen-hour drives. The problem we usually have is not the car ride, but once we get to the hotel. She feels uncomfortable not having a piece of home with her. While we bring toys, she misses her bed and the comfort of having her toys right on it when she's ready to relax. Since she is a big girl now (all 80 pounds of her), we can't exactly throw her bed in the car since it would take up most of the trunk. To make things easier, I went on a mission to find the perfect pet bed for her that was great for traveling and would make her feel better when we are on the go. When I finally found the perfect bed, I was surprised to see that it was made by Smart Silk's pet division – Paws n'Silk!
With how much I loved their pillows, I knew I had to get this bed for Reya. To my surprise, they were happy to send this bed out to me for review, as long as Reya gave it the full puppy test! While I was a bit nervous, I knew we were up for the challenge and I can't tell you how excited we both were when her Paws n'Silk Travel Bed arrived in the mail!
Paws n'Silk: Who Are They
Are you looking for a company that makes all natural, durable beds that are perfect for even the most spoiled of dogs? If so, you will love Paws n'Silk! While there are other companies who claim to be all natural, Paws n'Silk is the only one that that uses all natural cotton and silk to create the perfect luxury bed for our favorite furry friend. Each of their products are made from chemical-treatment free, 100% breathable cotton and long stranded grade A tussah silk, making them just as luxurious as the Smart Silk products enjoyed by humans. As well, all of their beds and apparel are made with a barrier against allergens, dust mites, and pet danger, making them perfect for even dogs with allergies! Once you have seen their high quality pet products, you will wonder why you waited so long to purchase their products for you favorite dog!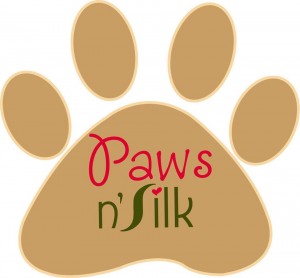 Paws n'Silk Travel Bed: Ease of Use
When I first opened the box for my Paws n'Silk Travel Bed, I thought the company must have sent me the wrong size bed. There was no way such a large bed would fit in such a small box. Once I opened the box, however, I found the neatest surprise – it came in its own paw-designed duffle bag! Everything for the bed neatly folds up into the bag, making it perfect for travel and storage. I was even more surprised with how easily this bed could be put together, taken apart, and was still looks amazing. While the bed isn't the easiest to put in the bag after use, it is possible, making it great for traveling with just about any size dog. As you can see, this is the largest bed and it easily fits inside the duffle bag, giving you an idea of just how compact and convenient this bed could be for every dog owner. As well, once you get home from the trip, you can throw the entire bed in the wash and dry it in the dryer. While this may not sound like a huge deal, many of the beds on the market can't be machine washed, making them something you toss unless you want a giant mess on your hands (or in your washer).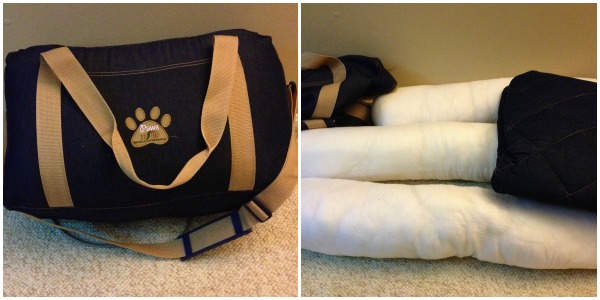 Paws n'Silk Travel Bed: Comfort
Of course, at the end of the day, only one thing matters with a dog bed – is your dog happy and comfortable on the bed? I have tried out many pet beds in the past, and Reya is very quick to get rid of anything she doesn't feel lives up to her standards (in Petsmart, when she was about four months old, she actually kicked most of the beds aside until we found her puppy Kong bed). I considered it a great sign when Reya not only went directly to the Paws n'Silk Travel Bed, but only got up to bring more toys over to the bed to make herself at home. She absolutely LOVED this bed!  Whenever this bed is out, she wants to immediately go to it, and claim it as hers. As well, dogs can enjoy the same comforts as their humans who use Smart Silk pillows. Each of these beds are made to be all natural, chemical free, resistant to mold, resistant to odor, breathable, and temperature resistant, making it the perfect bed for any pup!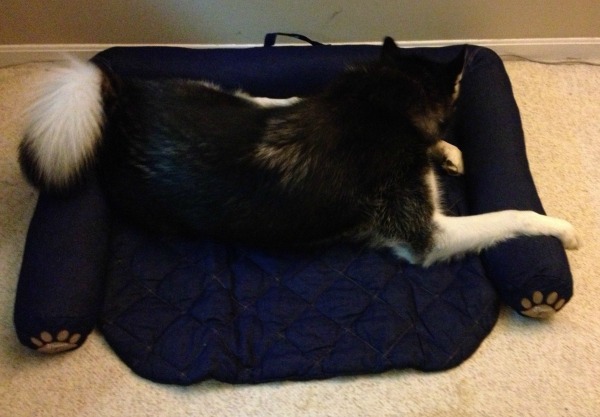 Paws n'Silk Travel Bed: Durability
Now, as a large dog owner, one of the things I always focus on is durability when it comes to beds. To me, one of the biggest deal breakers with any bed is that terrible, black no-slip coating they put on the bottom of every bed. Well, someone forgot to tell my dog it isn't a chew toy, since this is the first thing she checks with every bed and if it's there, she will rip it to shreds in less than 48 hours. I am happy to report, however, that the Paws n'Silk Travel Bed has the same durable fabric all over the bed and doesn't cut corners! This bed is designed for even the roughest of dogs, making it perfect for even large, curious dogs like mine.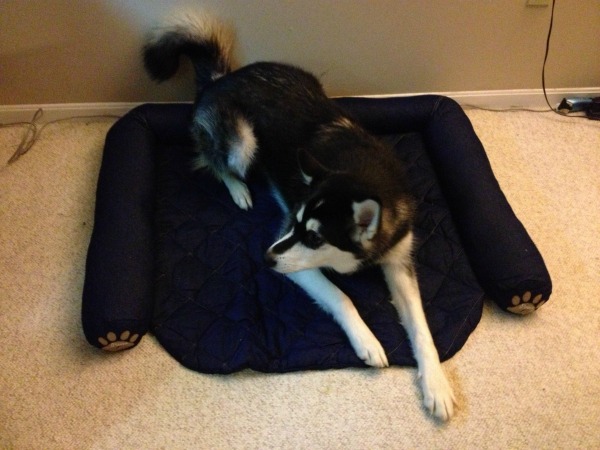 Paws n'Silk Travel Bed: Overview
I don't think I can tell you just how much I love this travel bed. I have seen other travel beds before but nothing like this dog bed. I love that it easily comes apart and fits in its own compact bag for travel, making it ideal even for trips when you barely have room in the car for anything. Most importantly, however, I love that Reya adores this bed. We had this bed out in the living room for testing and she won't leave it alone. She has been carrying all of her toys over to this bed and nuzzling against the soft sides. Based on our own experience with the Paws n' Silk 3 Bolster Travel Bed, we are happy to give this bed an A+ rating and highly recommend it for anyone who is constantly on the go with their pup!
Paws n'Silk Travel Bed: Where to Purchase
Would you love to have one of these travel beds for your next trip? You can purchase a Paws n'Silk Travel Bed on their website. Currently, this bed is available in 3 sizes –
Small – 29 inches x 22 inches x 5 inches
Medium – 36 inches x 32 inches x 5 inches
Large – 44 inches x 37 inches x 5 inches
Don't forget they also have full size beds for home use, as well as cute coats that are perfect for keeping your favorite pup warm or dry all year round. As well, they always have free shipping to the United States and Canada on all orders over $150. To make things easier for those who really want one of these awesome beds, they also have payment plans, allowing just about anyone to purchase the perfect items for their favorite dog. Also, don't forget to check out their Facebook and Twitter page to see their latest offers!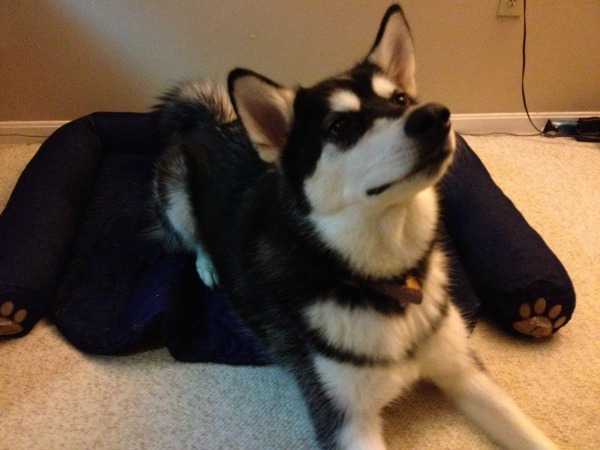 Disclosure: Budget Earth did not receive compensation but did receive products for review purposes. All opinions on this product are my own and may differ from our readers' opinions.
Would you like to have your products featured in a giveaway event? Want to increase your social media exposure this holiday season? See how Mom Powered Media can help! Contact susan.l.bewley@gmail.com to see what we can do for your company!