Perfect Purple Products for the Practical Mom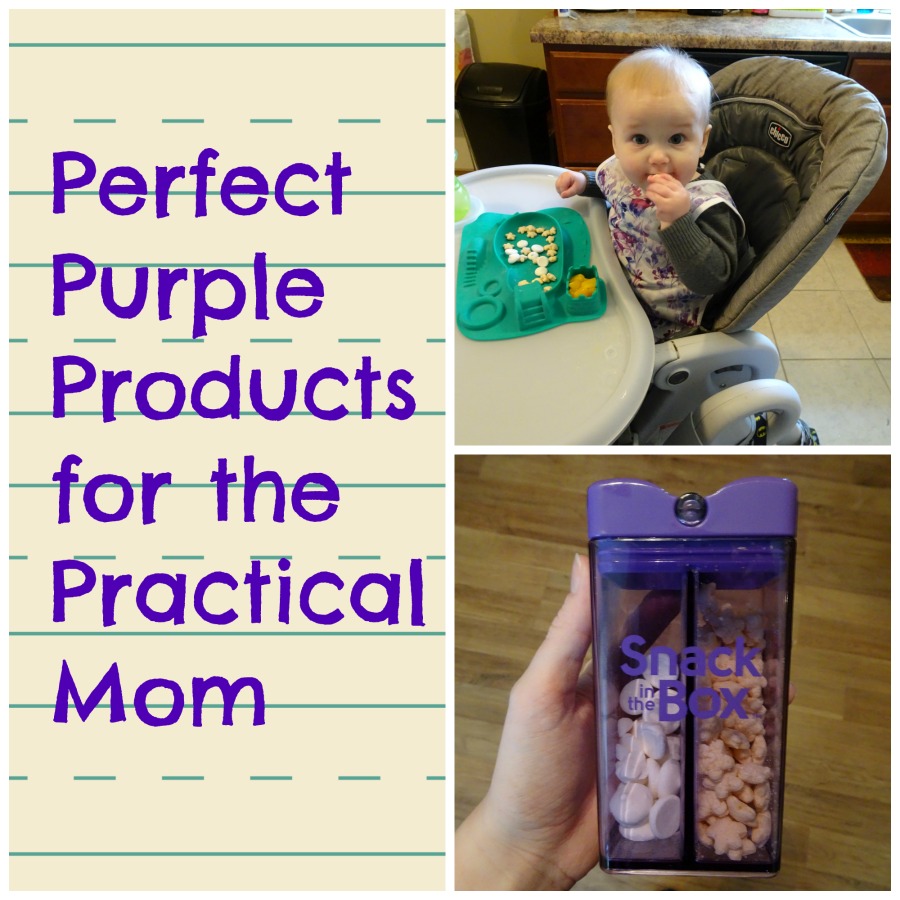 I love the color purple. It's calming yet vibrant, fun yet elegant. I suppose that's why Pantone has announced that ultra-violet purple is the color of the year! So why not start out 2018 with a couple of perfect purple products for the practical mom? Oh, I do so love alliteration!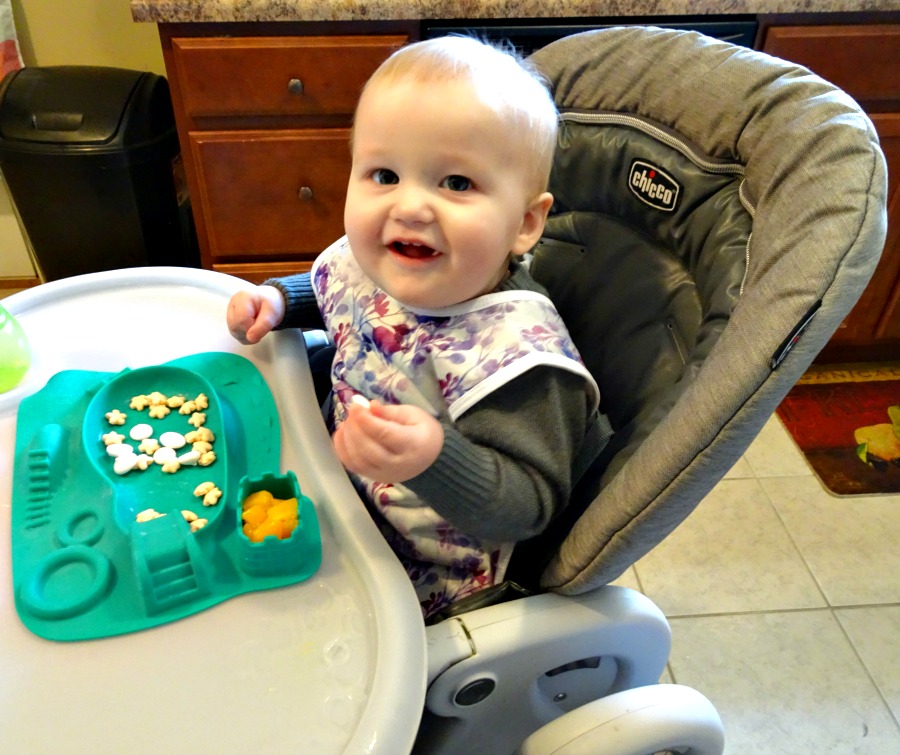 Baprons are the easy clean full-body bib that grows with your baby! They are handmade in the USA and have been certified by the CPSC and NAFTA as baby safe. I was excited to try out the Bapron with my son because he is an extremely messy eater (aren't they all, though?) and has ruined a few outfits already in his short life. First of all, I want to say that yes, this is a flowery purple bib that I put on my son, and yes, it looks super cute. I don't think that flowers or the color purple are limited to only girls, and I think Ti looks sweet and stylish in his Desert Flower Bapron!
I was amazed at how soft the material felt, not at all like that plastic-y stiff material that some full-body bibs are made of. The Bapron was extremely easy to put on and take off my baby by simply slipping my son's arms into the armholes and tying the string behind his back. The string is just at the perfect spot where he can't reach it to take it off! That's a huge plus for older babies and young kids! The first day we tried this, Tidus had black beans with dinner. The entire bib was covered in black bean juice! Luckily, the Bapron is stain-resistant and washable, so a quick run in the washing machine was all it needed to come out looking brand new! The fabric is also quick-drying, so on less messy days I just wipe it down with a damp paper towel and hang it on the back of the high chair to dry. It's always dry by the next meal time.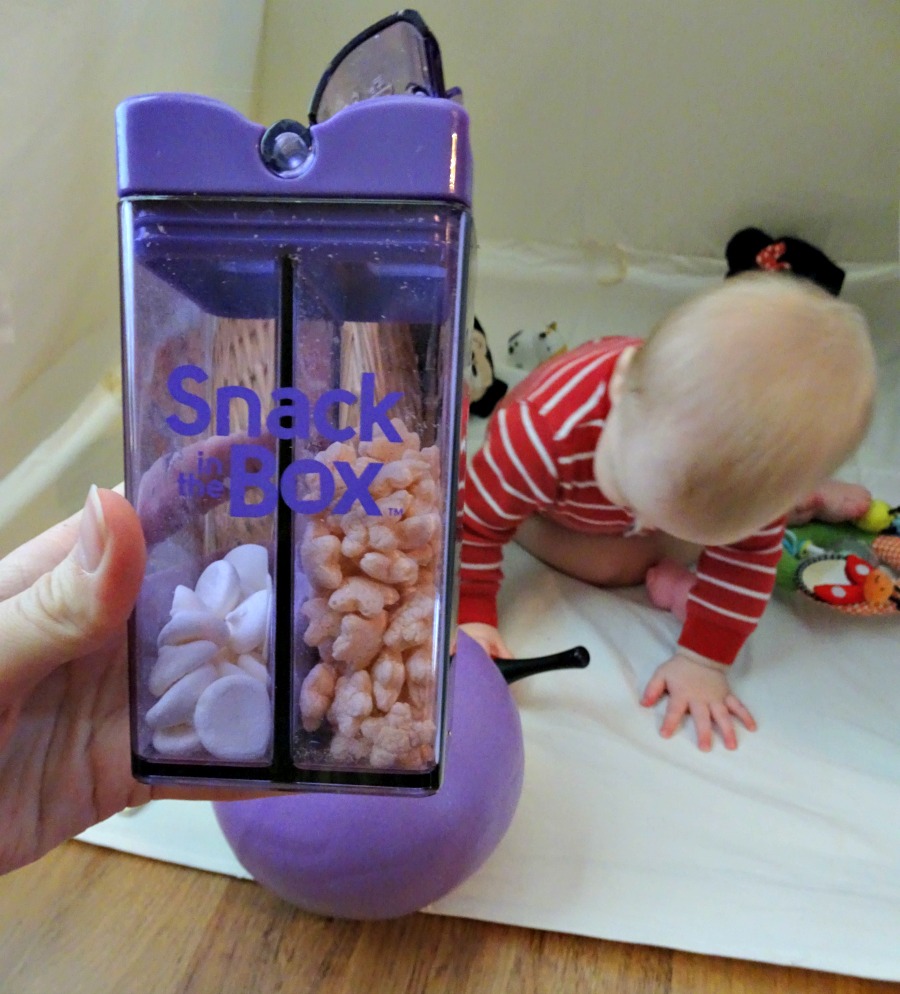 Ditch those flimsy plastic baggies and those annoying bulky containers. Say goodbye to crusty, dusty, smelly bits of what-used-to-be-food crammed into the bottom of your bag. Carry two different snacks in ONE container, and enjoy all that extra space in your diaper bag! I just adore our lovely violet Snack in the Box!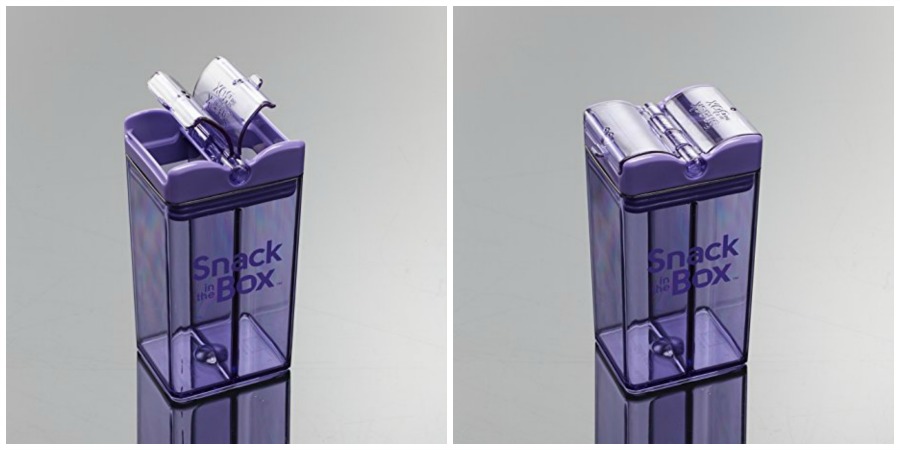 Snack in the Box is dishwasher safe and made of BPA-free plastic. It's easy to clean by hand as well, if you have a bottle brush, because sometimes I don't want to wait for my dishwasher cycle to finish – I need my Snack in the Box now! One of the things I love the most about this product is that it is environmentally friendly. I no longer have to keep using and trashing plastic baggies every time I pack my diaper bag. Sustainable snack packaging for the win! Surprisingly, this container actually holds a lot more snacks than I thought it would, and it keeps them completely separate with no fear of the dreaded snack 'contamination'. The other feature that makes Snack in the Box the BEST is, obviously, the dual-snacking ability. I can have a mommy snack on one side (almonds, carrot sticks, berries, CHOCOLATE) and a baby snack on the other, or two baby snacks, or two mommy snacks! There are so many combinations! The whole lid is removable, which makes it easy to refill, although it won't hold bulky snack items like chips very well. Snack in the Box is especially useful when traveling to visit family because I can put Ti's most beloved snacks (cereal puffs and yogurt drops) in one container. Hurray for more packing space! I love you, Snack in the Box!