This is a Sponsored post written by me on behalf of Night Owl Paper Goods. All opinions are 100% mine.
As many of you know, I am a BIG fan of Night Owl Paper Goods. I love cute things, especially adorable foxes, owls, and other creatures. In my opinion, it's so hard finding high quality stationery, especially if want it to be eco-friendly. What has always made it so unique in my eyes is that many of their cards are made from eco-friendly, sustainable-harvested birch wood. While they have more budget-friendly recycled paper, the wood cards really give that extra wow factor when you send a card. That is why I think they are also the perfect choice for holiday cards. Actually, they are making personalized holiday cards for my family this year (our review of these will be up on Friday).
What makes their cards better than the cheap cards you can buy at Wal-Mart for $4 a box? For one, they are a gift that no one is going to forget anytime soon. I mean, really, wouldn't you be thinking it was the neatest thing ever if you got a wood card in the mail? While the wood is obviously one of the neatest parts about their cards, it's the beautiful, modern and folk inspired images made by their own professional designers that make them stand out past the first glance. Every personalized Christmas card (as well as their normal holiday cards) are eye catching and something that is almost guaranteed to get people smiling and talking.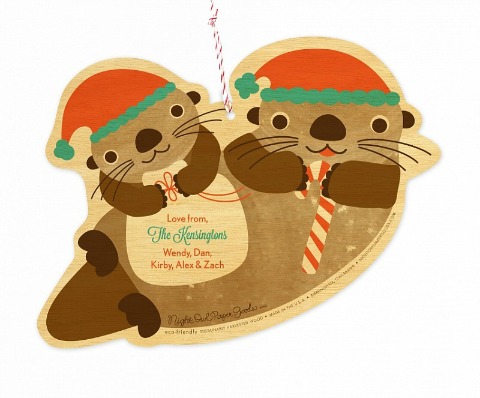 One of the other things that make them truly unique is their custom design department. Most 'big' stationery companies use cookie cutter cards and end up throwing something together in less than three minutes. With Night Owl Paper Goods personalized cards, you are getting your cards made by hand by a designer. When they are finished, they send you a digital proof via email, allowing you to see how your card will look and make any changes. Once everything is approved, the cards are sent off to be specially made. Really, I think it's neat that they personalize the whole production of making personalized holiday cards!
So, what all can you put on your personalized Christmas cards? Well – anything! You can put family photos, names, even a keepsake calendar! You can even get cards in different shapes and sizes. For example, my own personalized holiday cards are also ornaments! If you want something unique and memorable to carry your sentiments this holiday season, Night Owl Paper Goods is really the only place to go!
Interested in getting your own unique holiday cards from Night Owl Paper Goods? Well, we have a little secret. They are currently having a special sale, where our readers can get 20% off all personalized holiday cards until October 31, 2013, and free domestic shipping on all order over $49! That means you can get awesome cards even cheaper! So, forget those ugly cards at the big box retailers and take a look at Night Owl Paper Good's selection of personalized holiday gift cards.
Disclosure: Budget Earth receive compensation for this review in the form of a $25 Gift Card to Night Owl Paper Goods. All opinions on their products are my own and based on personal experience using their products. My opinions, however, may differ from your own.
Would you like to have your products featured in a similar giveaway event? Want to increase your social media exposure before the holiday season? See how we can help! Contact susan.l.bewley@gmail.com to see what we can do for your company!