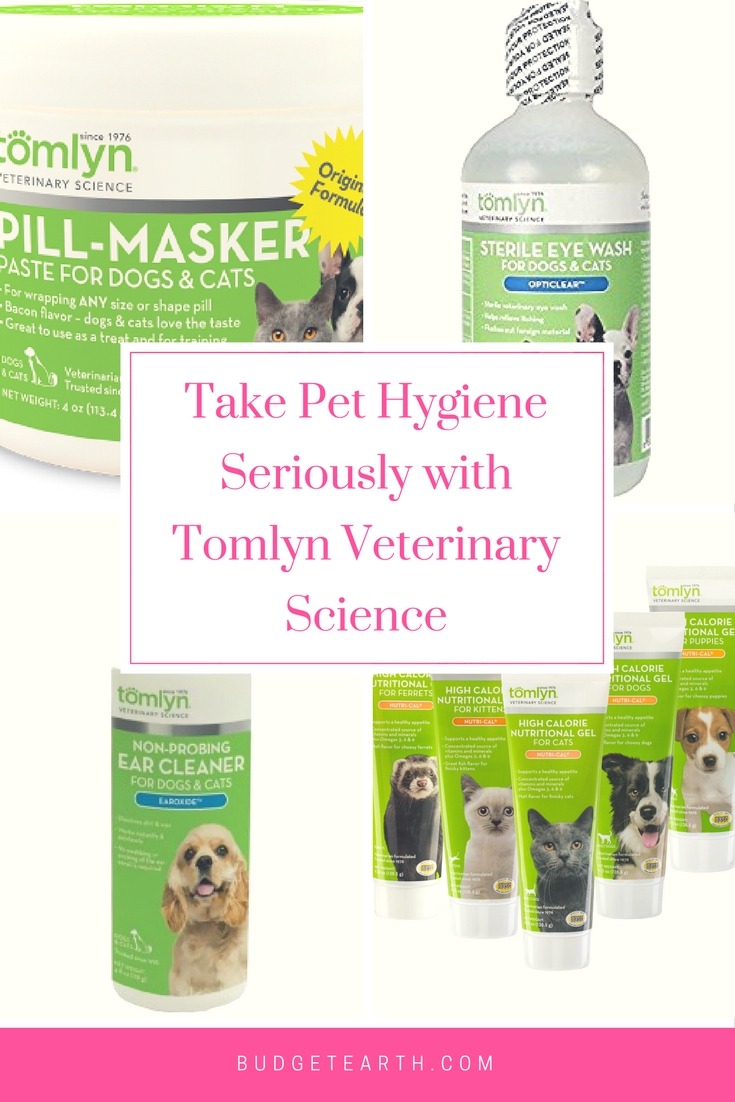 Do you use hygiene products and supplements with your dogs? In our house, I try getting the best I can for our girls to make sure they are as healthy as possible. For me, hygiene products are some of the hardest to find since there aren't a lot of companies that have ingredients I trust or are recommended by actual veterinarians. The last thing I want is to put an ear cleaner or paw cream on my cards only to find that it causes a terrible reaction because it wasn't really formulated for dogs. For us, I want something that I trusted by various professionals in the industry and knows that their products work on dogs. Recently, I learned of a company that met all of our requirements for pet hydriene products and supplements – Tomlyn Veterinary Science.
Tomlyn Veterinary Science: Who Are They?
Since 1976, Tomlyn Veterinary Science has been a leader in creating lines of nutritional supplements, dermatological treatments and shampoos for dogs, cats, and horses. They are proud to be trailblazers that set a new standard in product quality, efficiency, and consistency in pet world, as well as being among the first to specialize in healthcare products for dogs, cats, and horses. As members of the National Animal Supplement Council, they are proud to still set the bar for over the counter supplements and hygiene products for our pets. They maintain a strong, clear focus on doing what is medically right for pets with on-staff veterinary oversight and the formulas themselves are created with the similar level of science to those recommended and sold by veterinary offices. There is a reason that many vets throughout the United States recommend using Tomlyn Veterinary Science pets to their clients!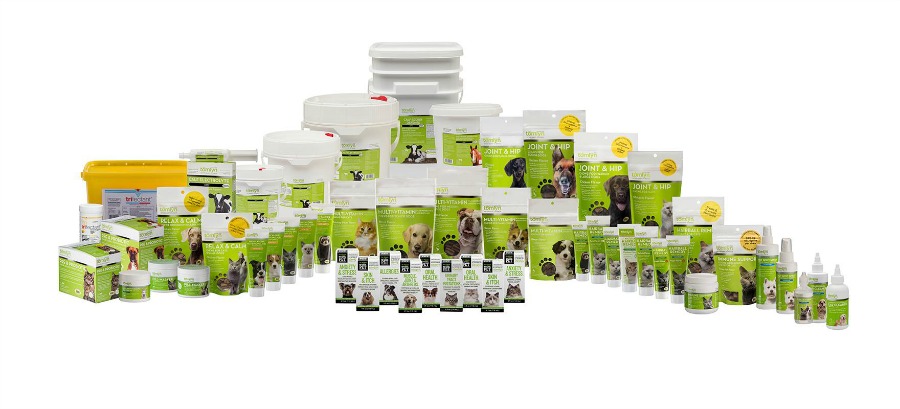 Part of what made us so excited about Tomlyn Veterinary Science is that they have a wide variety of hygiene products, supplements, and cleaning products perfect for pet parents. Some of our favorite we are pretty excited to share with everyone!
Tomlyn Sterile Eye Wash For Dogs & Cats [Value Pet Supplies]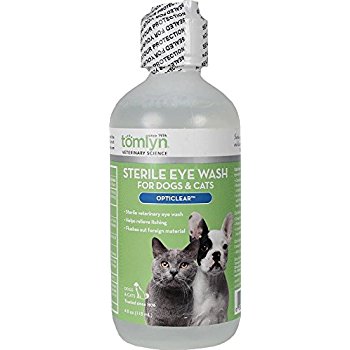 Have you ever struggled cleaning your dog's eyes? If you have ever had to clean their eyes, you know it is a major chore. In our house, we try making it as quick and painless as possible, especially if we see they got dust, dirt, flour or something else in their eyes. Personally, I love that Tomlyn Sterile Eye Wash For Dogs & Cats is the only sterile eye wash on the market and is manufactured at a human grade facility. As well, it is formulated at the same pH as tears, helping guarantee that as it cleans, relieves discomfort and itching, it is also soothing irritated and uncomfortable eyes from dryness or irritation. With its easy to dispense bottle, this is the perfect eye wash for dog and cat parents!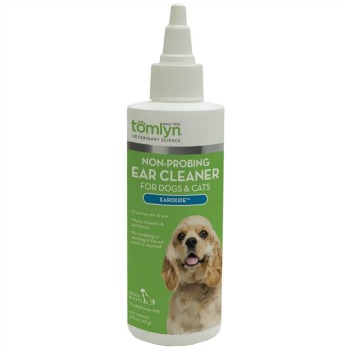 Do you clean your pets ears? It is actually one of the most neglected parts of most pets since, often, none of us consider it unless our pet's ears smell. Our favorite formula is their Non-Probing Ear Cleaner since it doesn't require swabbing or probing the ear canal. Peroxide is used to break down ear wax buildup, creating a unique bubbling action that works instantly to clean your pets ears while also being effective and painless.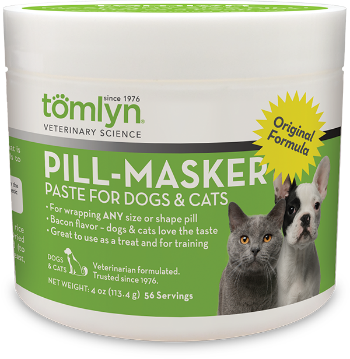 I will be the first to admit, giving medicine to a dog or cat is almost never fun. Even though our girls love their heartworm meds, it is a major chore if we have to give them any other type of medicine. While I love some of the other pill-to-treat coating things on the market, they are extremely expensive. This one of the main reasons I love Tomlyn Pill-Masker Paste For Dogs & Cats since you can wrap any size or shape pill with the paste. As well, dogs love it since it is moist, juicy, and flavorful, making giving medicine so much easier!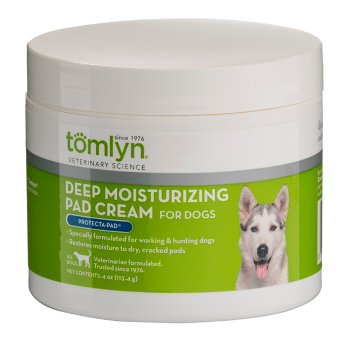 As much as I hate to admit it, we sometimes neglect our dogs' paw pads. While we worry quite a bit about their fur and nails, it is easy to forget about the paw pads. Tomlyn Deep Moisturizing Pad Cream is great for restoring moisture to the paw pads, making them more pliable and resilient, and potentially less painful for them and you than calloused paw pads. As well, it has a non-waxy feel and has a great mint scent, making it great experience for pet parents and dogs, especially since the cream cools and soothes the paw pads.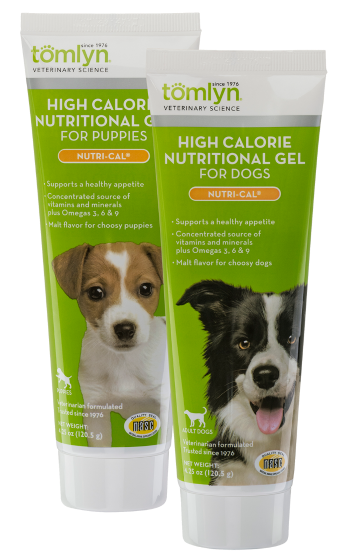 Do you have a picky eater? While our malamutes have fantastic appetites, sometimes Molly, the resident small dog of the family, does not. This little Yorkshire terrier will go on hunger strikes if she decides food isn't up to her standards, leaving my mother in law quite worried. One of the best ways to get picky pups to eat is with a high quality nutritional supplement. Tomlyn High Calorie Nutritional Gel For Dogs is a great choice to boost appetite and is a concentrated sources of vitamins, minerals, and energy. As it says in the name, it is also high calorie for the boost they need to stay active. Since this is what my own mother used to use with Molly when she had her, I consider it a must for pups!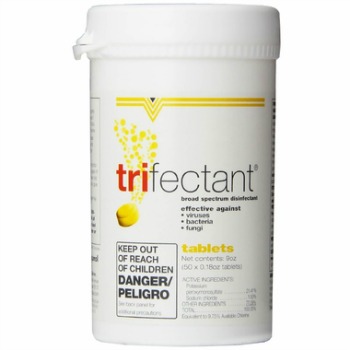 Let's face it, sometimes as pet parents we have to deal with horrible messes. Some of the worst are when our dogs or cats are sick. Personally, some of the worst I have dealt with are bacterial and fungal infections that you are trying to keep from spreading to other animals in the house (or you). Situations like this are perfect for Tomlyn Trifectant. This highly effective, broad spectrum disinfectant is great for most surfaces and kills major viral bacterial and funal pathogens such as parvovirus, e. coli, herpes virus, salmonella, ring worm, kennel cough, and pink eye. Unlike most cleaners, it comes in dry tablets, making that great for storage or traveling. Best of all, a 10 pound tub makes 123 gallons of solutions, making it great for rescues and kennels too! While it might last a while for most of us, I consider it a must have to have in the house to prevent the spread of nasty infections among our girls (and possibly for humans too!).
Want to learn more? Check out Tomlyn on social media!
Facebook | Twitter | Pinterest | Instagram | Youtube