Disclosure: I received these products for free to review. The opinions in my review are honest and my own.
Have you found that there are certain foods that your dog doesn't like? For my dog, it is many types of fish. For me, this is quite frustrating since some of the best pet foods out there contain salmon, which has been known for years as being very healthy for both dogs and cats alike. As I was about to give up on finding a fish food that Reya would eat, I found out that Petbrosia (one of her favorite foods) recently came out with a grain free salmon pet food! To say the least, I anxiously awaited for our box of this brand new food to arrive, courtesy of Petbrosia. I knew that if anyone could get my dog to eat salmon, it was Petbrosia!
Petbrosia Grain-Free Salmon Pet Food: What Is It?
Looking for high quality, grain free food for your favorite dog or cat? If so, we think you will love Petbrosia's Grain-Free Salmon Pet Food. For those who have never heard of Petbrosia, they make high quality food specially designed for your dog based on their breed, age, weight, food allergies, and activity level. All of their foods are made using only all natural meats, fruits, and vegetables, never the nasty fillers you find in commercials dog and cat foods.
So, what makes their grain-free salmon food so amazing? Salmon is an excellent source of vitamins, essential fatty oils, and proteins that are good for dogs at all life stages. It is especially good, however, for senior dogs and cats who suffer from food allergies or have sensitive tummies. The food also has added L-Carnitine to help the body utilize fat for energy while maintaining the lean muscle mass that helps keep their body healthy. For dogs and cats with allergies, Petbrosia's new Grain-Free Salmon Pet Food is really the perfect food to keep them healthy and happy! To learn more, make sure to check out the benefits of salmon for dogs and cats here!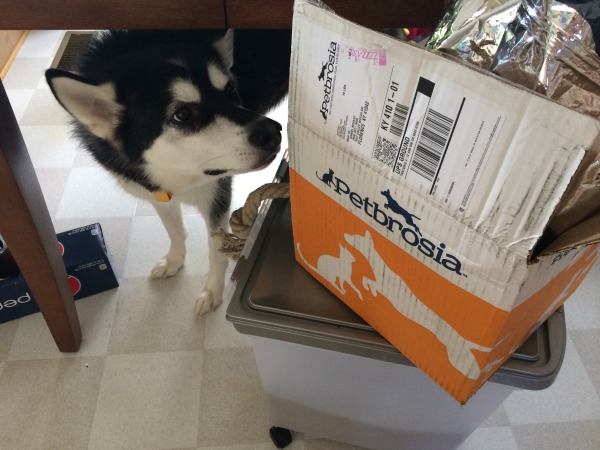 Petbrosia Grain-Free Salmon Pet Food: Overall
Before I go any further, let me make one thing clear. My Reya HATES salmon. When I first got this for review, my husband was reluctant for us to try it since he was worried Reya wouldn't like it. Traditionally, Reya has adored all the food she had tried from Petbrosia, so I was hopeful we would finally have a salmon food she would eat – with all the health benefits I thought she needed it. From the moment we brought the box in the kitchen, she was excited. She knew the Petbrosia box, and she knew it was likely going to mean a very tasty treat for our favorite dog. Not only did she love this new grain-free salmon dog food, but she cleaned the dish in one go! For a dog that usually nibbles throughout the day, this was a big shock for both of us! So far, this grain-free food has Reya's seal of approval, giving Petbrosia's Grain-Free Salmon Dog Food an A+ rating!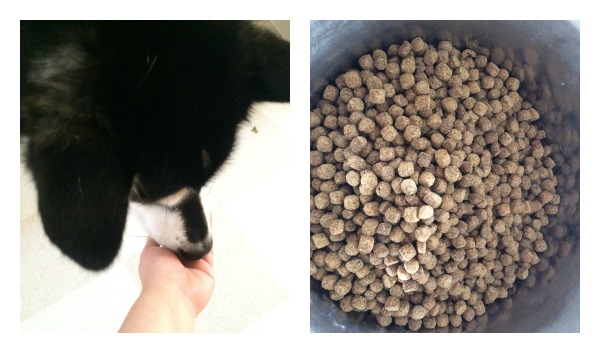 Petbrosia Grain-Free Salmon Pet Food: Where to Purchase
Would you like to try this amazing food for your own dog or cat? If your experience is anything like mine with Petbrosia, I think you will be very happy with the results. Reya's fur always looks amazing on this food and she has the perfect amount of energy for a dog her size. Really, I couldn't be happy with Petbrosia. To make purchasing your first bag cheaper, Petbrosia is offering our readers a special coupon code, where you can receive 25% off your first order as long as you use this coupon code – RBEU25.
Petbrosia Grain-Free Salmon Pet Food: Giveaway
Want the chance to try this awesome food for yourself? We are excited to be working with Petbrosia on this awesome giveaway! Three(3) of our very lucky readers will win a 3lb trial bag of Petbrosia's Grain-Free Salmon food for their either dogs or cats. To learn more, make sure to read the rules below and then enter through the giveaway form!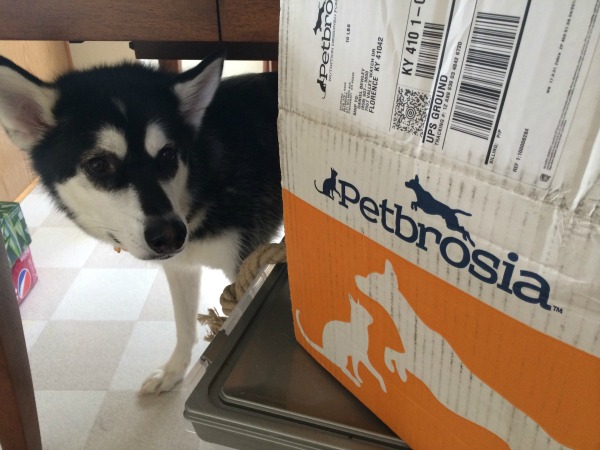 Petbrosia Grain-Free Salmon Pet Food Giveaway
Three lucky readers will win a 3lb Bag of Grain-Free Salmon Food for dogs or cats.
Open to Continental US Only.
Winners will be chosen at random through Random.org.
Sweepstakes ends August 22nd at 11:59pm ET.
Winner will be notified via email.
Winner will have 48 hours to respond before a new winner is chosen.
Budget Earth & associated bloggers are not responsible for prize fulfillment.
Must be 18 years or older to enter Giveaway Form.
Only one entrant per household.
Void where prohibited.
Entering the Giveaway Form means you agree to terms above.
Good Luck!
Petbrosia Grain-Free Salmon Pet Food Giveaway

Disclosure: Budget Earth did not receive monetary compensation but did receive products for review purposes. All opinions on this product are my own and may differ from our readers' opinions.
Would you like to have your products featured in a giveaway event? Want to increase your social media exposure? Contact susan.l.bewley@gmail.com to see how I can help YOUR company today!