Disclosure: I received this products for free to review. The opinions in my review are honest and my own.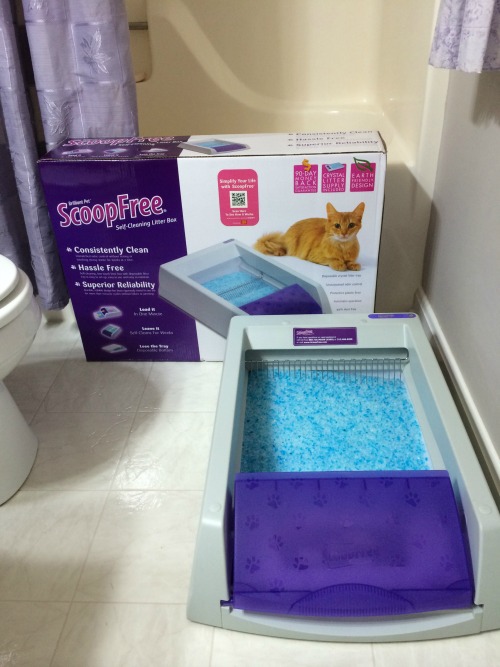 Okay cat owners, raise your hand if you love dealing with the litter box? If it is as I expect, not a single one of you like dealing with it. While we love our cats, the litter box just isn't fun business – smelly and just a nasty, dirty ordeal. A few years ago, I got the brilliant idea to try a Litter Robot in hopes of making clean up better for my cats. Well, to say the least, it didn't go as planned. My unit was big, bulky, and the noise truly terrified my poor skittish kitty. While the other loved it, she just refused to use it. In the end, it went from us using one litter box to two. To say the least, I love the concept of an automated litter box that made cleaning easy, kept the smell in check, and most important, didn't scare my cats. Just as I was about to give up on the concept, I had the chance to review what may be the best automated litter box on the market – the PetSafe ScoopFree Self-Cleaning Litter Box.
PetSafe ScoopFree Self-Cleaning Litter Box: What is It?
Looking for an automated litter box that is perfect for cats of all ages and temperments? If so, we think you will love the PetSafe ScoopFree Self-Cleaning Litter Box. Using disposable littler trays, this box automates the litter box cleaning, allowing you to only clean the litter box every 2-4 weeks (depending on number of cats). With their specially formulated litter and tray system, it has unbeatable odor control and convenience. Not only is the litter box super quiet, it has built in safety sensors that that only rake the litter box 20 minutes after a cat leaves the box. With this innovative system you will never think of the litter box the same way again!
PetSafe ScoopFree Self-Cleaning Litter Box: Overall
I will freely admit, this is one cool litter box. Having tried another automated litter box, this is by far the quietest litter box I have tried to date. It was so quiet that even our nervous cat was curious and wanted to come smell it when she saw the littler box going. As well, I love that the box is built with nervous cats in mind. It doesn't even start cleaning until 20 minutes after the cat leaves the littler box and if another cat goes in the box, it will stop the timer to make sure it never goes off while a cat is inside. As well, our cats love the crystal litter just as much, making the littler box an enjoyable experience for everyone involved. Since the box also has throw away litter pans with litter, the only time you change the box is when its time to throw it away, making owning a cat an even easier experience. Based on our own experience we are happy to give the PetSafe ScoopFree Self-Cleaning Litter Box an A rating.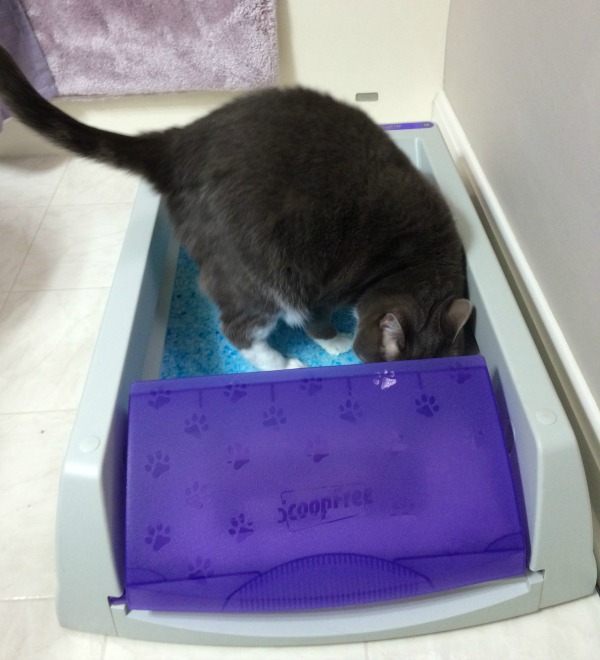 PetSafe ScoopFree Self-Cleaning Litter Box: Where to Purchase
Would you like to purchase this awesome litter box to make life easier with your own cats? You can buy the PetSafe ScoopFree Self-Cleaning Litter Box on the PetSafe website for $129.99.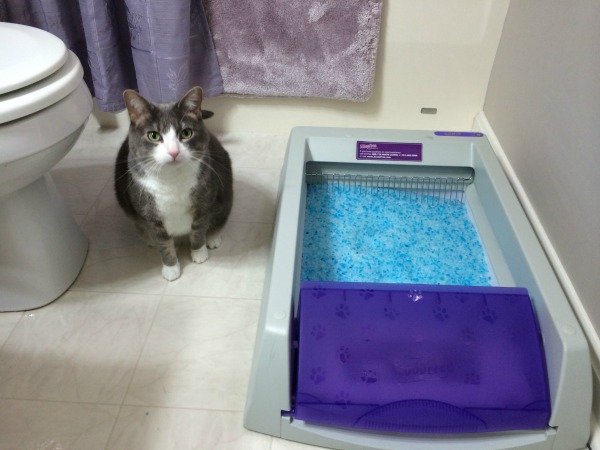 Disclosure: Budget Earth did not receive monetary compensation but did receive products for review purposes. All opinions on this product are my own and may differ from our readers' opinions.
Would you like to have your products featured in a giveaway event? Want to increase your social media exposure? Contact susan.l.bewley@gmail.com to see how I can help YOUR company today!