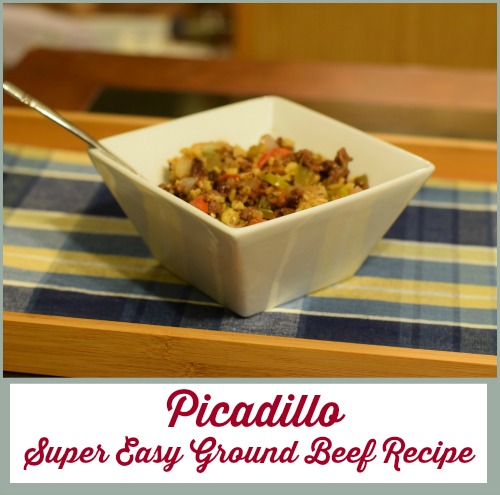 Do you have certain comfort foods that everyone in your family enjoys? For my husband and I both, we have a few foods we grew up enjoying. For me, this consisted of a variety of Italian and western European dishes. It was actually quite interesting eating with my husband's family when we first started dating.  Normally, when people say 'interesting' this is a bad thing, but not with his family. His mother is a fantastic cook, and actually made many dishes that I wanted the recipe for once we were actually living together. One dish that I have greatly enjoyed making for us is his mother's picadillo recipe.
Never had picadillo? If you are like I was years ago, you are likely wondering, "What the heck is picadillo?" This dish has Spanish roots and is actually a very tasty, simple dish. With a mixture of sweet spices, raisins, and ground beef, it is a savory and slightly sweet dish like no other. Normally we eat it over rice, but I haven't really found many ways it doesn't taste good. We also love eating it wrapped in tortillas. Knowing that many of you love quick, healthy dishes, I thought I would share with you one of our family favorites. Once you have tried this dish you will likely have a new family favorite – and you don't have to tell people it's easy!
Print
Picadillo – Super Easy Ground Beef Recipe
Picadillo is a delicious Spanish dish that has a sweet flavor, consisting of a variety of different vegetables. Traditionally, this is served over rice but we found it is also very tasty in tortillas and over nachos!
Author:
Prep Time:

10 mins

Cook Time:

20 mins

Total Time:

30 mins

Yield:

4

-6

1

x
Category:

Dinner

Cuisine:

Spanish/Latin
1

lb

Ground Beef

1

Large Yellow Onion

1 Tbsp

Garlic (I use jarred garlic)

3

Roma Tomatoes

1

Green Pepper

1/2

cup

Raisins

1/2 Tsp

Salt

2 Tsp

Ground Cinnamon

2

–

3

Tsp Ground Clove (I use a mortar & pestle to grind my own whole cloves down)

1/2

cup

Sliced Pimiento-Stuffed Olives (aka Salad Olives)
Precooked Brown or White Rice.
Instructions
Chop tomato, green pepper, and tomatoes with a sharp knife. Set aside.
In a large pan (10 – 12 inches), cook the ground beef and garlic on medium heat until the beef is thoroughly cooked.
Add the chopped tomatoes, chopped green pepper, chopped tomatoes, raisins, salt, cinnamon, and clove to the pan. Cook for five minutes, stirring constantly to make sure all the vegetables are evenly cooking.
Lower the heat to low and cover. Cook for 12 minutes.
Remove cover and mix in the olives. Cook for another 2 minutes.
Remove from heat and stir the picadillo. Server hot over rice.
Now that I have shared with you one of my family's favorite comfort foods, what are some of yours? Make sure to tell us in the comments below. Also, make sure to tell us what you think of this recipe! We always love to hear your thoughts!