Disclosure: I received these products for free to review. The opinions in my review are honest and my own.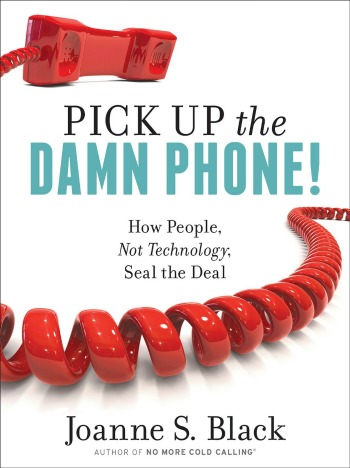 Do you do sales for a living? At one point, I focuses quite a bit on sales, especially when I worked at a bank throughout college. One of the things that was emphasized was face to face contact with our clients and how we should use valuable face time to introduce clients to new products and close the sale. With some of the new technology today, however, more people are hiding behind social media, email, and other technology to avoid contact. In Pick Up the Damn Phone, author Joanna S Black discusses how this is a problem and what you can do to improve sales for your own company.
Pick Up the Damn Phone: What is It
Do you use technology to close the sale or get the attention of your potential clients? In Pick Up the Damn Phone author Joanna S Black discusses how we should be using less technology and more face to face time with clients. As one of the leading authorities on referral sales, she discusses how you can improve your own sales and referrals by tweeting less and what you can do to seal the deal!
Pick Up the Damn Phone: Overall
I have to say that I really enjoyed this book. It is blunt, to the point, informative, and an entertaining read. If you are someone who does sales for a living, this is a must read. We don't even realize how much we hide behind technology and don't have face to face calls. There were even a few tips that relate to people who depend on online safe, such as stores and affiliates. Sometimes, having that personal touch really makes a difference when it comes to closing the sale. Based on own opinion, I am happy to give Pick Up the Damn Phone an A rating.
Pick Up the Damn Phone: Where to Purchase
Would you love to purchase this awesome sales book for yourself? You can purchase Pick Up the Damn Phone on Amazon.com for $12.87 or the Kindle version for $9.99.
Disclosure: Budget Earth did not receive compensation but did receive products for review purposes. Budget Earth may, however, receive compensation through purchases from affiliate links in this post. All opinions on this product are my own and may differ from our readers' opinions.
Would you like to have your products featured in a giveaway event? Want to increase your social media exposure this holiday season? See how Mom Powered Media can help! Contact susan.l.bewley@gmail.com to see what we can do for your company!