As some of you know, I am a big fan of eco-friendly toys. After shopping for gifts for my little niece, I was amazed at how poorly made and potentially dangerous some toys are today. Growing up, I had many wooden toys that were passed to me by my older brothers. While some of them were a bit worn, they were well loved by us all. With all the toys on the market today, I think parents should know that there are eco-friendly, long-lasting toy options out there, being one of the reasons I created my list of 25 eco-friendly toys for kids. One brand that appears quite often on my list is Plan Toys. They make high quality, eco-friendly toys made from recycled materials and rubber wood. One toy that has been getting quite a bit of attention this Christmas season is the Plan Toys Tori Rocking Horse.
Plan Toys Tori Rocking Horse: Safety & Assembly
So, what is so unique about the Plan Toys Tori Rocking Horse? Unlike most rocking horses that tend to take up a lot of space, this rocking horse can easily be folded to make it more compact. Actually, it is so compact that it can easily fit under a twin bed or at the bottom of a two door closet. To also prevent this rocking horse from accidentally closing on a child, it has a built in stopper. Since the Tori Rocking horse does require some simple assembly, make sure that you follow all the directions when putting together this cute rocking horse, for safety's sake! While some parents have talked about putting children as young as one on this horse, it is recommended by the manufacturer that children should be at least two years old before riding the Plan Toys Tori Rocking Horse – largely to prevent unnecessary injuries. Which is not to say that this toy is unsafe; the rocking horse has a wider seat than many other rocking horses on the market. The wider seat and frame gives the horse more stability, preventing your child from falling over with the horse.  With the built in hand pegs and feet rails, children of an appropriate age should have all the stability they need to rock for hours on their favorite new toy!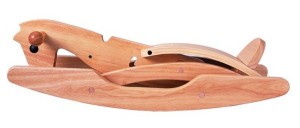 Plan Toys Tori Rocking Horse: Eco-Friendly
If you are like me, the next question you are likely asking is if it's truly eco-friendly. Some toys that claim to be green are not as eco-friendly at you might think once you do some digging. While this toy is unfortunately not made in the USA, it is made in a sustainable factory in Thailand that uses eco-friendly manufacturing practices. As for the toy itself, it is made from natural rubber wood, which is quick growing, sturdy, and regularly replenished as part of the rubber farming cycle.  Since this toy is its natural color, it really is about as natural as you can get!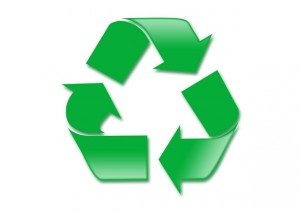 Plan Toys Tori Rocking Horse: Learning
Even though many parents don't think about it, a rocking horse really is one of the best learning toys you can have in a young child's playroom. On a physical level, it helps smaller children with their balancing skills, and when they get older it continues to help with muscle development since this is an un-motorized toy. As a teacher, the part I love the most is that encourages children to use their imagination. In a world filled with instant cartoons and video games, we sometimes forget that children can and should learn to entertain themselves. Children can easily be knights, off to fight a monster or a princess, riding her favorite horse! Things get even better if you have multiple children playing in a playroom since the Plan Toys Tori Rocking Horse helps build social skills and encourage sharing.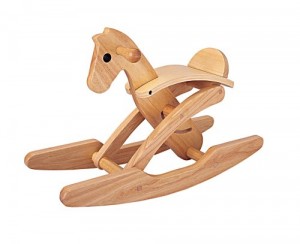 Plan Toys Tori Rocking Horse : Where to Purchase
Currently, there are two places where you can purchase the Plan Toys Tori Rocking Horse – Amazon.com and Plan Toys website. Personally, I prefer to buy most of my toys on Amazon since they are usually cheaper – even than the manufacturer – and offer free shipping. When I last checked this toy, they were selling it for $11 cheaper on Amazon.
Plan Toys Tori Rocking Horse: More Reviews
Want to read more about the Plan Toys Tori Rocking Horse? Click on the picture below to read more reviews written by real parents and grandparents who purchased this cute toy for their children.

Disclosure: As a reminder, none of the writers at Budget Earth received compensation for any of the contests listed on this blog. All of the opinions on this blog are the opinions of said author and these opinions may differ from your own.