Disclosure: Budget Earth received products at a discount priced for this review. All opinions, however, are honest and my own.
Do you have a pet seat cover in your backseat? When we first got Reya, we made the mistake of going without for a very long time. In all honesty, we were cheap and thinking we could get away with just laying towels on the backseat. As you can guess, this didn't work out very well, especially the first time we had a wet, muddy, long-haired dog. Since, I have gone through various covers in my backseat, many of them that truly didn't work. One was even a cheap hammock design that Reya tore up with her claws. To say the least, my husband and I were not happy. After our last trip, we decided it was time to toss that piece of junk and bought a new seat cover. Like many of you, I started looking at reviews on Amazon and talking to friends, where I learned about the Plush Paws Pet Seat Cover. Even though there weren't many reviews available, I took my discount code I found online and took the risk, hoping this would be the perfect seat cover for us!
Plush Paws Pet Seat Cover: What Is It?
Looking for a quality pet seat cover for your backseat? If so, we think you will love the Plush Paws Pet Seat Cover. This sat cover is diamond stitched, padded, and quilted cover is designed to not only be durable, but survive active dogs and kids. With 2 support anchors and elastic straps under the seat cover, this cover will stay put, even when you have a wet, excited dog in the backseat. Both ends of this pet seat cover also have head rest straps, allowing you to easily adjust it to your backseat like a standard seat protector, or a hammock design to keep your pet out of groceries on your floorboard. As well, the Plush Paws Pet Seat Cover is waterproof and machine washable, allowing you to adventureous without having to worry about mud in your backseat. Also, as an extra bonus, the Plush Paws Pet Seat Cover also comes with 2 sets of adjustable harness seat belts, allowing you to keep your dog safe and staying put while you are on the go.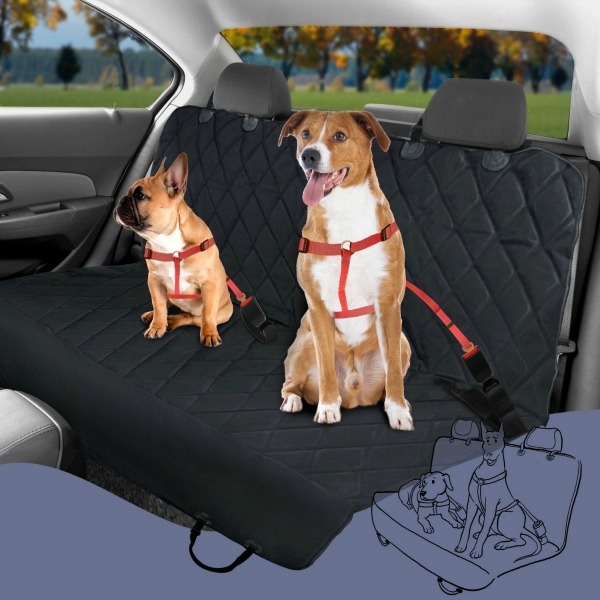 Plush Paws Pet Seat Cover: In the Box
Plush Pet Seat Cover
2 Adjustable Pet Harnesses
2 Adjustable Seat Belt Clips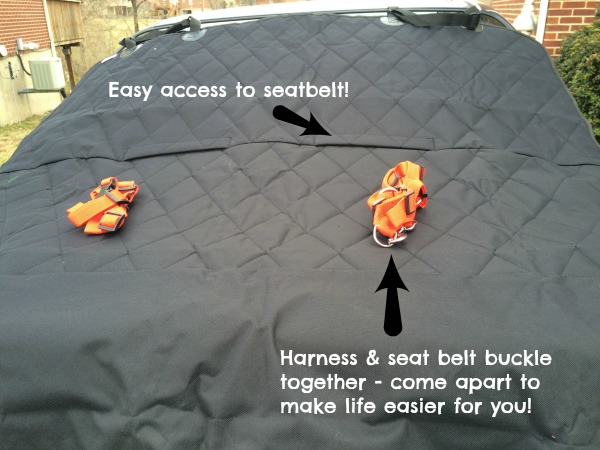 Plush Paws Pet Seat Cover: Overall
Having tried quite a few pet seat covers, I was determined to not have any expectations for this product. Lately my husband and I have purchased a few pet items that were fairly expensive and poor quality. As well, many of the pet seat covers I had tried until now just didn't fit in the car properly or were such odd colors I was embarrassed to have someone in my car. To say the least, I relieved when I saw that the Plush Paws Pet Seat Cover really was a fairly safe color – a charcoal black. While this color does show pet hair fairly quickly, it also means it's easier to find it with a lint brush after a trip. The only thing that really made me nervous was the lack of instructions in the packaging. Maybe I'm crazy, but I like to see I'm installing things properly, especially when it comes to my pets safety.
Luckily, this pet seat cover was fairly straight forward. We were able to get it situated in the backseat very quickly. While I didn't have the headrests it was designed for, the anchors allowed it to stay put easily in my car and make it more secure. This is one area where many of these seat covers are lacking since dogs are far from gentle getting in and out of the car. My favorite part of the Plush Paws Pet Seat Cover, however, was the velcro area for seatbelts. This makes it very easy to get your dog situated and buckled in with the provided harnesses or your own harness. Since Reya was too big for the provided harnesses, we just used our Sleepypod harness, which as you can see, worked well with this pet seat cover. Really, I don't think I could be happier. Based on our own experience, I am happy to give the Plush Paws Pet Seat Cover an A rating!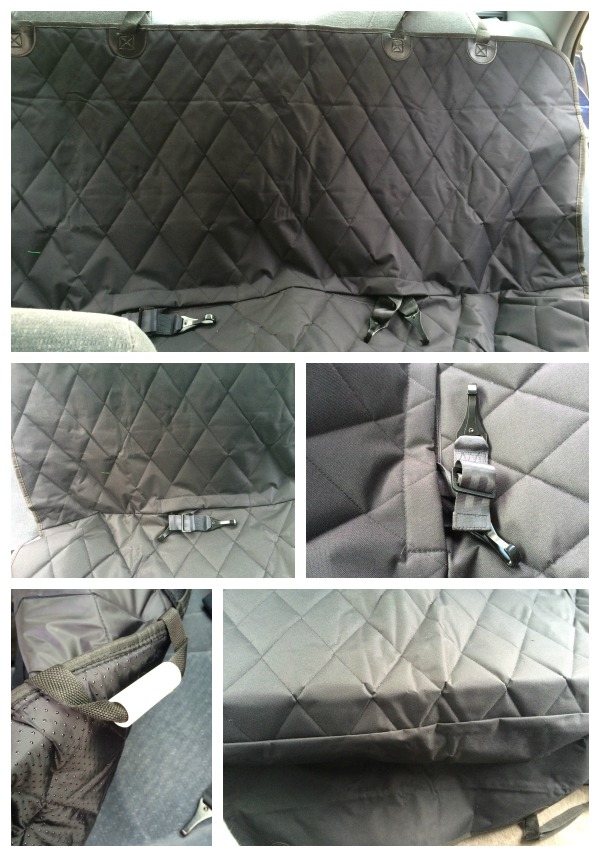 Plush Paws Pet Seat Cover: Where to Purchase
Want to purchase this  awesome pet seat cover your own vehicle? Currently, you can buy the Plush Paws Pet Seat Cover for only $79.94 (regular $110.00) on Amazon.com. Want to know something even cooler though? You can get an additional 20% off using the following coupon code – PETOFF25! Just don't forget to put this code in at checkout. We want to see all of our readers get the best deal possible!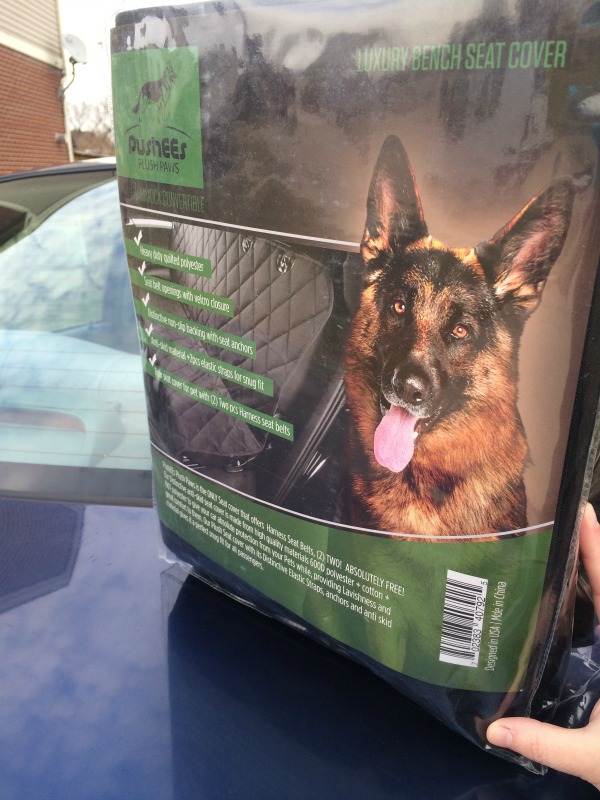 Plush Paws Pet Seat Cover: Giveaway
Want to chance to win this awesome seat cover for yourself? One lucky reader will win a Plush Paws Pet Seat Cover for their own family!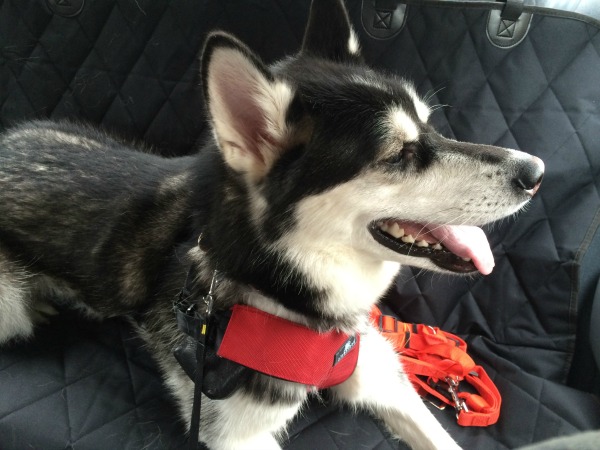 Plush Paws Peat Seat Cover Sweepstakes
One lucky reader will win a Plush Paws Pet Seat Cover.
Open to US Only.
Winners will be chosen at random through Rafflecopter via Random.org.
Sweepstakes ends April 1 at 12:00 AM ET.
Winner will be notified via email.
Winner will have 48 hours to respond before a new winner is chosen.
Budget Earth & associated blogs are not responsible for prize fulfillment.
Must be 18 years or older to enter Rafflecopter.
Only one entrant per household.
Void where prohibited.
Entering the Rafflecopter means you agree to terms above.
Rafflecopter is not controlled by Budget Earth but all information & entries are secure.
Good Luck!
Disclosure: Budget Earth did not receive monetary compensation for this review, but did receive products for review purposes. Budget Earth did receive compensation, however, for promoting the giveaway included at the time of posting.  All opinions on this product are my own honest assessment, and may differ from our readers' opinions. 
Would you like to have your products featured in a giveaway event? Want to increase your social media exposure? Contact susan.l.bewley@gmail.com to see how I can help YOUR company today!