Disclosure: I received these products for free to review. The opinions in my review are honest and my own.
When I was 11 years old, I remember sitting in front of the TV and watching an episode of this new, live action kids show. My brothers saw it and immediately said it was a Voltron ripoff. Either way, Mighty Morphin' Power Rangers was a part of my childhood. I also really felt old when I found out that this year marks 20 years of Power Rangers. That truly seems crazy to me! Well, as part of the 20 year celebration, they are featuring many of the cool new toys, as well as collectors' toys for those of us who loved the series as a kid. Since I was a fan of the show, I agreed to review one of their collectible toys and was pretty excited when I saw they sent me a figure of the original white ranger!
Power Rangers Toys: What is It
Know someone that loves 90s pop culture? Help them remember one of the popular live action kids shows with this Pop Television White Ranger. This White Ranger action figure stands 3 3/4" inches tall and is a look-alike of the original White Ranger – Tommy! This cute vinyl figure is great to keep as a collectible or keep as a fun desk decorations!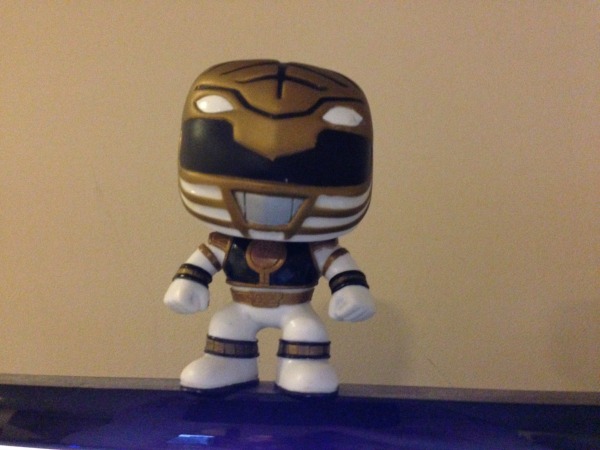 Power Ranger Toys: Overall
Personally, I think my little Power Ranger figure is cute. He was a little bit of a blast from the past for me. My little collectible figure is right now a fixture of my work desk, right next to Lady Justice and my big Cerberus Squishable. The only thing that could make this toy better is if it was a bobble head – although then I would probably be playing with all day instead of working! Either way, based on my experience with this collectible figure, I am happy to give it an A- rating.
Power Ranger Toys: Where to Purchase
Would you love to purchase Pop Television White Ranger? You can purchase this adorable vinyl figure on Amazon.com, Hot Topics, or your local comic book shop. Also, don't forget that there are other great Power Ranger toys available this Christmas season, including Power Ranger Monopoly, Power Rangers bikes, and other awesome Power Rangers Megaforce items! With 20 years of Power Rangers, you can find the perfect gift for children of all ages!
Disclosure: Budget Earth did not receive compensation but did receive products for review purposes. Budget Earth may, however, receive compensation through purchases from affiliate links in this post. All opinions on this product are my own and may differ from our readers' opinions.
Would you like to have your products featured in a giveaway event? Want to increase your social media exposure this holiday season? See how Mom Powered Media can help! Contact susan.l.bewley@gmail.com to see what we can do for your company!