Disclosure: I received this products for free to review. The opinions in my review are honest and my own.
Do you struggle to find the perfect gift for someone on your holiday list? Some of the hardest gifts are our friends and family, especially if we want to get them something they like. Yes, you can get a box of chocolate or that little holiday mug set but let's face it, it's likely going to be re-gifted or put in a corner and forgotten. Luckily, we just learned of the perfect gift that is good for men and women alike – a Shavemob Stocking Stuffer Gift Set!
ShaveMob Stocking Stuffer: What is It?
Looking for razors that give you a quality shave without the high price tag cutting into your wallet? If so, we think you will love Shave Mob. With this company, you can get high quality razors and save up to 70% off the cost of your razors, allowing you to put money toward other important things in life. These razors work just like many favorite brands, and cost about $2 – $3 per razor. As well, you never have to pay for shipping, membership fees, or remember to cancel the service to avoid your credit card being charged. You buy the package you need, allowing you to have exactly what you want, when you want, when it comes to your razors!
So, what makes their holiday stocking stuffers so unique? In this set, you will receive:
1 Handle (Women or Men)
2 Month Supply of Men's or Women's Razors (choice of number of razors)
1 Mustache Monocle
ShaveMob Stocking Stuffer: Overall
Having tried ShaveMob razors in the past, I thinking this set has to be one of the best stocking stuffers or holiday gifts for men or women alike. We all love getting practical gifts, so why not give the sort of gift that we know will keep on making someone we care about smile. I personally love that you can also choose the exact handle, blade style, and how many blades you want to send in the gift set, making it a fun, customized gift that fits exactly in your budget. Based on our own experience, we are happy to give the ShaveMob Stocking Stuffer Set an A rating.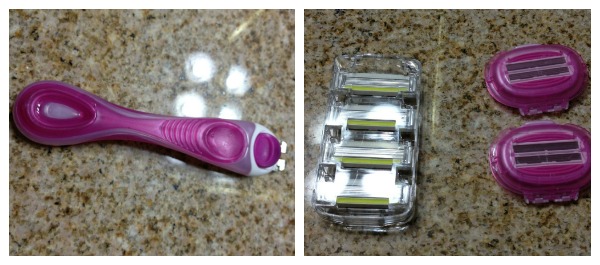 ShaveMob Stocking Stuffer: Where to Purchase
Want to buy one of these practical gifts for a friend or member of your family? You can find the ShaveMob Stocking Stuffers for both men and women on their website. Make sure to go to the ShaveMob Holiday Page to see all the different sets starting at only $9.99.

Disclosure: Budget Earth did not receive monetary compensation but did receive products for review purposes. All opinions on this product are my own and may differ from our readers' opinions.
Would you like to have your products featured in a giveaway event? Want to increase your social media exposure? Contact susan.l.bewley@gmail.com to see how I can help YOUR company today!