Disclosure: I received these products for free to review. The opinions in my review are honest and my own.
Every so often, I have people message me asking how it is to have such a large dog in the house. Many people assume that Reya is destructive since she is such a large dog. In all honesty, she is as gentle as can be and hasn't destroyed anything other than a toy since she was 4 months old (the dreaded teething stage!). While having a large dog like her in the house has been a delight, accidents are not. When a large dog decides she is going to pee in house, it isn't a small puddle, but a river trying to flood your floor! Like any pet problem, this has been our main corrective training exercise, which has led me to trying a variety of different products. While I was looking for a good enzyme cleaner, I was actually approached by Pruven, who asked if I would be willing to have Reya try out a couple of their more popular products!
Pruven Pet Products: Oxy Powered Stain & Odor Remover
Recently, we found out that we needed to be using an enzyme remover for cleaning up Reya's 'accidents' in the house. The trainer we spoke to recommended using that remover along with oxy clean to stop her from peeing in certain areas of the home. When I saw that the Pruven Powered Stain & Odor Remover was a combination of both products, I was very excited. What excited me even more was that the product seemed to work! As soon as we cleaned up Reya's most popular 'accident' spot with this cleaner, she stopped going there! Since this is the first time we had found something that worked, I have to say this product is amazing! Based on our own experience with the Pruven Oxy Powered Stain & Odor Remover, I am happy to give this pet product an A rating!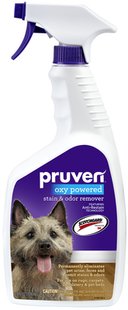 Pruven Pet Products: Bitter Apple Spray
Out of all the products I tried, this one had the most mixed results. The Pruven Bitter Apple Spray is designed to discourage dogs from licking, chewing or biting anywhere in the home. it can be used on skin or just about any surface in the home. While I have found that these type of products work great with other dogs and cats, they don't really work well with Reya. Rather than deter her, she thinks they are tasty. Since she reacted the same way to this spray as other bitter apple sprays, I am going to have to withhold judgment on this product. I will say that it does smell much better than the other products of its kind and does not stain, something that is a major plus compared to its competition!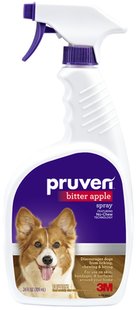 Pruven Pet Products: Where to Purchase
Would you like to try one of these awesome Pruven pet products? These products can be purchased at most major retailers, including Walmart, Target, and even Amazon.com! To learn more, more sure to check out the Pruven pet's website!
Disclosure: Budget Earth did not receive compensation but did receive products for review purposes. All opinions on this product are my own and may differ from our readers' opinions.
Would you like to have your products featured in a giveaway event? Want to increase your social media exposure this holiday season? See how Mom Powered Media can help! Contact susan.l.bewley@gmail.com to see what we can do for your company!