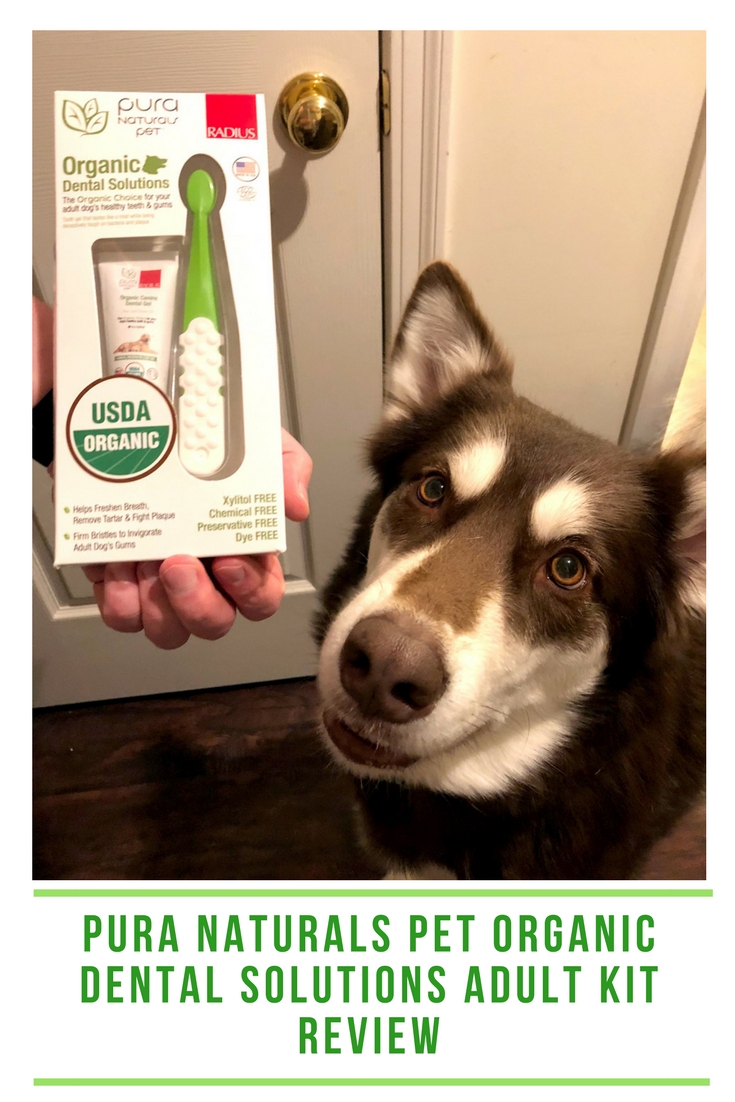 Did you know that 80% of dogs show signs of dental disease by the age of 3? I don't know about you, but I think this is a pretty scary statistic. As a pet parent, I worry a great deal about Ivi and Rylie's teeth, especially after seeing how many teeth poor Molly (the senior pup of our family) has lost over the years. To make sure the girls stay healthy as long as possible, we take dental health very seriously in our household. One of the biggest issues I have found, though, is finding a quality dog dental kit. Since finding one with quality ingredients is so challenging, many people think natural human toothpastes are safe (please never do this! Many use xylitol – a well-known dog killer, despite being safe for humans). Recently though, one of my favorite companies has come out with a new dog dental kit that doesn't just use high quality ingredients, but qualifies as USDA organic too – Pura Naturals Pet! After reading a bit about their Organic Dental Solutions Adult Kit, I couldn't wait to try it with the girls!
Pura Naturals Pet Organic Dental Solutions Adult Kit: What Is It?
Are you looking for an easy way to keep your dogs teeth healthy and looking amazing? If so, we think you will love the Pura Naturals Pet Organic Dental Solutions Adult Kit. This USDA Certified Organic kit includes an ultra soft tooth brush and tooth gel, both of which work together to freshen dog breath and remove tarter, and fight plaque without the use of preservatives, dyes, and other chemicals (oh, and of course, xylitol free)!
As well, it includes some truly amazing ingredients, including:
Coconut Oil – antibacterial and antiviral to help reduce bad breath and plaque
Olive Leaf Extract – soothes inflamed gums and supports gastrointestinal health
Fennel Extract – rich in vitamin C and can help fight gingivitis
Sweet Potato – packed with vitamin A for healthy skin, coat, eyes, & helps digestion
Cinnamon Powder – naturally antimicrobial, antibacterial, and has anti-inflammatory properties that can help with brain function (and is safe for dogs with arthritis & diabetes)
Kelp Extract– vitamins and amino acids to help reduce plaque and tartar
Salt – helps reduce bacteria in the mouth to freshen breath.
Thyme Leaf Oil – naturally antimicrobial, and can help reduce tooth decay
By fighting back against dental disease early, it also means fewer vet bills are likely, allowing us to spend our money on things our dogs enjoy – like toys and treats! What pet parent wouldn't smile about that!?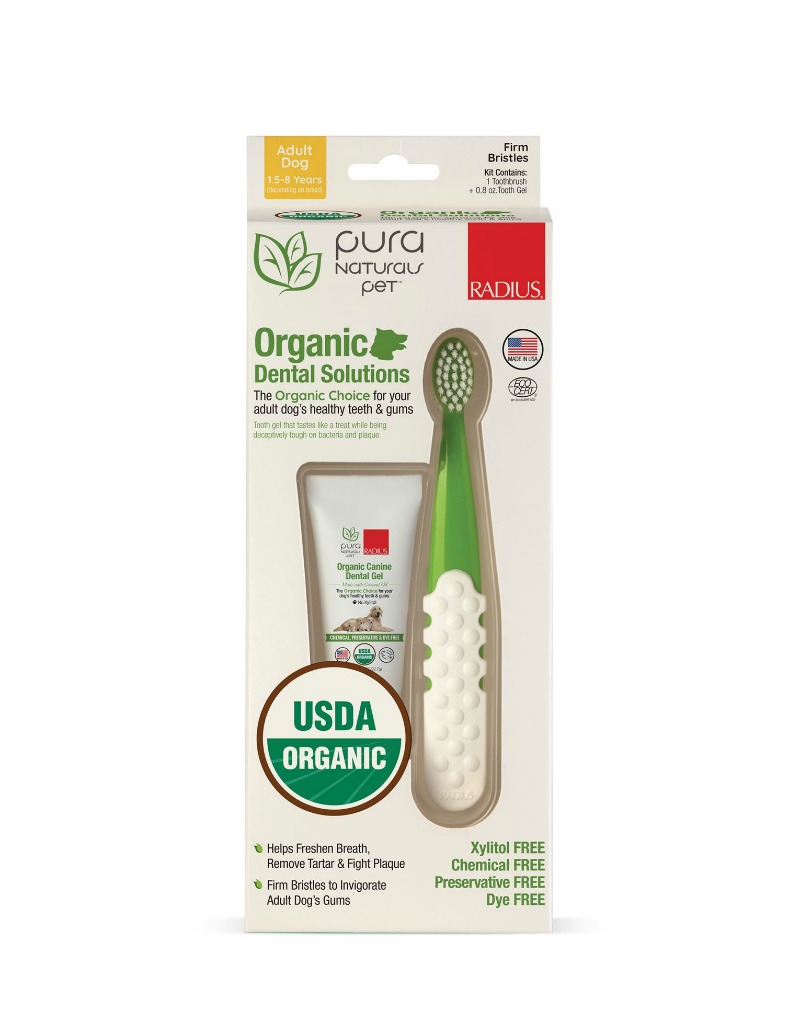 Pura Naturals Pet Organic Dental Solutions Adult Kit: Our Thoughts
So what do we think of this dog dental kit? So far, I absolutely love it! One of the first things I like so much about the kit is the smell. It has a bit of a minty, herbal smell (with a bit of fennel), it actually smells quite good but not overpowering. I don't know about you, but I don't exactly like dealing with everything smelling like chicken (especially since it is usually not the best smelling stuff for humans).  As well, this has to be the best toothbrush I have seen for dogs – hands down. It reminds me quite a bit of a human toothbrush, but the extra long handle with texture makes it easy to use when you are in your dogs mouth and working. Overall, I think it makes brushing teeth a better experience for everyone involved, making the Pura Naturals Pet Organic Dental Solutions Adult Kit an amazing products in my eyes.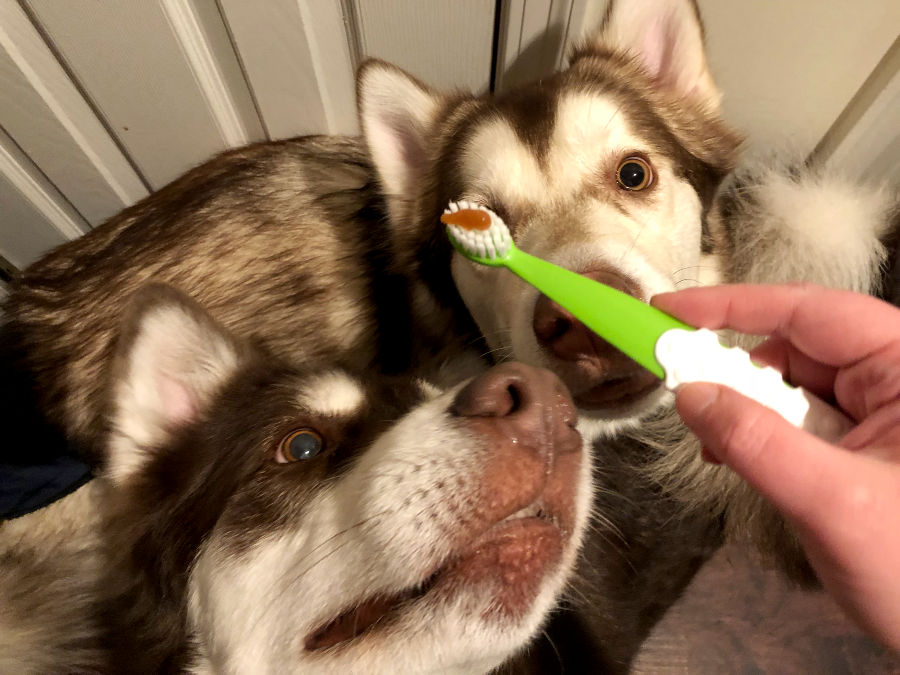 Pura Naturals Pet Organic Dental Solutions Adult Kit: Where to Purchase?
Would you like to purchase this awesome kit for your own dogs? You can buy the Pura Naturals Pet Organic Dental Solutions Adult Kit on the Pura Naturals Pet website for only $14.99. We are pretty certain you will love this dog dental kit as much as we do with our girls!