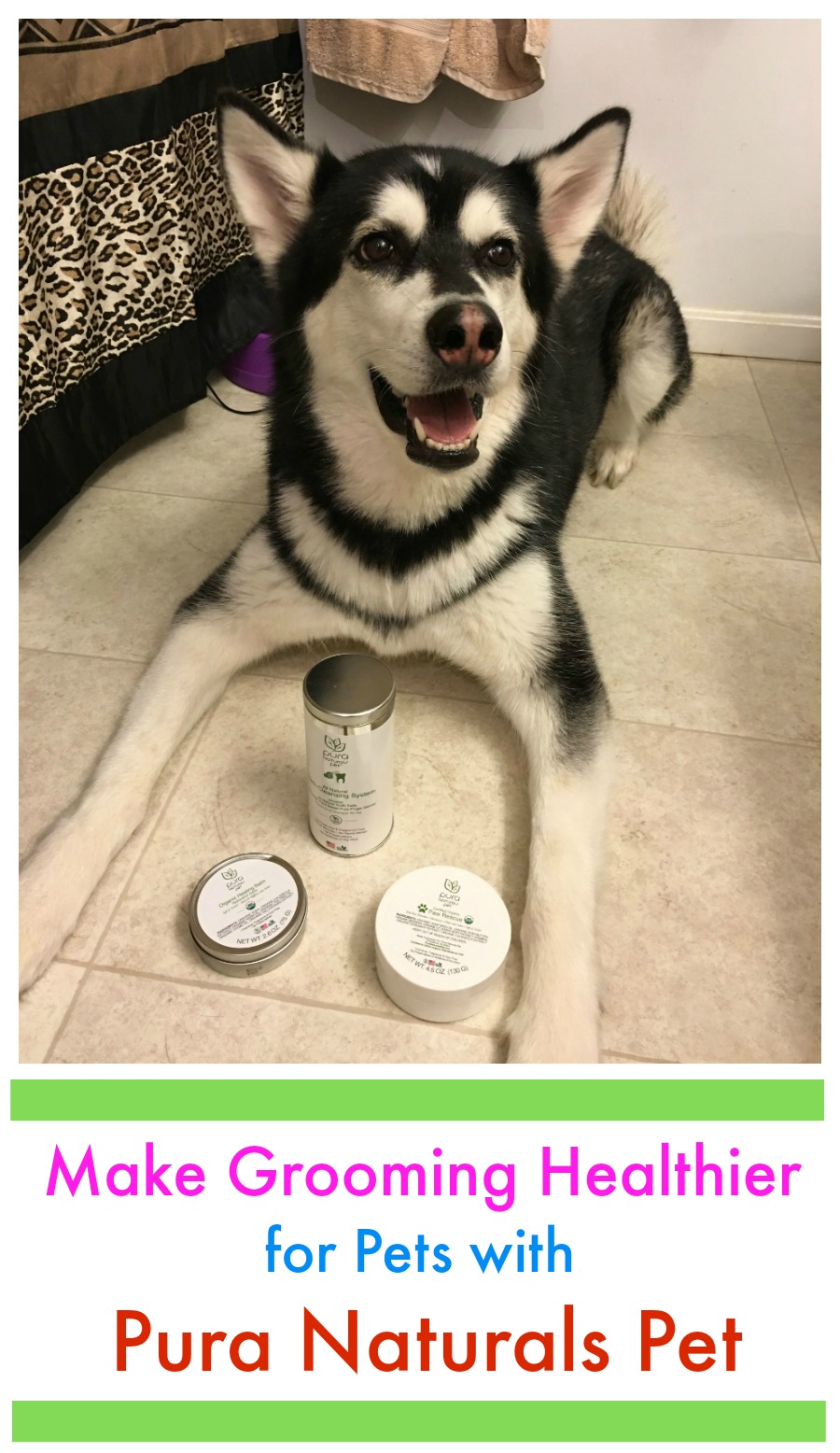 Do you worry about the ingredients in your dogs' grooming supplies? I will be honest, I care quite a bit about the products we use on Reya and Ivi. To me, nothing is more frightening than seeing a list of ingredients that take up almost the entire bottle of a product, especially if it is a large bottle. It happened awhile back when we were visiting family and I had to pick up emergency shampoo for Ivi. After seeing some of these popular products and what were in them, I was a lot more cautious on what was in our girls' grooming products, especially ones that they could easily lick. While there are quite a few natural products, I learned quickly that not all of them were created equally, leading me to be more careful about which brands I used. Recently, however, I learned of a new brand that offered not only amazing-sounding organic products, but philosophies that matched my own when it comes to pet care; that company is Pura Naturals Pet. When they asked me to try out some of their products, I couldn't wait for them to arrive!
Pura Naturals Pet: Who Are They?
Looking for high quality bath and grooming products for your pets made with only all natural, plant based ingredients? If so, we think you will love Pura Naturals Pet. They are proud to offer products made with only the best ingredients Earth has to offer.  Not only are their products USDA organic, they are eco-friendly, human-safe, and made in the United States, making them a great, safe solution for pet parents and pets. With an extensive selection of shampoos, lotions, and grooming products, pets can live a happier, healthier life.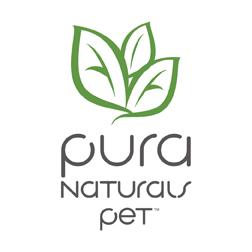 Pura Naturals Pet: All Natural Teeth Cleansing System
Are you looking for a safe way to take care of your dog's teeth? Make caring for their teeth even easier with the Pura Naturals All Natural Teeth Cleansing System. Using pure sodium bicarbonate as a safe cleaner, this system not only leaves your dog with clean teeth and healthy gums, but prevents tooth decay. The secret to this system that makes cleaning your pup's teeth even easier is the Pura-Finger Glove, which helps remove tartar and is soft enough to not be uncomfortable for your dog.
As many of you know, cleaning your dog's teeth with a toothbrush is never easy. Even after all of this time, our girls hate getting their teeth brushes, mostly because they hate having an oddly sized brush in their mouth. With this system, brushing their teeth is not only easy, but something they don't really seem to mind. Best of all, they have minty breath afterwards from the peppermint oil, which everyone in our house enjoys. To this date, this is the best natural teeth brushing system we have found for our girls, making brushing their teeth an enjoyable, healthy experience for everyone. Based on our own experience, we are happy to give the Pura Naturals All Natural Teeth Cleansing System an A+ rating.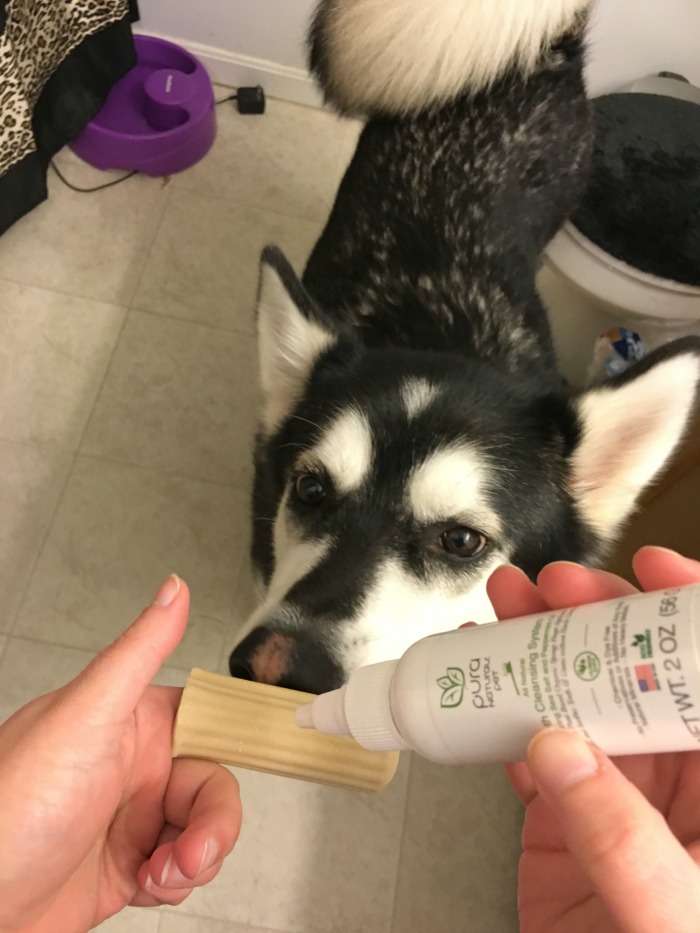 Pura Naturals Pet: Organic Paw Rescue
Have a pup dealing with uncomfortable, cracking or rough paw pads? Help take care of your dog's paws with Pura Naturals Pet Organic Paw Rescue. Not only does this product hydrate, sooth, and promote healing, but moisturizes your dog's paws using shea butter and vitamin E, keeping even healthy paws feeling great. As well, it protects their paws from heat, cold, and moisture while still being safe to lick, allowing you to better protect the paws of your household.
For some reason, I have been having a hard time finding a good paw cream for both Reya and Ivi. The ones I have found have either had scary ingredients, or seemed ineffective, being just uncomfortable for our girls.  This paw cream is not only easy to use, but has a very subtle rosemary sent, making it great for humans and dogs alike. Also, with it being normal for malamutes to clean their paws, any paw cream I use has to be 100% safe to lick, making this a major win in our household since it seems to work well on their paws and is safe. While we haven't been able to use it long, it is so far a great product in our eyes. Based on our own experience, we are happy to give Pura Naturals Pet Organic Paw Rescue an A rating!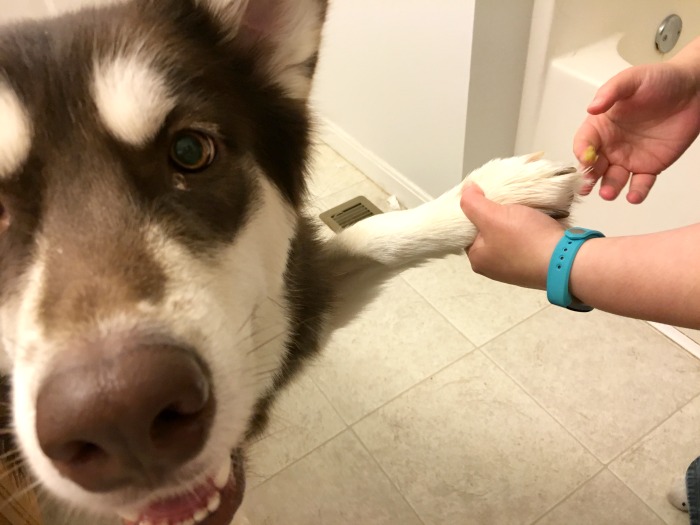 Pura Naturals Pet: Organic Healing Balm Restorative Salve
Trying to find a natural product to help your dog with a minor injury? Help your dog feel better and help the injury heal with Pura Naturals Pet Organic Healing Balm Restorative Salve. This safe to lick ointment is ideal for stiffness and aches, helping fight back against inflammation with willow bark, organic neem, and other ingredients known for their antifungal and antibacterial properties. Along with having no odor or scent, it is very easy to rub, allowing you to quickly care for injuries without causing your dog discomfort.
Honestly, with our accident prone Ivi, we were very excited to try this product. Having something that would not only make her more comfortable, but would help her injuries heal faster seemed great to us. Best of all, Ivi doesn't seem to mind it at all, unlike other natural salves that have a strong scent. Based on our own experience, we are happy to give this salve an A+ rating!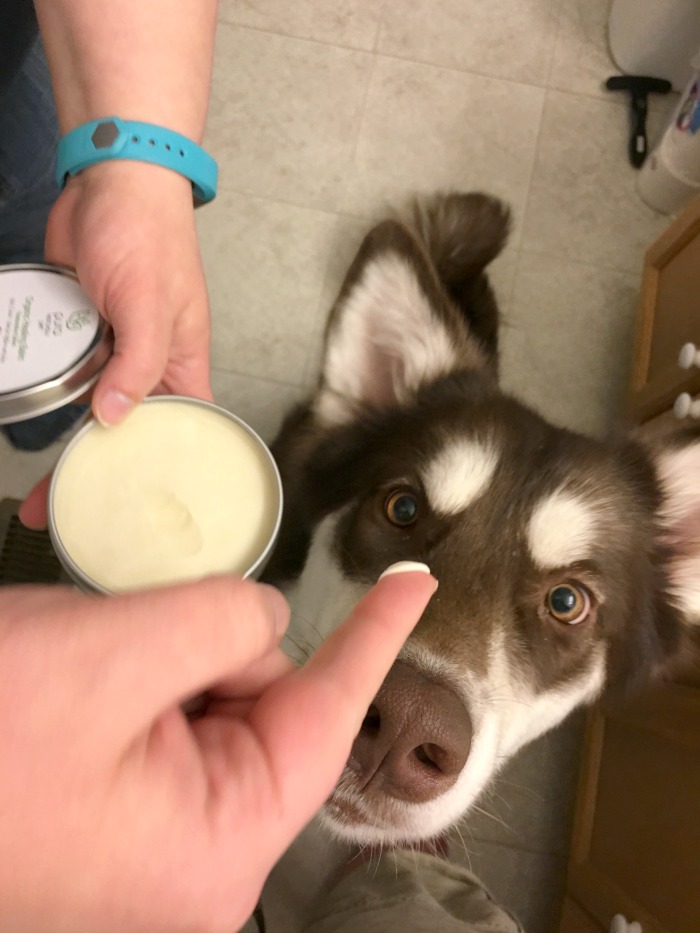 Pura Naturals Pet: Where to Purchase?
Want to know where you can purchase some of the awesome product featured in this review? You can buy them on Amazon.com or find a retailer near you on their Pura Naturals Pet website!
Want to learn more about Pura Naturals Pet? Check out their social media channels!
Facebook | Twitter | Pinterest | Instagram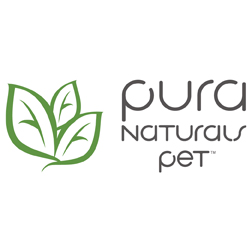 Disclosure: Budget Earth did not receive monetary compensation for this review, but did receive products for review purposes.  All opinions on this product are my own honest assessment, and may differ from our readers' opinions. 
Would you like to have your products featured in a giveaway event? Want to increase your social media exposure? Contact susan.l.bewley@gmail.com to see how I can help YOUR company today!