Are you trying to lose weight for something important in your life? A wedding, vacation, or to prepare for upcoming pregnancy? For me personally, it's the last two. I'm hoping we can try having our first child next year, as well as go on a cruise. I have never been on a cruise, but I'm certain I want to lose some of this weight before I get in a swimsuit in front of a bunch of strangers. I recently purchased a Fitbit to help me reach my goal, but have also looked for other help in achieving my goal. I am not into weight loss pills, but I have no problem with natural, herbal supplements.
One company that got my attention recently was Genesis Today when I tried their Skinny Coffee. Recently, I discovered another group of products made by Genesis Today – Pure Health. Wanting to learn more, I talked to my contact at Genesis Today, where I was able to try for free three of their brand new products, designed specially to help women be healthier! Since I'm all about being healthy, I couldn't wait to get started!
Pure Health: Who Are They
Like me, you likely had never heard of Pure Health before this review. Their main focus is to give people access to high quality products with no additives or fillers at an affordable price. In their opinion, everyone should have access to healthy supplements. They are also quite proud of the fact that their ingredients are purchased straight from farmers, supporting smaller growers and making sure the ingredients stay as pure as possible from start to end. By doing this, they can also guarantee that the farmers use no herbicides, fungicides, pesticides, larvicides, carcinogens, toxins, or other chemicals on the plants. Since they cut out the middleman, they are able to offer their products cheaper than their competition, giving people like you and me easier access to supplements made with organic ingredients!

Pure Health: Nature's Green Lean Tea
As someone who loves green tea, I couldn't wait to try Pure Health's Nature's Green & Lean Tea. This tea contains not only green tea, but green coffee, both of which have been shown in multiple studies to assist with healthy weight loss. While I'm not sure if I attribute my current weight loss to this tea, I can say that it tastes great. I drink this tea straight or with a little bit of Nectresse as a treat during the day. Unlike other teas that are supposed to assist with weight loss, this tea actually tastes good, with a slight hint of ginger, cinnamon, and anise star. Even though there are only 30 bags in the tin, I have found that each bag can be used two to three times, allowing you to get the most bang for your buck with this product.

Pure Health: Sleep Sweetly
This was one supplement I couldn't wait to try. I regularly have problem sleeping at night, a mix between our new puppy Reya and stress. Before I go any further, I want to make it clear that Sleep Sweetly is not a sleep supplement or sleeping pill, but something to help you relax for bedtime. It contains all natural ingredients like lemon balm that have been used for centuries to help with relaxation. I found that when I remembered to take the supplement, it did help my relax and get to sleep faster. For someone with an anxiety disorder like me, it really seemed to help!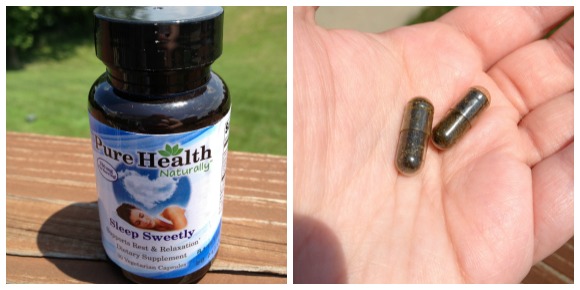 Pure Health Appetite Suppress
To me, one of the worst parts of losing weight is getting your body used to takign in less food. I had never taken an appetite suppressant before this review, so I was a bit nervous. To first try it out, I started taking Pure Health's Appetite Suppress the week after I started my diet. So far, I have to say it is very effective for anyone starting a diet. The glucomannan and konjac plant (this is used in Japanese cooking) really help you feel full. After a week and half on this supplement, I stopped taking it to see if it was still necessary. Sure enough, it helped deal with the cravings and I was able to adjust to less food faster than unusual. While this isn't a supplement I would take often, it is great for anytime I need to get back on track when it comes to healthy eating!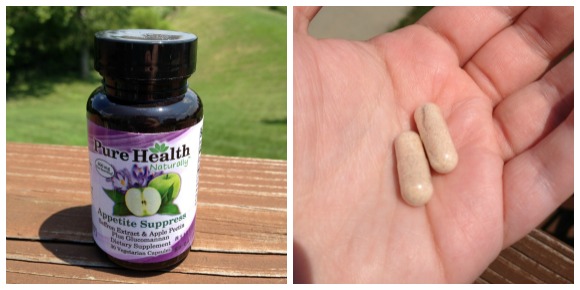 Pure Health: Overall
Based on my own experience with Pure Health, I have to say I was pretty impressed. While these aren't miracle pills, they do a great job getting you on a schedule and helping reduce calories in your life. As well, they were enjoyable to take, especially the tea, even without any sweeteners. Due to their low cost and my positive experience with their effectiveness, I give Pure Health's supplements an A rating.
Pure Health: Where to Buy
Want to know where you can purchase Pure Health products? They can be purchased at the Pure Health website or at your local Wal-Mart. Best of all, almost all of their products are $10 – $20 a piece, allowing nearly anyone to have access to healthy, all natural supplements. If you are concerned about synthetic medicines or supplements, I recommend giving Pure Health a try!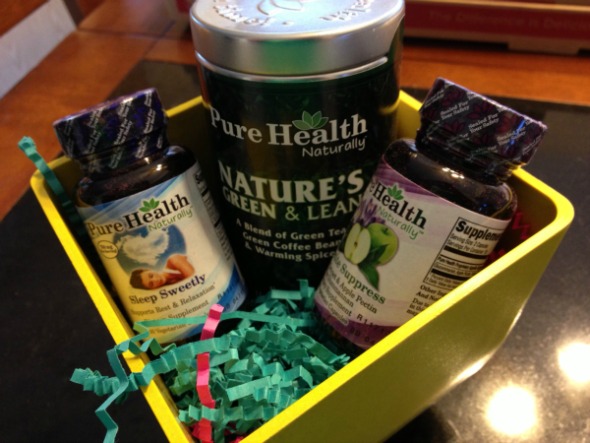 Disclosure: Budget Earth did not receive compensation for this review but did receive free products for review purposes via Pure Health . All opinions on this product are my own and may differ from our readers' opinions.
Would you like to have your products featured in a similar giveaway event? Want to increase your social media exposure before the holiday season? See how we can help! Contact budgetearth@gmail.com to see what Mom Powered Media can do for your company!