Disclosure: I received these products for free to review. The opinions in my review are honest and my own.
Over the weekend, my husband and I started an absolutely huge paint job – painting our master bedroom. When we first bought our house it was one of the worst looking rooms since the previous owners just wanted to quickly touch up and go. It looked like there were three different shades of yellow on our walls and in all honesty, it looked horrid. We had been putting off painting it with our busy schedule, but decided it was time to redo our bedroom and be proud of it! After we bought our paint, however, we were delighted when we were asked by HomeRight to review their QuickPainter Pad Edge Painter and the PaintStick EZ-Twist Paint Roller Applicator. Once they arrived, we quickly started taping the room and prepared to make our boring walls look amazing!
QuickPainter Pad Edge Painter: What is It
Tired of dealing with tape and mess from doing trim work in your home? Make painting these areas super easy with the QuickPainter pad Edge Painter. This innovative tool allows you to smoothly paint trim and tight areas without the mess. Since it loads directly from the paint can, you can also do away with messy paint trays and various brushes to get the job done. To refill your brush, just gently press the trigger, draw back the handle, and keep going to smoothly paint.  With 4 different painting positions, you can cut painting time by half with the QuickPainter!
QuickPainter Pad Edge Painter: Overall
Okay, I can honestly say this is one of the coolest painting tools I think I have seen in a long time. I was always the one stuck doing trim work because I have a steady hand and have the patience while painting to make sure everything looks perfect. While this isn't a bad thing, it also meant that I spent countless hours painting around the ceiling, the baseboard, and of course, windows. With the QuickPainter, I was able to take care of all the trim work in our bedroom quickly. It really makes taking care of tight spots and delicate painting areas a breeze. All you have to do is fill the unit with paint, snap the brush back on, and paint. To refill your brush with paint, just gently tap the squeeze handle. Just make sure that when you put the brush back on after filling it with paint that it clicks. If you don't, paint will fly everywhere (I learned this from experience). Once you have everything set up though, you will find this tool takes some of the hardest work out of painting a room. Based on our own experience, we are delighted to give the QuickPainter an A rating.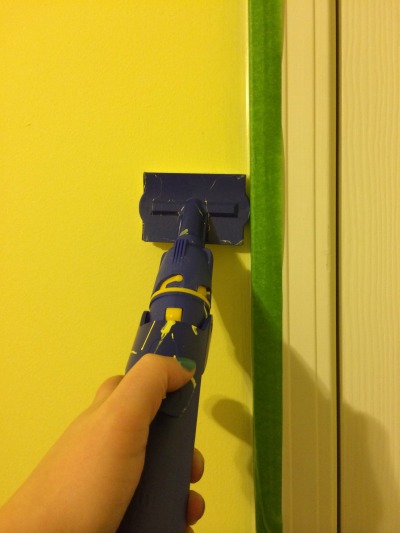 QuickPainter Pad Edge Painter: Where to Purchase
Want to purchase this awesome tool for your own painting projects? You can buy the QuickPainter at your local Wal-Mart or purchase it on the HomeRight website for 14.99. This awesome painter is also available on Amazon.com for $11.80 with Prime shipping. Once you have seen how much this tool speeds up painting, you will never use a brush for trimming again!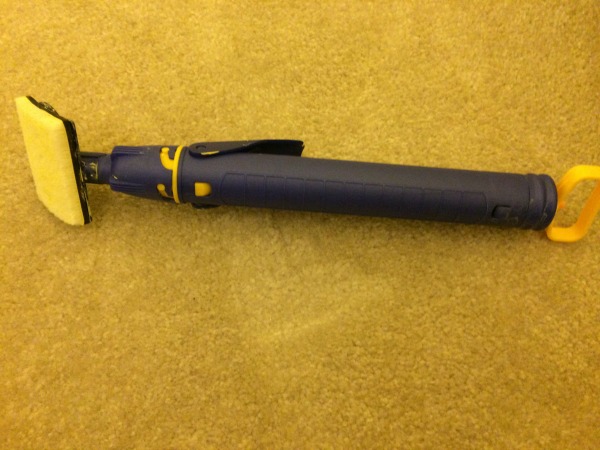 Disclosure: Budget Earth did not receive compensation but did receive products for review purposes. Budget Earth may, however, receive compensation through purchases from affiliate links in this post. All opinions on this product are my own and may differ from our readers' opinions.
Would you like to have your products featured in a giveaway event? Want to increase your social media exposure? Contact susan.l.bewley@gmail.com to see how I can help YOUR company today!