Disclosure: I received these products for free to review. The opinions in my review are honest and my own.
As someone who likes knowing all the ingredients in my food, I sometimes have a hard time finding natural snack food. I don't normally snack, but sometimes it's nice having options when we have company or my husband wants something to snack on while we watch a movie. One of the things I have always detested were Cheetos. I just couldn't stand the smell or flavor of that particular junk food, but I grew up with brothers that loved them. While looking for some natural snacks for us, I was approached by Real McCoy's, who asked us to review their rice chips and rice puffs. Curious, I agreed to try them!
Real McCoy's Products: What is It?
Looking for delicious, all natural snacks that are not only healthy, but taste amazing? If so, we think you will love Real McCoy's rice chips and rice puffs. These healthy snacks are gluten free, corn free, non-GMO, vegan, and completely organic. They also have half the fat of similar health foods, allowing you to enjoy an amazing snack without the guilt! Once you have tried some of their mouthwatering flavors, like Hatch Chile, Jalapeno Cheddar, and Worcester and Chive, you will see why people like these natural chips!

Real McCoy's Products: Overall
I will freely admit, these are some yummy snacks. Normally I am not one of those people who like chips but their rice cakes and rice puffs are delicious! In our own household, the Hatch Chile Rice Puffs are everyone's favorite, hands down. They aren't too spicy but have the right amount of heat and flavor that will have you wanting to eat the entire bag. Best of all they are healthy, since they are organic, gluten free, and have half the fat of similar, non-natural snacks. Based on our own experience, we are happy to give Real McCoy's chips an B+ rating.
Real McCoy's Products: Where to Purchase
Would you like to try these delicious chips for yourself? You can find them at most natural grocery stores or on Amazon.com.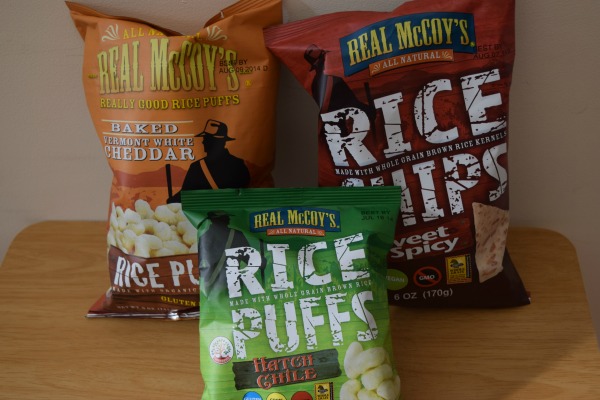 Disclosure: Budget Earth did not receive compensation but did receive products for review purposes. Budget Earth may, however, receive compensation through purchases from affiliate links in this post. All opinions on this product are my own and may differ from our readers' opinions.
Would you like to have your products featured in a giveaway event? Want to increase your social media exposure? Contact susan.l.bewley@gmail.com to see how I can help YOUR company today!