Disclosure: I received this products for free to review. The opinions in my review are honest and my own.
Do you have a dog that suffers from anxiety? As dog owners, we know that our dogs have certain things that make them nervous and outright scared. For our Reya, nothing is scarier than being left alone in a place where she can't easily see her mom or dad, or hearing thunderstorms. She is fine when she is at our feet, but the moment we leave the room, she is nervous, and will cry until she finds us. We are even more nervous with firework season coming soon, especially since we have new neighbors who last year had fireworks going up until November since it was so warm. To say the least, she was nervous and hated hearing all the other dogs in the neighborhood be nervous too. Before summer is even here, we want to try helping her adjust and have more fun outdoors by helping her with her anxiety without having to drug her or keep her crated. Luckily, we just recently found out the perfect solution – The Rein Coat Pet Harness.
Rein Coat Pet Harness: What is It?
Looking for a way to help your pet feel less fearful and anxious without the use of medications ? If so, we think you will love the Rein Coat Pet Harness. Unlike similar products on the market, this coat is designed to be comfortable and functional without losing range of movement, so that you dogs can naturally 'rein' themselves when they are feeling anxious or scared. This patent pending coat and harness combination replicate naturally occurring behavior between your pet and their mother, trigging the production of oxytocin (love or 'cuddling' hormone) , which helps reduce fear and anxiety.  Similar products work by distracting pets and making them less comfortable to distract them from what is causing their anxiety. Instead of constraining your pet, the Rein Coat Pet Harness is designed to be loose, comfortable, and is custom fitted to fit all types of dogs and cats.
Currently, the Rein Coat Pet Harness is available in two styles – Classic and UltraLight.  The classical coat is made using three layer tricot polyester fleece, which is perfect for dogs to wear indoors or in cooler climates. As well, the coat has a wind resistant face. For dogs that live in warmer climates or have thicker coats, you may want the UltraLight instead, which is made of Ripstop, an extremely light but strong fabric. Both of these coats feature the Rein Coat's signature royal blue color with an ultra-soft black interior lining, and are hand crafted and trimmed on topside and underside with black polypropylene webbing giving in a finished, super cute look. As well, the harness is designed to be completely customizable, featuring lightweight military grade buckles and 800 pound break strength straps. It doesn't matter if you have a small 5 lb dog or 250 pound giant breed, the Rein Coat Pet Harness can help any dog feel safe and secure!
Rein Coat Pet Harness: Overall
As you can guess, we were pretty excited to try out this coat on Reya. Since she is an Alaskan Malamute and we are going into summer, we chose to review the UltaLight variety of the Rein Coat Pet Harness. To say the least, I was blown away by the Rein Coat Pet Harness and how much it has helped our dog. It was super easy to put on Reya and she didn't mind putting it on at all. Honestly, I'm having more problems getting it off of her since she seems to love it. Every time I try getting it off she runs around the house or goes to her favorite spot and flops in rebellion.  Not only does she feel comfortable, but clearly more confident. She normally hates all vacuums and will run for the hills the moment I start vacuuming. With the Rein Coat, she confidentially came over to it, sniffed, and realized it wasn't her enemy. She just laid down and watched me finish rather than be afraid. Not only does the coat look snazzy on it, but I love the built in, heavy duty harness  that makes walks even easier. Really, I can't say enough good things about this Rein Coat and am planning on bringing it with us during any trips this summer. Based on my own experience, I am happy to give the Rein Coat Pet Harness an A+ rating and recommend to every dog or cat owner!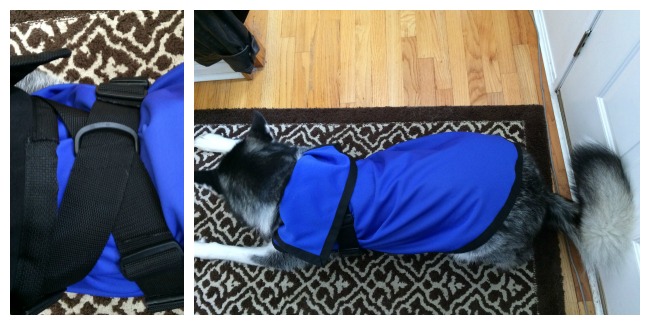 Rein Coat Pet Harness: Where to Purchase
Want to purchase one of these awesome, therapeutic calming coats for your own dog or cat? You can buy a Classic or Ultralight version of this coat for your favorite pet on the Rein Coat website.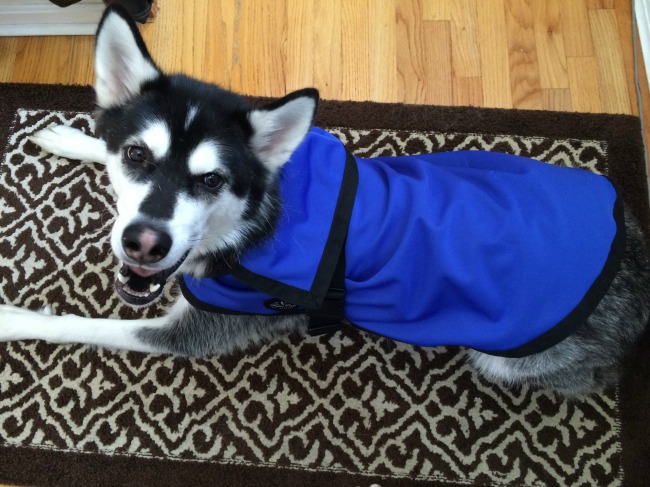 Want to learn more? Check out Rein Coat on social media!
Facebook | Twitter | Pinterest | Instagram | Google+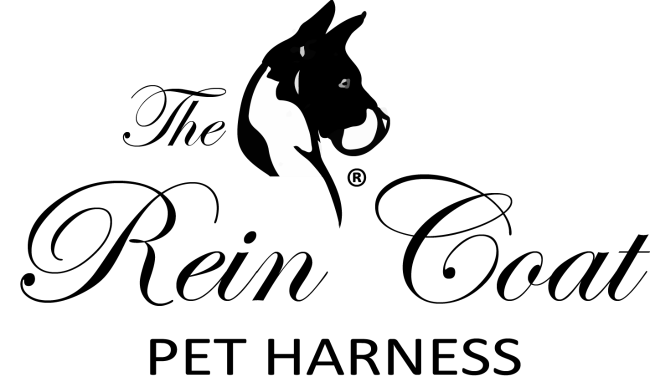 Disclosure: Budget Earth did not receive monetary compensation but did receive products for review purposes. All opinions on this product are my own and may differ from our readers' opinions.
Would you like to have your products featured in a giveaway event? Want to increase your social media exposure? Contact susan.l.bewley@gmail.com to see how I can help YOUR company today!