Disclosure: I received these products for free to review. The opinions in my review are honest and my own.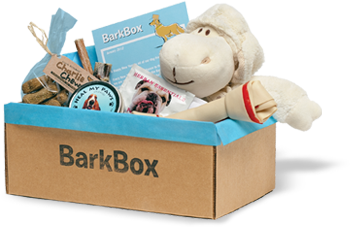 Sometimes it's difficult finding the right training treats for Reya. Nothing is worse than getting a giant bag of treats only to find out she's indifferent to them. Just like humans, dogs can very quickly grow tired of a certain food. Reya will happily still eat it, but it doesn't mean she will go crazy for it or listen during training time. We have learned that it's important to have things we trade around to make sure she doesn't get bored. The problem with this is that it also means we are spending a lot of money on not only toys, but natural treats as well.
Barkbox: What Is It
Looking for the perfect subscription box filled with a month's worth of treats and toys for your favorite pup? If so, we think you will love the Barkbox! This fun box is specially designed for dogs just like yours, containing 4 or more treats or toys packed for your individual dog, depending on their size and what items they received in previous boxes – unlike some other boxes, you never get the same treats twice. They also box the threats based on your dog's allergy needs. Best of all, everything in the box is made using all natural ingredients, making sure your dog is as healthy as possible. One thing is for certain, your dog will quickly learn to watch each month for when this box arrives!

Barkbox: Our Opinion
Below, is our impromptu video review from the July Barkbox. This is Reya's real opinion and her having fun opening the box herself.
Barkbox: Where to Purchase
Would you like to purchase this box for your dog? If yours is anything like ours, we know they will go crazy over this box. It has saved us a ton on training treats and Reya has loved the toys that have come in all of her boxes. I know I was sold after this review, and we are planning on keeping this box around for quite some time!
Update: We have now been subscribers of Barkbox for over 2 years  and it has been a lifesaver for toys with both Reya and Ivi. Some of Reya's all time favorite toys have actually come from Barkboxes. It has gotten Ivi through her puppy time as well. We highly recommend not just their normal box, but heavy chewer box as well. They also have some of the best customer service out there! You can sign up for Barkbox yourself here!
Disclosure
:
Budget Earth did not receive monetary compensation but did receive products for review purposes. All opinions on this product are my own and may differ from our readers' opinions.
Would you like to have your products featured in a giveaway event? Want to increase your social media exposure? Contact susan.l.bewley@gmail.com to see how I can help YOUR company today!