Disclosure: I received these products for free to review. The opinions in my review are honest and my own.
While I love candles, I have some friends and family who are very nervous having candles burning in their home, many of them due to cats or small children. One person whom I know has been really dissapointed about having to get rid of her candles is my mother. She used to have them going constantly growing up, and now she has two cats who are firebugs, making it dangerous for her to have any candles going at all. As I was looking for a cute set for her for Christmas, I was approached by Stapes to review their Sarah Peyton Home 3 Candle LED Fountain, one of the gifts featured on Staple.com's gift guide. Knowing that my mother would love it, I was excited to review this adorable LED candle set for her!
Sarah Peyton Home 3 Candle LED Fountain: What is It
Love candles but feel nervous having them burning around children or pets? If so, we think you will love the Sarah Peyton Home 3 Candle LED Fountain. This elegant fountain features a dual spotted design around 3 LED candles. To give that perfect tranquil look, this set even includes genuine river rocks to be placed around the base of the candles. All you have to do is put in 2 – AA batteries in this fountain and a cup or so of water, and you have a calming fountain that can be used just about anywhere, including your bathroom or office!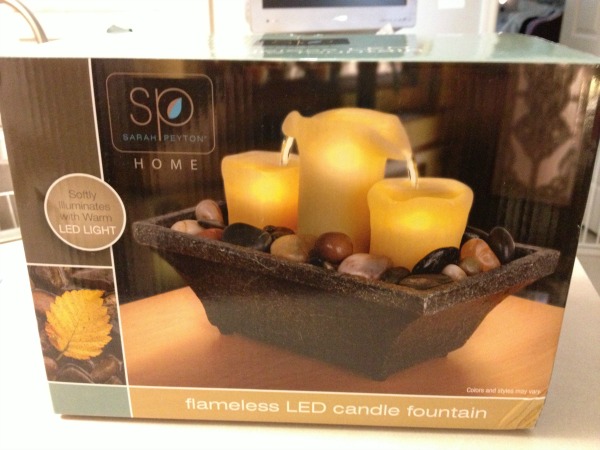 Sarah Peyton Home 3 Candle LED Fountain: Overall
Having not had a fountain in some time, I had no clue what to expect when I first got the Sarah Peyton Home 3 Candle LED Fountain. Once I opened the box, however, I quickly fell in love with this cute candle fountain. With its size, it is perfect for a desk or to have as a small decoration on an endtable, making it perfect for someone like my mom who loves knickknacks. As well, getting it out of the box was really the hardest part. All we had to do to get started was put batteries in the fountain, fill it with a cup of water, and then decorate the base of the candles with river rocks. From there, all we had to do was turn on the power button and we had a tranquil fountain in the living room. Based on our own experience with this cute fountain, I am very happy to give it an A rating!
Sarah Peyton Home 3 Candle LED Fountain: Where to Purchase
Would you love one of these fountains for your own home or to give as a gift this holiday season? The Sarah Peyton Home 3 Candle LED Fountain is currently available on Staples.com as part of their Holiday Gift Guide, where it is currently selling for $24.95. With this elegant set, you can make just about anyone smile this holiday season!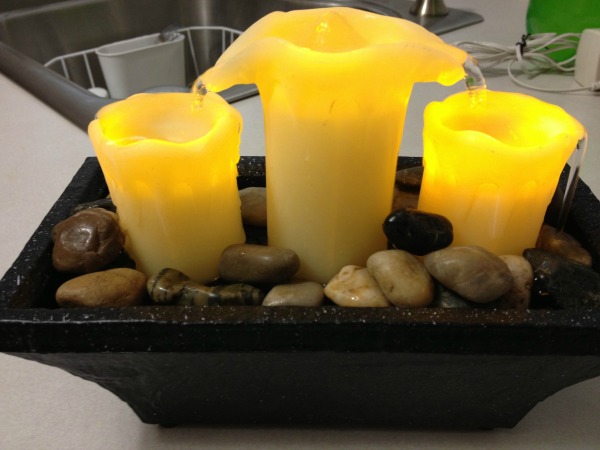 Disclosure: Budget Earth did not receive compensation but did receive products for review purposes. All opinions on this product are my own and may differ from our readers' opinions.
Would you like to have your products featured in a giveaway event? Want to increase your social media exposure this holiday season? See how Mom Powered Media can help! Contact susan.l.bewley@gmail.com to see what we can do for your company!